Written by

Michelle Grattan, Professorial Fellow, University of Canberra
China's aggressive stands and the sharp deterioration of the bilateral relationship are flowing through strongly to produce record negativity by Australians towards our biggest trading partner.
The Lowy Institute's annual poll for the first time finds most Australians (52%) see "a military conflict between the United States and China over Taiwan" as a critical threat. This is 17 points up on just a year before.
More than half (56%) think Australia-China relations pose a critical threat.
The poll, "Understanding Australian attitudes to the world", was done in the second half of March with a sample of 2222. The report is authored by Natasha Kassam. The results on climate and COVID have already been published.
Read more: Majority of Australians in favour of banning new coal mines: Lowy poll
China-Australia relations have plummeted in recent years, with obstacles currently in place against a range of Australian exports, frequent denunciations of Australia by China, and its government's continued refusal to return Australian ministers' calls.
Since the poll was taken, the bilateral relationship has worsened; Scott Morrison at the G7 emphasised the challenge China presented and rallied support for resisting its economic coercion.
Trust in China has continued "its steep decline" according to the poll, reaching a new low. Only 16% of Australians trust China to act responsibly in the world, a 7-point decline from last year. As recently as 2018, 52% trusted China.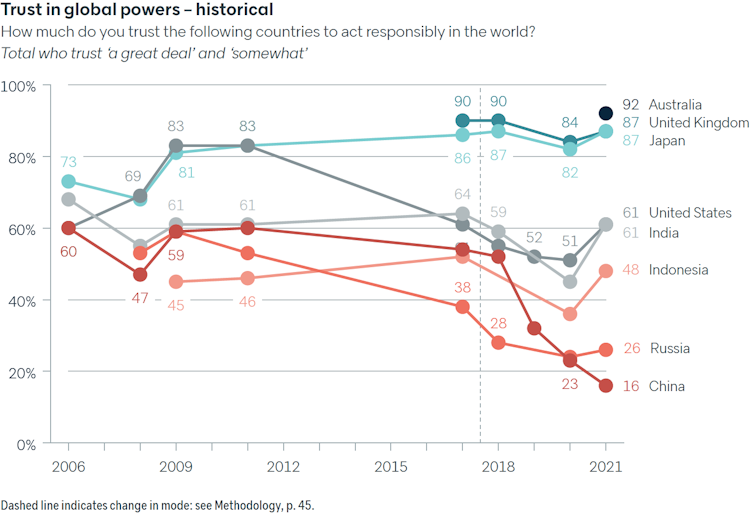 Authors: Michelle Grattan, Professorial Fellow, University of Canberra
Read more https://theconversation.com/australians-fear-china-us-military-conflict-but-want-to-stay-neutral-lowy-2021-poll-163182