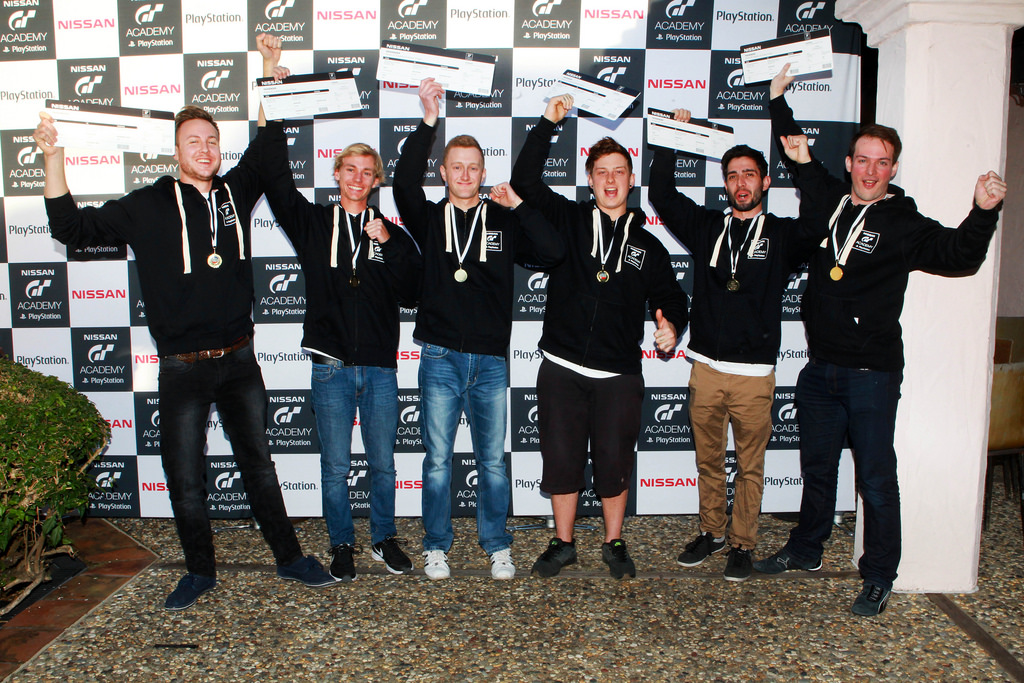 GOLD COAST, Australia (
20 July 2015
) – Six Australian gamers have been selected to represent Australia at the Nissan PlayStation® GT Academy International Race Camp in the United Kingdom next month.
The six gamers were the best of 20 finalists competing at the GT Academy Australian Final at Warner Bros. MovieWorld on the Gold Coast over the weekend.
Mathew Simmons, Elliott Schutte, Nick Dalton, Corey Creed, Tyler Blackburn and Simon Feigl will fly to the famous Silverstone circuit in England next month to compete for the chance to become a professional racing driver for Nissan. They will be joined by former V8 Supercars champion and two-time Bathurst 1000 winner Rick Kelly, who will again be the Australian judge and mentor.
The lucky six won out in a typically-tense competition across four competition sections; Gaming, Fitness, Media Conference and Driving.
Adding to the pressure of the cut-throat competition, this year's GT Academy Australian Final was held at Warner Bros. Movie World on the Gold Coast, meaning that much of the competition was held in front of a live audience.
Nissan and Sony Computer Entertainment Australia staged this year's GT Academy Australian Final in this unique setting, with 'last chance' live events held at Movie World in the days leading in to the weekend, allowing ten gamers to qualify for the Australian Final and join the ten best competitors from online play on Gran Turismo
®
6 for PlayStation
®
3.
Gaming challenges at the Australian Final were staged in Movie World's Main Street precent, in the heart of the spectacular theme park complex, with driving challenges staged across both
Saturday
and
Sunday
.
Saturday
evening's gruelling fitness challenge was held on the supervision of the Nissan Motorsport V8 Supercar team, with tests based on the exercise regime of team's drivers and pit crew.
The Media Conference testing saw contestants grilled and scored by some of Australia's leading technology, automotive and motorsport journalists.
The driving challenge challenged finalists to race against the clock in Movie World's stunt show arena in front of a packed grandstand of patrons, with each gamer racing against the clock around a motorkhana course in a Nissan 370Z.
Last year Australia's best finalist was Sydney's Joshua Muggleton, who performed admirably at Silverstone, only to narrowly lose out in the all-important final race of Race Camp, beaten by Mexico's Ricardo Sanchez. In 2015, Sanchez is racing a Nissan GT-R NISMO GT3 in the Blancpain Endurance Series in Europe.
Muggleton was on-hand at the 2015 GT Academy Australian Final, working as a mentor for the 20 finalists throughout the weekend, as were Nissan Motorsport V8 Supercar drivers Michael Caruso, James Moffat, Todd Kelly and Rick Kelly.
The six Australian finalists bound for GT Academy International Race Camp at Silverstone are:
Name: Mathew Simmons
Age: 26
Occupation: Contractor
State: Queensland
"I can't wait to go over top my first race track in Europe, go out in race cars and compete on the international stage. It's going to be amazing," said Simmons.
"I was devastated last year (when failing to progress from 2014 GT Academy Australian Final), but I never saw it as a negative, I took it all as a positive. The next day, I was straight into training to get myself better to become a race car driver. Over the last few days, I've felt that I could bring it, and having this medal around my neck means absolutely everything."
Name: Elliott Schutte
Age: 29
Occupation: Courier
State: Western Australia
"It has been an intense couple of days. I qualified live
on Wednesday
, and then coming back
on Saturday
and
Sunday
for the finals," said Elliott Schutte.
"It's an awesome environment here at Movie World. It's been a blur and I'm looking forward to Silverstone.
"I'm going to enjoy this, so I'll be soaking it up. But deep down I'm pretty competitive and I'm looking to go all the way."
Name: Nick Dalton
Age: 21
Occupation: Store Assistant
State: Queensland
"Especially in the gaming stages, I thought I performed well, and I did quite well in the physical as well, but you never know how you've gone," said Dalton.
"All of the challenges have been great to experience and I'm just so pleased to have made the top six.
"When my name got called, I couldn't believe it. I had butterflies in my stomach. It all came together. It's unbelievable."
Name: Corey Creed
Age: 25
Occupation: Performer
State: Queensland
"The last couple of days have been pretty tough, but it has been an amazing experience," said Creed.
"I only qualified
Friday
,
Saturday's
challenges were tough, but today's were more mild and I'm glad to have got through.
"The toughest challenge for me was the physical. I gave it my all, but I definitely had the shakes going!"
Name: Tyler Blackburn
Age: 20
Occupation: Student
State: Queensland
"It has been great having GT Academy at Movie World. There were lots of people around and a big audience at certain stages. It's good that the GT Academy Australian Final has been out in public," said Blackburn.
"The calibre of competitors was really high. You had to keep pushing to get above them. To get into that top six was awesome.
"It's going to be an amazing experience. I've never been to England before, and as a team, we'll get ahead of those other countries we're competing against."
Name: Simon Feigl
Age: 30
Occupation: Project Manager
State: Victoria
"The competition goes to another level now," said Feigl.
"I'll be doing everything I can to gain as much experience as I can to gain experience in cars – it's truly the 'Gamer to Racer' challenge.
"It's going to be tough, but ever though I haven't had much experience driving cars, I did well in the gymkhana event and I'm looking forward to taking that to the next level at Silverstone."
Rick Kelly, Australian judge and mentor, Nissan PlayStation GT Academy:
"I think it's a great, diverse range of guys," said Rick Kelly.
"Having been over to Silverstone for Race Camp last year, I understand better what we need and what it's going to take to win.
"These guys have three weeks to prepare for what is the biggest opportunity of their lives. Up until now, they've worked as an individual up against the others – now they have to learn to work together as a country to beat the other nations.
"We can win it. We don't know what the other countries are going to bring, so all we can do is prepare ourselves the best we can and try and become the GT Academy champion."
Richard Emery, Managing Director and CEO, Nissan Motor Co. Australia:
"It has been an incredibly successful week of GT Academy activity at MovieWorld, highlighted by the announcement of the top six finalists that will now head to Silverstone to represent Australia in the GT Academy International Race Camp," said Richard Emery.
"Last year we had Australian gamer Josh Muggleton come agonisingly close to winning the GT Academy International competition, beaten narrowly by Mexican Ricardo Sanchez.
"Ricardo is currently preparing to race a Nissan GT-R NISMO GT3 in the Spa 24 Hours next weekend as part of his duties as a NISMO Athlete racing in the Blancpain Endurance Series.
"His progression outlines what a significant opportunity GT Academy presents these six young Australians. We are hopeful that one of these six gives Australia its first GT Academy winner at Silverstone next month."
Note To Media:
The four Australian episodes of the 2014 Nissan PlayStation GT Academy can be viewed or embedded via the links below:
2015 GT Academy Trailer:
https://youtu.be/m5E8Eu82XK8
Episode 1:
https://youtu.be/g3goESLRFZI
Episode 2:
https://youtu.be/DMkZa135OjY
Episode 3:
https://youtu.be/EC1R437GzC4
Episode 4:
https://youtu.be/AdZqZQw_rz4
About Nissan PlayStation® GT Academy 2015
GT Academy is a collaboration between PlayStation® and Nissan that uses the virtual world of the Gran Turismo®6 game to unearth real-world racing talent. Now in its seventh year, GT Academy includes separate competitions for Europe (France, Italy, UK, Germany, Spain, Portugal, Belgium, Netherlands, Luxembourg, Hungary, Poland and Czech Republic), International group (Australia, Mexico, North Africa, Turkey and United States) and Asia (India, Thailand, Philippines, Indonesia and Japan).
The GT Academy qualification round will be part of a free Gran Turismo®6 update on PlayStation®3 (terms and conditions apply). The fastest gamers in each participating territory gain access to their region's National Final event. A number of competitors can also gain access via a series of live Gran Turismo events organised locally. The National Finals add driving, fitness and a media element to the gaming.
From National Finals, the action moves onto the legendary Race Camp, where the competitors are put through their paces on track in Nissan sports cars under the watchful eyes of high profile judges and mentors. Winners from each competition will be invited to take part in the intensive Driver Development Programme. They could qualify for an international race license and race for Nissan professionally, with the chance to potentially join Nissan's elite NISMO Athletes.
Previous winners of GT Academy are now regular racing drivers. In 2015, Jann Mardenborough (UK, winner in 2011) is racing in the FIA World Endurance Championship for Nissan in the top LM P1 category and in GP3, a feeder series to Formula One, with the championship-winning Carlin team. Lucas Ordoñez (Spain, winner in 2008) raced in the Le Mans 24 Hours this year in the Nissan GT-R LM NISMO LMP1 entry, alongside Mardenborough. The 2014 Champions, Gaetan Paletou (Europe) and Ricardo Sanchez (International) are competing in the Blancpain Endurance Series with the Nissan GT Academy Team RJN.
Australia saw the skill of GT Academy winners first hand when Wolfgang Reip (2012 GT Academy Europe winner) and Florian Strauss (2013 GT Academy Germany winner) teamed with Japanese driver Katsumasa Chiyo to win the 2015 Bathurst 12 Hour driving for the NISMO Athlete Global Team in a Nissan GT-R NISMO GT3.
News and views on GT Academy 2014 and the progress of all the GT Academy drivers can be followed on various platforms including:
www.facebook.com/GTAcademy
|
www.twitter.com/GTAcademy
|
www.youtube.com/gtacademyeurope
|
www.flickr.com/photos/gtacademyeurope
.
About Nissan Motor Co.
Nissan Motor Co., Ltd., Japan's second-largest automotive company, is headquartered in Yokohama, Japan, and is part of the Renault-Nissan Alliance. Operating with more than 244,500 employees globally, Nissan sold 5.32 million vehicles and generated revenue of 11.38 trillion yen (USD 103.6 billion) in fiscal 2014. Nissan delivers a comprehensive range of more than 60 models under the Nissan, Infiniti and Datsun brands. Nissan leads the world in zero-emission mobility, dominated by sales of the LEAF, the first mass-market, pure-electric vehicle. It is the best-selling EV in history with almost 50% share of the zero-emission vehicle segment.
For more information on our products, services and commitment to sustainable mobility, visit our website at
http://www.nissan-global.com/EN