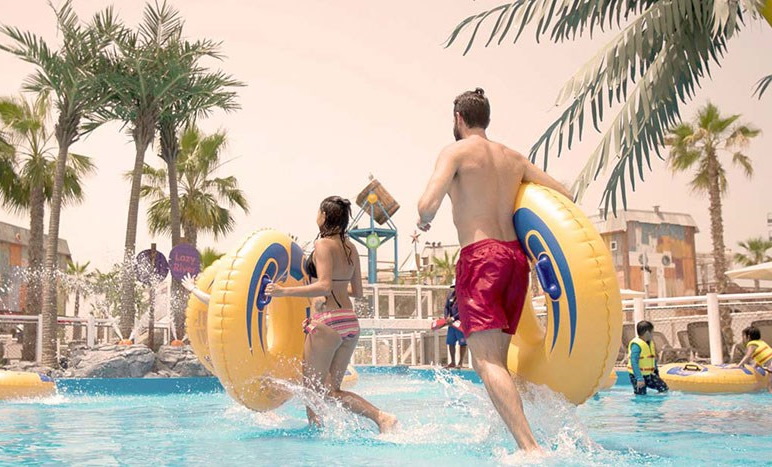 When you have fantastic weather over the weekend, try not to stay indoors. Trade the fluorescent lights for the blazing sun and make the outdoors your playground. This will do your body, mind, and spirit a lot of good, especially if you usually have hectic workweeks.
There are many outdoor destinations that people can go to, but one that is sure to provide boundless fun is a waterpark adventure. A weekend at the waterpark is always a treat, but there are other reasons that make it an ideal weekend escape for busy folks.
Listed below are eight of them.
1. You need to rejuvenate your body.
Spending an entire day at a waterpark can improve your energy levels. The thrill of all the attractions and all the exhilarating experiences, paired with abundant sunshine and fresh air, can stimulate the release of disease-fighting, happy hormones called endorphins.
Typically, when you work, your energy gets consumed to critical levels. But, you can recover all your spent energy by going to a waterpark over the weekend. Thus, you can get back to the grind the following week, ready to take on new challenges.
2. Busy-ness leads to joy-depleting stress.
Stress relief is a must; medical experts emphasize that no person should be living in constant stress. Reconnecting with your inner child is a fantastic way to banish the stress buildup of working for five days a week.
When you go to a waterpark, you can become a carefree kid again. You can get a better perspective and also obtain joy out of the simple things that truly matter in life.
3. Everybody could use an exciting experience.
Studies reveal that thrilling experiences are a test of tolerance, and people generally enjoy the idea of pulling through a situation where fear mixed with excitement is present. Waterparks provide similar experiences.
Speeding down the giant water slide, or trying kneeboarding in front of a crowd for the first time — these experiences are both scary and fun. And, quite often, they can serve as affirmations of your ability to overcome difficulties. Therefore, if work is usually challenging for you and you deal with a lot of situations wherein you doubt yourself, go to a waterpark and discover what you truly are made of.
4. You need to make your world bigger and meet new people.
A hectic career can make your world seem smaller. Even if you travel to different places often, being consumed with work demands prohibits you from truly living. Also, a busy professional life can take you to a point wherein co-workers are truly just people you work with and not friends.
If you go to a waterpark, you can outwork such dynamics. The atmosphere will force you to be in the moment, and this will allow you to meet new people that can become your good friends later on. Making new friends can reinvigorate your life and open your eyes to new possibilities.
5. Enjoyable quality time with the people you love, albeit short, can make your busy-ness truly valuable.
It's important to be reminded of why you are often busy, and it is mainly because you want the people you love to have a good and happy life. Thus, you need to set aside some time to have fun and relax with your family. A day at a waterpark is an excellent occasion to do just that.
If you are a parent, dedicating a weekend to fun under the sun will surely be a fond memory for your children — especially if you try all the exciting attractions at the waterpark with them. They'll get to see a more laid-back and fun-loving side of you.
6. Doing well in your career is difficult if you do not unwind.
Career people deserve to take a step back, relax, and regroup. Waterparks are also designed with this reality in mind. Thus, it is not only a place for exciting experiences, but it also offers busy folks that much-needed opportunity to slow down.
You can do this at an infinity pool where you can swim all your body's tension knots away while also enjoying scenic views. If swimming isn't your thing, you can simply float down a lazy river in a rubber tube.
You also have the option to stay in a cabana with a drink in hand. As the rest of your family explores the thrilling attractions of the waterpark, you can slow your pace, catch up on your reading, or nap a bit while catching some sunshine.
7. Constant competition is tiring.
Busy career people are always in fierce competition, which can be quite stressful and tiresome. Spending a weekend at a waterpark can provide them an alternative experience. Water games such as racing down the flume against friends and family are always fun and exciting even if you lose.
It can help your wellbeing to experience variations of competition. This can prevent you from getting burned out easily and resenting the idea of going against another person. Waterpark games really do have this effect.
When you are in a fight mode constantly, it's a relief to be in a competitive experience wherein you experience genuine happiness and laughter even if you do not win.
8. Everybody deserves to feel uninhibited every once in a while.
Being a professional usually demands a serious demeanor and image, which can be burdensome. Once you head to a waterpark, you can let the real you come out, which is vital for wellbeing.
Here, you can stop worrying about your physical appearance. If you're a woman, don't even bother with makeup, and fixing your hair — au naturel is the way to go. Likewise, you do not have to act so dignified. If you are scared, screaming your lungs out is expected.
It does one's mental health a lot of good to not care so much about keeping up appearances. Plus, most people realize after a day at the waterpark that other people do not really care if they do not have a toned or lithe body. The only important thing is that everybody's having a blast.
Here's the thing, work takes up more than three-quarters of a typical person's life. In fact, it's like the longest relationship one could have with something. Working can often last longer than a marriage; therefore, those who are often busy with work indeed deserve the most fun weekends.
Going to a waterpark may not always be your choice of activity, but it should be a commitment to do something different and enjoyable on days off from work. This is the best way to restore balance to your life and regain strength and motivation for the future.