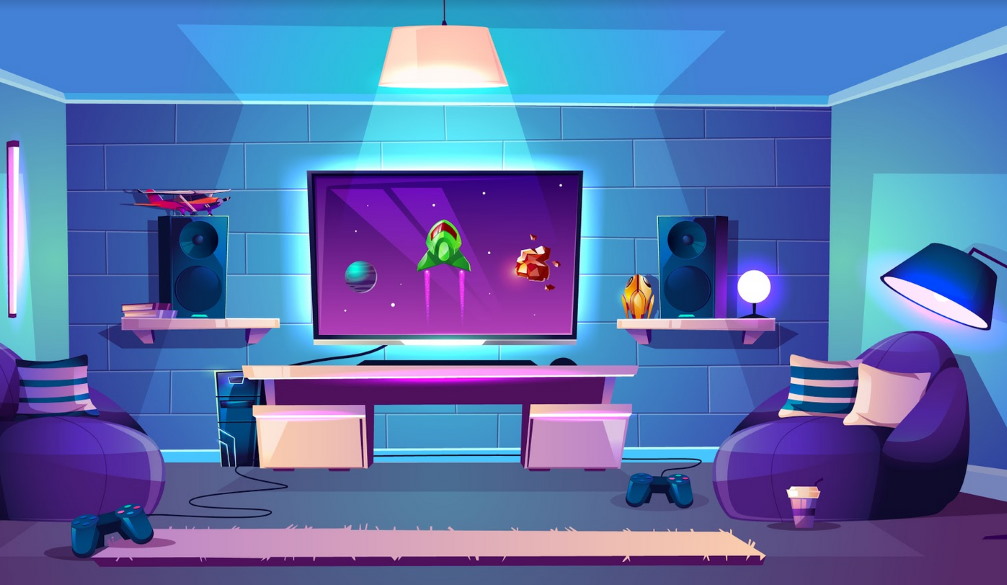 Gaming in the living room or bedroom may result in a lack of concentration due to disturbances. Also, if you don't live alone, there may be cases wherein there's going to be a dispute on who'll use the television. That's why every gamer's dream is to have a room solely dedicated to gaming.
If you're on your way to achieving this dream, here are some ideas to keep in mind when decorating your ultimate home gaming room:
1. Have The Right Type Of Equipment
A gaming room entails having one or all the consoles available. Additionally, you can also invest in a high-end PC. Although the type of console you have will play an important role in your gaming or online gambling experience, your level and immersion of gameplay may increase if you have the necessary pieces of equipment:
Desk:

A desk is essential whether you're

working from home or completing your gaming setup

. This is because having a comfortable desk allows you to either work or game for hours on end, without the consequence of having any form of body aches and pains. 
One may argue that an old and normal desk would do just the trick, which was the case in the old days. However, as the world of gaming and technology improves, more and more gamers are looking for a desk that offers them ergonomics, organization, and plenty of space. These are factors, which an ordinary desk may not possess, crucial to enhancing one's gaming experience  
Gaming Chairs:

Gaming and sitting down for hours may result in your spine supporting your head, arms, and torso against the forces of gravity. If this happens, it may result in poor posture since your back will suffer from strain, which, in turn, results in slouching.
Fortunately, a good gaming chair corrects this issue, which is why it makes a good addition to your home gaming room. This is because a good chair usually comes with a high padded backrest, as well as a neck and lumbar cushion, preventing slouching. Since slouching is prevented, a good gaming chair, therefore, promotes good posture. In addition to staying comfortable, a good gaming chair may also improve your wellness, productivity, and vitality.
That being said, look for a gaming chair that has the following features:
* Neck and lumbar support

* High-quality materials

* Durable base and rollers

* Adjustable height and armrest

* Provides the option to recline
TV:

Having a nice idea for a gaming room setup without a focal point, which is the television, would be futile. Fortunately, the type of TV you choose would depend on your personal preference. Do you like a TV that's more than 40 inches?  Do you want a curved TV?  Do you want a TV that has smart features? 
Even though the type of television boils down to personal preference, there are still important things to keep in mind when choosing a TV, like the following:
Have a TV with low input lag

HDR (high dynamic range)

Great picture quality
With this in mind, you don't need to immediately opt for the expensive option. If you're on a budget, try to compare your choices first, then choose one that possesses the factors above and suits your budget. 
Now that you have the necessary equipment in place, take note that the console and TV come with plenty of wirings. To have a nice gaming room, it's imperative that you manage these cables or wires. Doing so isn't just for aesthetic purposes, but proper cable management also allows good airflow, keeping your gaming system well-regulated. 
To start managing your wires, you need the following items:
* Cable wraps

* Screwdriver

* Twist ties

* Rubber bands or hairbands

* Electrical tape

* Pliers

* Wire cutters or scissors
As much as possible, try to avoid using zip ties. This is because there may come a time when you want to redecorate your gaming room. Since untying zip ties entail cutting them, there's a chance that you may accidentally cut wires, which may render your gaming rigs unfunctional. 
To wrap up your ultimate gaming room setup, it's important to invest in lighting. This is because having lights, especially LED light strips, will allow you to emphasize on a particular display, like your prized collection, or give you the type of ambiance you want. 
However, make sure you don't overdo your lighting as it may result in
faulty electrical wiring
. This is because multiple outputs may overkill your electrical source. Doing so may result in heavy consequences, like frying up your gaming rig's motherboard.
Final Word: Personalization
With these ideas in mind, you're now one step toward achieving your ultimate home gaming setup. However, take note that what's important in redesigning your room is to have it personalized. You don't want to exactly copy what you saw on the Internet. 
Instead, place some personal things, like medals, pictures, and things that have a sentimental value, all over your gaming room. Just make sure that it goes well with the overall theme you want to achieve. By doing so, you can truly say that your gaming room is your personal haven!