Written by

Phoebe Settree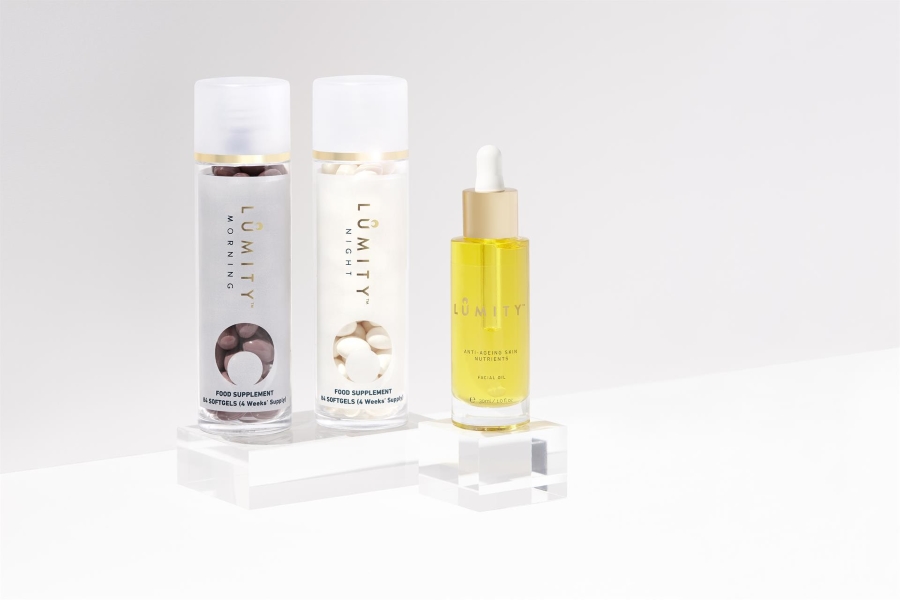 Endorsed by celebrity facialists the world over as the non-surgical beauty secret to the stars, Lumity's revolutionary anti-aging supplements and skincare are a world-first, scientifically formulated to deliver proven results by restoring beauty at a cellular level which includes the first ever morning and night supplements that target all nine causes of aging simultaneously.
Lumity's revolutionary solutions have quickly collected an impressive celebrity following including Helena Christensen and Yasmin Le Bon, as well as beauty industry experts including world famous aesthetician, Nichola Joss, who has attributed Lumity as a key component to the skincare regime of the Duchess of Sussex, Meghan Markle.
Lumity's twice-daily supplements - free from the typical binders, fillers and preservatives – and 100% natural facial oil contain scientifically-calibrated nutrients that work around the clock to enhance natural aging defenses while revitalising the skin and body from within. 
The brainchild of Dr Sara Palmer Hussey, a Cambridge-educated PhD and research scientist and one of the world's leading authorities on aging, created Lumity to offer time-poor professionals a supplement line that would enhance the body's superior ability to repair, restore and sustain youthfulness from within.
Lumity is a scientific breakthrough with Dr Hussey creating the first holistic supplement on the market addressing all of the aging processes that are ongoing in our bodies. From greater immune and metabolic health to protection against oxidative stress, the benefits of Lumity improve vitality and inner health.
"I set out to create an anti-aging solution that slowed down the body's aging process and offered visible improvement by focusing on inner health. For centuries we have been searching for the elixir of life. In my opinion, Lumity is one step closer," said Lumity founder, Dr Sara Palmer Hussey.
Lumity's Anti-Aging Supplements are sourced from the highest quality natural ingredients that promote healthy skin, hair and nails while the Lumity Facial Oil has been formulated with 32 of the world's most nutritious botanical oils and extracts to restore elasticity and firmness as well as boost smoother skin and decrease visible redness.
Lumity Anti-Aging Supplement and Lumity Facial Oil are available online at www.lumitylife.com.au For more information, follow Lumity Life on Facebook and Instagram.