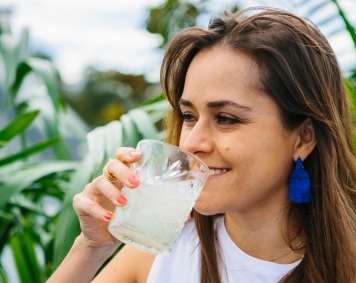 WORLD TEQUILA DAY 24 JULY: 5 TEQUILA MYTHS BUSTED

There are many rampant myths surrounding our favourite Mexican spirit – but with World Tequila Day approaching on July 24, who better to set the record straight than senorita Lucia Rodriguez, Tequila Expert and Brand Associate for Milagro Tequila, the World's Most Awarded Premium Tequila.
Lucia takes a break from helping Milagro to bridge the romantic world of traditional tequila with the vibrant and sophisticated world of modern-day Mexico City, in order to share the five most common tequila myths:


Myth #1: Tequila is cactus juice.

The truth is... No alcoholic drink originating from Mexico is actually made from cactus. Tequila is distilled from the Blue Weber Agave, which does look similar to a cactus with its sharp thorns, but tequila is actually closer to lilies than cactus. Just like Champagne or Cognac, tequila can only be made in a specific region: The Mexican state of Jalisco and some surrounding areas. The volcanic soil in this area is perfect for growing agave and it takes between 8-12 years to reach maturity before harvesting. 


Myth #2:  If it is good tequila, there will be a worm in the bottle.


The truth is...There is literally no worm in any tequila that is bottled in Mexico, because this is not a local tradition. Some American brands of tequila will put a worm in the bottle as a marketing tactic to boost sales, but why this custom was started is not quite clear. One legend has it that the worm at the bottom of the bottle is a sign that the tequila is a high proof alcohol. It is believed that if the proof is high enough the worm will stay preserved. But truth be told, top-quality bottles tend not to include a worm, or any other creature for that matter!
 
Myth #3: Tequila is only for shots.

The Truth is… Tequila in Mexico is often sipped and savoured! However, for many of us, our request for tequila at a bar or friend's home are often met with a serve in a shot glass. Mexicans recommend treating the spirit as you would a single malt Scotch. A wine glass, Champagne flute or brandy snifter will allow it to open up. More recently, the famous Belgian glass maker Riedel introduced their own version of a tequila glass that is used in official tastings held by the Mexican Academy of Tequila Tasters.


Myth #4: A shot of tequila should always be served with lime and salt.

The truth is...Although many people use a lime and salt with any type of tequila, it is really only needed if you are drinking a cheaper tequila. The lime and salt is actually used to mask the taste of the tequila, so if you're drinking a high-quality tequila it's advised not disguising the flavour with condiments (unless you're sipping on a proper cocktail of course)!


Myth #5: With time tequila loses its quality


The Truth is… Once tequila is bottled - much like other distilled spirits - it doesn't lose its quality or character. In fact, a sealed bottle of tequila can actually last for years. Once you open the bottle though you have about two months for oxidization and evaporation to reduce the quality of the tequila and ruin the agave profile.


For some fun tequila cocktails to celebrate World Tequila Day this July 24th, check out this video below: