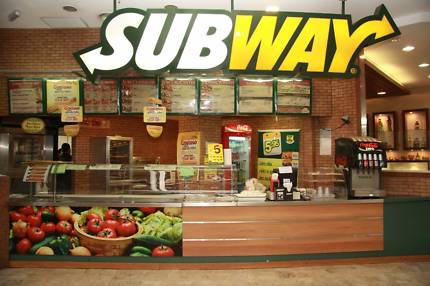 CELEBRATE INTERNATIONAL COOKIE DAY WITH FREE COOKIES FROM SUBWAY®
Calling all cookie-lovers, your favourite day of the year is here. Monday, 4th December is International Cookie Day and to make sure you get your chewy, chocolatey fix, Subway® Australia is giving away its infamous cookies for free.
The cookie day frenzy will take place across six select Australian Subway® shops just when you need it the most – at the start of the working week – to help cure your Mondayitis.
If you like milk with your cookies, you can get involved by enjoying two cookies and a flavoured milk for $5 at Subway® shops across the country, so you can dunk and enjoy to your heart's content.
To collect your free and freshly baked cookie, simply visit one of the below listed Subway® shops on International Cookie Day and claim it. Cookie flavours include Choc Chip, Double Chocolate Chip, White Chip Macadamia Nut and Raspberry Cheesecake.
WHEN AND WHERE:
When: Monday 4th December, 2017
Where:
Sydney – Shop 7, 237-239 Oxford Street, Bondi Junction
Melbourne - Shop 3, 37 Swanston Street
Brisbane - Post Office Square, 270 Queen Street
Adelaide - Adelaide Myer Centre Rundle Mall
Perth - Perth Train Station, West Wing Building, Tenancy 2, Ground Floor
Hobart - Shop 3, 4-6 Eady Street, Glenorchy
SUBWAY® COOKIE FACTS:
The most popular Subway® cookie flavour is chocolate chip. Subway cookies are the real deal – almost a quarter (23%) of Subway® chocolate chip cookies are made up of delicious chocolate chips
While we're familiar with our favourite four Subway® flavours in Australia (Chocolate Chip, Double Chocolate Chip, Raspberry Cheesecake and White Chip Macadamia Nut), the US and Canada love their cookies so much that they made novelty flavours including Gingerbread, Lemon Drop, Pumpkin Spice, and Birthday Berry.
Subway is the world's largest buyer of frozen cookie dough.
OTHER FUN COOKIE FACTS
The largest cookie ever made measured 754m² and was made by the Immaculate Baking Company (USA) in Flat Rock, North Carolina, USA on 17 May 2003. The chocolate chip cookie weighed 18 tonnes and had a diameter of 30.7m (1)
The name 'cookie' is derived from the Dutch word 'koekje' which means little cake (2)
ABOUT SUBWAY
The SUBWAY® restaurant chain is the world's largest Quick Service Restaurant Chain, with more than 44,000 locations in over 100 countries. Established in 1965, in Connecticut, USA, SUBWAY® restaurants' Australian headquarters are in Brisbane.  SUBWAY® restaurants' first Australian location opened in Perth in 1988.  Today there are over 1400 SUBWAY® restaurants across Australia.  For more information about SUBWAY® brand visit www.subway.com.au. © 2017 Subway IP Inc. SUBWAY® is a Registered Trademark of Subway IP Inc.