Written by

Tess Sanders Lazarus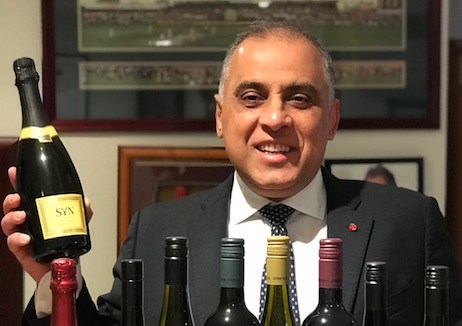 Brisbane establishments such as The Regatta, Storia, Tartufo and the Kenmore Tavern are now serving Australia's oldest and most iconic family owned wine labels, thanks to a distribution deal sealed this month between South Australian winemaker Leconfield and Brisbane based beverages distributor, Italiquore Brands International (Italiquore).   
Leconfield is Australia's oldest family owned winemaking business. Owned by Dr Richard Hamilton and his wife Jette, it encompasses two of South Australia's leading wine labels, both attributable to the Hamilton family:  Leconfield Wines at Coonawarra and Richard Hamilton Wines at McLaren Vale.   Both labels are highly regarded and sold nationally and overseas.   In addition to restaurants, bars and bottle shops, Leconfield is also served in the luxurious dining carriages of The Ghan, The Overland and the Indian Pacific and Richard Hamilton is served at 38,000 feet in Jetstar business class.  Leconfield also produces the highly acclaimed sparkling brand Syn.  Syn Chardonnay Pinot Noir NV has just been awarded a Gold Medal at the 20th Japan Wine Challenge, held in Tokyo.  With a total of over 1,700 wines from across the world entered this is an outstanding result for Leconfield. 
"We are absolutely delighted to form a distribution partnership with Cavilieri Fil D'Arro and his company Italiquore to see our wonderful array of wines served across Brisbane and the broader Queensland market,"  Dr Hamilton said today. 
"While Leconfield has been producing wine for many years, it is only until now that we have really focused on the Queensland market and we are confident Queenslanders and their wonderful tourism market will love our wines."  
According to a recent Medibank Better Health Index Queenslanders are consuming the highest average number of drinks per week overall.  Not only are they the biggest drinkers of all, they are drinking an average of 11.14 alcoholic drinks per week.  Queensland is attracting the interest of many winemakers keen to be part of the state's wine and beer consumption growth. 
Founder and owner of Italiquore, Cavilieri Fil D'Arro, who has been given the distinguished equivalent of a knighthood (Cavilieri) from the Italian Government for his service to Italian culture and wine abroad has been working in the alcohol sector for over 30 years and understands the market more than most.  He has seen a definite shift in the South East Queensland food and beverage sector and is supportive of the positive changes.  "Brisbane now boasts a fantastic range of food and wine establishments with many attracting chefs from all over the world," Mr D'Arro said.  
"Some of our local restaurants are receiving international acclaim.  Our desire for top wines is also increasing.  This is paving the way for wonderful brands like Leconfield to enter the market and Queenslanders are the winners. 
"It is an honour to be working with Leconfield to distribute their products in Queensland.   My company currently imports and distributes Italian wines and the inclusion of Leconfield means I will be able to offer the Queensland market a high calibre range of South Australian wines as well. 
"Already, restaurants across Brisbane have fallen in love with the Leconfield and Richard Hamilton labels and are serving them as part of their wine lists. 
"We are also arranging wine dinners at various restaurants across Brisbane to showcase Leconfield's wines.  This will give diners the opportunity to enjoy their favourite restaurant and experience the great range of Leconfield wines on offer."