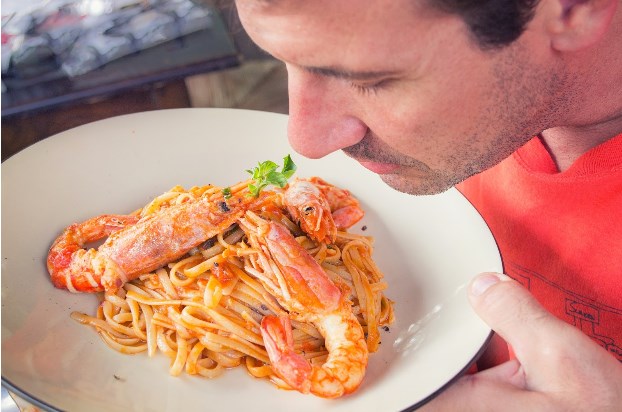 The bachelor life is a great opportunity for self-improvement. Though some of us might see it as an in-between-girlfriends period, you can take this time to learn some new skills, pick up new hobbies and interests, become more self-sufficient, and further your knowledge on how to impress the ladies.
Cooking falls well within all of these categories. Even if you don't see yourself as a particularly creative person, cooking allows you to express your inner-artist in a practical and, let's be honest, sexy way. With that being said, here are six cooking tips to get you started:
Proper Equipment
It's a well-known fact that, when picking up a new skill, say, driving or learning to play the guitar, the car or musical instrument you use will greatly affect the speed at which you learn. The same thing applies to cooking. The type of cookware you use will heavily influence the overall taste and quality of your dishes. If you're serious about cooking, even if it's only a casual thing, investing in a decent set of cookware will give you a considerable head start.   
Baby Steps
Like all things new, the best way to approach cooking is to start simple and move on from there. There's no better motivator than success and having your first few recipes taste good.     This will greatly increase your chances of becoming a decent chef. Look up easy-to-prepare recipes that require few ingredients. Test them out on yourself first, then invite a few friends over and see what they have to say.
Mind Your Spices
Your herb and spice cabinet might seems a little intimidating, but it's your best friend in the kitchen. The right seasoning can quickly take your dish from bland to superb. Don't be afraid to peruse the supermarket shelves for new flavor enhancers and test them out. Once you've understood some of the basic flavours, you can begin experimenting with various combinations to really give your food a sophisticated edge.
Plan in Advance
Organization and preparation are critical to your success in the kitchen. Look up a recipe and see what procedures it implies, particularly the order and initial preparations. While some of us guys take the concept of directions as a personal affront, when it comes to cooking it's time to set the ego aside. Say you have a dish that requires you to put the peeled, chopped, diced, or minced ingredients in the pot roughly a minute or two apart. Having all of them ready early, will not see you scrambling between stirring and the cutting board.
Organize Your Kitchen
Nothing brings everything to a grinding halt more than not knowing where things are. Have everything you need in easy-to-reach places or, better yet, out on the counter and ready to go. For easier maneuverability around the kitchen, an optimal fridge-oven-sink positioning should be arranged in a triangle with you in the middle. If this is not an option, make sure that you have everything you need at hand, in terms of both ingredients and utensils, before you start on a dish.
Culinary Connectivity
Keeping your laptop, tablet or cell phone close by, can help you out immensely. The web is awash with amazing recipes, tips, how-to videos and other resources that will make your life incredibly easy. Mobile cooking apps offer unprecedented opportunity for even the most inexperienced chef among us to fomd everything they need to produce delicious fare.
Cooking for one isn't be as depressing as some movies or people would have us believe. It is a part of life that every man should go through on their journey to complete independence.