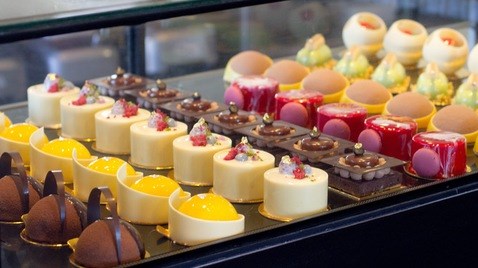 Do you love the hospitality industry? That's great! Now you've decided to open your own cafe. Yet in today's ever-changing market, what's going to define you from the bakery next door?
What is going to help you stand out from the rest? Here's how you can avoid falling into the trap of being like everybody else, and make your mark in the hospitality business.
Premium supplies that don't cost your budget:



When it comes to filling your new place with stock, it pays big time if you calculate your costs. Sure, as a start up business, you want to get the customer in and start making money, but there are ways to outshine your competition without blowing a whole load of your funds.
If you're starting out in Victoria's food capital of Melbourne, or the bustle of Sydney, get brilliant hospitality supplies at a wholesale price.
There are a range of bags and cups that you can personalise in order for you to catch your customer's eye and help you build your personal brand.
Research your competition:
We all know the old saying of "keep your friends close...". While you may have done some market research on your competition before starting, it is definitely a main way you can get an insider's view.
Looking into what strategies are working and better yet, not working for them can help you to differentiate from them. Business, while all about making the customer happy, is about sales. So, don't be too kind to your competitor.
Are they having turnover from higher prices? Make your prices slightly cheaper. What does the layout of the place look like? Work out how best to display your stock.
Sell the product to the customer:
To the inexperienced newbie, up selling or the idea of add-ons to your cafe may seem greedy. However, in today's market, it can often bring in the extra cash flow to keep you going and help you make a profit.
This comes back to the "not too kind" point. Get your point across. Is the coffee freshly roasted? Market the fresh ingredients used in the cakes and slices you sell. Better yet, sell some of the ingredients to the customer.
Those such as The Pancake Parlour restaurant chain in Victoria sell portions of their products both in restaurant and online.
While it may seem to be giving away their secrets, they make more profit from selling extras such as their buttermilk pancake mix and their maple syrup, which does have an organic variety.
An inviting layout and invest in your baristas:
While the food may be brilliant quality, the great cup of coffee is often what the customer comes in for, in order to escape the mundane of the everyday. Therefore, an inviting layout with comfort will be like bees to honey.
Funktion Hospitality also has some great tips on how investing in a good barista, who knows their technique, can give you a better return in the end.
Providing a list of menu items or fresh products in the window can also help, as this gives the customer a clear idea and shows good product knowledge.
Get social and market your wares:



In today's business world, if you're a cafe that is also going to provide catering services, then it is a necessary means to build up online contacts and a database for future orders.
Market yourself on those such as Tripadvisor, and of course, all other social sites. Facebook, Instagram, you name it, as in today's world, it's also necessary for general exposure.
Now there are my tips for how to stand out and market yourself as a buzzing cafe. Bon Appetit!