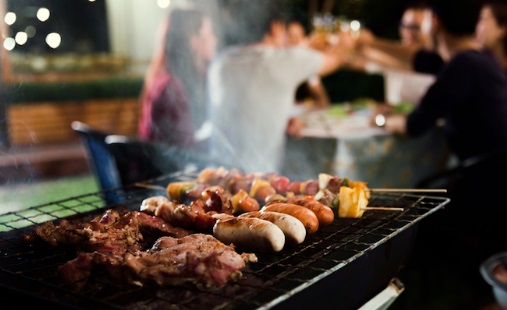 As summer peaks its head around the cold wintery clouds, the smell of BBQs firing up begins to fill the suburbs. There is a simple joy to cooking fresh food in the great outdoors, and an immediate feeling of good weather and good times with friends and family. The BBQ has become almost synonymous with Australia, it's the preferred national way of cooking in our long and blissful summer months (and even winter), so make sure you have the basics of barbecuing down and master the grill for summertime thrills.


What to Burn
Choosing the right fuel can make a huge difference in the taste and quality of your meal. Lumpwood charcoal adds a significant smoky flavour to your food, and heat beads or briquettes are somewhat easy to use but have the potential to add a gassy flavour if you're not careful. Both coals can make it hard to manage temperature. Gas barbeques are easy to use and control and take less time to heat up. However, one issue with gas barbeques is the tendency for the flames to jump and make quick work of what you're cooking. The term 'flame-grilled' is somewhat misleading in that you don't want to be cooking over huge flames – the temperature needs to be right for what you are cooking and you are going to need to vary the temperature depending on what it is you are barbequing. Infrared technology grills make it easy to control the heat and don't carry the risk of flaring up. They offer all the benefits of gas barbeques with added safety and control.


Have the Right Tools for the Job
If nothing else, you need a good pair of BBQ tongs to get the job done right. You will need BBQ tongues over short kitchen tongs as they are prone to heat up quickly and bring your hand too close to the barbeque. Avoid using any kind of fork to turn the meat – if you poke holes in the meat you release all the natural juices that you want to retain. For this same reason don't press down on your meat with a spatula, as this will have the same effect of releasing all those good juices. Flip each piece of meat once only and leave it alone to cook. Avoid restless flipping while you sip on a beer. It might look and feel like you know what you're doing but it will cook the meat unevenly and you'll end up with sub-par results.


It's Not All About Meat
When we think of barbeques, most people immediately picture sausage sizzles, well-cooked steaks and prawns, but vegetables like corn, eggplant, capsicum, field mushrooms, zucchini and tomatoes taste great when barbequed. So don't just settle for a carnivorous carnival – introduce a range of barbequed vegetables too and even flatbreads to create a more rounded and healthy meal, full of flavour.


More Marinade
It's hard to find anything better than good meat and vegetables cooking over a hot barbeque, except well marinated meat and thinly sliced vegetables cooking over a hot barbeque. Marinating tenderises meat and adds a depth of flavour. Marinade your meat for at least a few hours, or overnight if possible.
When you're all finished be sure to clean the grill while it's still hot. This might mean you don't get to each for an extra 10 minutes but it's far easier and better for the barbeque to clean it straight away than to leave it to crust overnight. Use a good grill brush and scraper to clean it properly and don't forget to empty the grease tray. Become a grill master and make the most of summertime in Australia!

Image From: https://www.cannonlogistics.com.au/blog/quintessential-aussie-bbq/