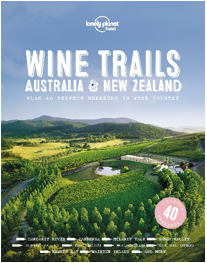 Love travel? Enjoy wine? Welcome to Lonely Planet's Wine Trails: Australia & New Zealand, published this month.
This comprehensive companion to 40 weekends of wine-tasting across Australia and New Zealand is the follow-up to Lonely Planet's best-selling 2015 book, Wine Trails. Meet the regions' best winemakers, and discover each place, its people and their traditions through the wine that's made there.
A team of wine professionals and enthusiasts, including well-renowned wine critic Huon Hooke and VinoMofo's Michael Ellis, have written the Australian itineraries, reviewing the most rewarding wineries to visit and the most memorable wines to taste. The featured Australian wine trails are:  
ACT: Canberra
NSW: Hunter Valley, Mudgee, Orange, Riverina
QLD: Granite Belt
SA: Adelaide Hills, Barossa Valley, Clare Valley, Coonawarra, Langhorne Creek, McLaren Vale
TAS: Coal River Valley, Hobart, Piper's River, Tamar Valley
VIC: Beechworth, Bellarine Peninsula, Heathcote, King Valley, Macedon Ranges, Mornington Peninsula, Pyrenees, Rutherglen, Yarra Valley
WA: Great Southern, Margaret River, Swan Valley  
Wine Trails: Australia & New Zealand also contains maps, practical details and weekend-long itineraries for each region, where to stay and eat, and - of course - what to drink.
Lonely Planet spokesperson and Wine Trails: Australia & New Zealand contributor Chris Zeiher says: "We've all experienced it on our travels - when a local wine could not be more perfectly suited to the moment. Tasting wine in the place it was made can be a revelation. It is this personal introduction to wine, in its home, that is at the heart of wine-touring's appeal."
Wine Trails: Australia & New Zealand
October 2018 | $34.99 AUD | 1st Edition
240mm x 185mm | 264 pages
Hardback | ISBN: 9781787017696


About Lonely Planet Food:
Lonely Planet Food – an imprint of the world's leading travel authority, Lonely Planet – was established in 2016 to enable travellers (both on and off the road) to discover the most local, authentic and delicious foodie hotspots around the world. Lonely Planet believes food and drink are an intrinsic part of travel, so now we're sharing our foodie knowledge with titles that serve up unforgettable, mouth-watering food and drink experiences across the globe. Explore the culture behind local cuisines, where to find them and how to enjoy them. Find out more on https://www.lonelyplanet.com/food-and-drink/, and join us on Instagram (Instagram.com/lonelyplanetfood).