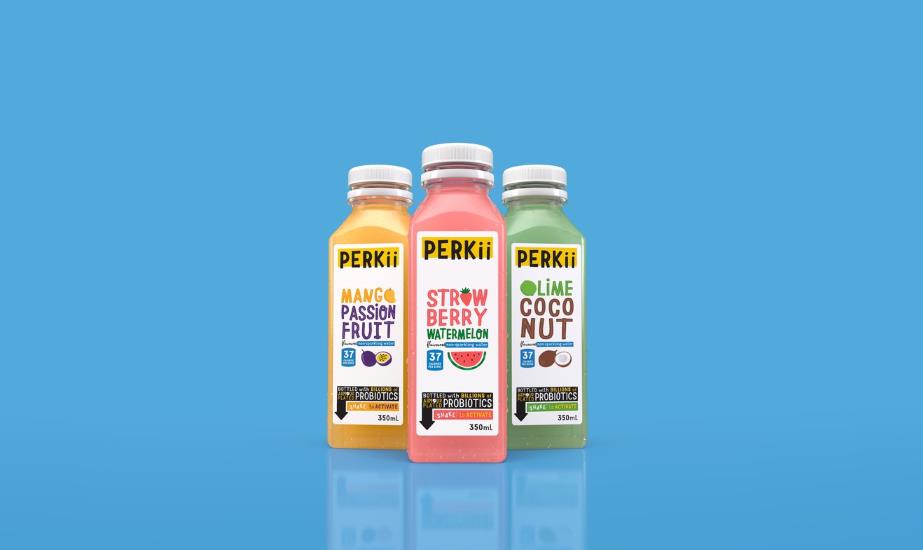 PERKii is the healthy probiotic drink that is enjoyed across Australia by those who care about their health and wellbeing.
With probiotics having been shown to improve gut health, boost immunity and improve mental health, thousands of Australians will finish this week feeling a billion times better than usual after receiving their PERKii inclusion with their HelloFresh delivery.
Many probiotic products are limited by poor stability, high sugar content, unfavourable taste and low survival through the acidic stomach, however with only 37 calories and just one and a half teaspoons of sugar from apples, PERKii is leading the way in better-for-you beverages.
PERKii is looking to educate Australians to better probiotic options, to kombucha who has low probiotic counts, generally high counts of yeast.
The University of Queensland has developed patented technology, ProGel™ that acts as an armour-plated layer that protects the good bacteria through the stomach, to the intestine where they can really make a difference. The ProGel™ microencapsulation technology allows the encapsulation of probiotics on scale, delivering a protected probiotic undetectable by mouth and resistant to acidic environments like the stomach.
Combining this science-based technology and research with great taste and countless health benefits, PERKii is disrupting the health-drink industry and fast becoming the number one choice with discerning customers who are more informed than ever and highly conscious of what they are putting into their bodies.
CEO of PERKii Probiotics, Matthew Kowal has commented, "PERKii is proud to use our approach of 'sunny science' to have created a probiotic drink that not only tastes great, but that also makes you feel your best."
PERKii wants to improve Australians lives by encouraging them to be the best version of themselves by ensuring their physical and mental health is at its optimum. With the links between gut and mental health being a proven science, a daily dose of PERkii will help everyone, everyday feel more alive, inside and out.
PERKii Probiotic facts:
4-month shelf life

Lactose and Gluten free

All-natural flavours

Flavours include Strawberry Watermelon, Crisp Apple and Mango Passionfruit (Mango Passionfruit and Strawberry Watermelon sent with HelloFresh this week)

Bottled with 1.2 billion CFU in each bottle (colony forming unit)

PERKii is currently available in over 2,600 outlets nationally including Woolworths, Zambreros, Caltex, IGA and other independent retailers with the product launching into 800 Coles stores.

Website: www.perkii.com.au
Instagram: @perkiiprobiotics
About PERKii
PERKii™ is a start-up from the University of Queensland, initially supported by Uniseed and the
Brisbane Angels group, that has released the world's first water and juice drink with 1 billion
microencapsulated probiotics and only 37 calories! PERKii offers consumers an option to manage
weight, improve gut health and boost immunity with 1 Billion live Lactobacillus casei with clinically researched health benefits in a refreshing, light and great tasting low calorie drink. Derived from the ProGel® technology, also invented at the University of Queensland, this drink protects and improves
probiotic stability by encapsulating them in tiny natural beads called Microgels. Microgels keep the
probiotics alive in drinks and the acidic stomach resulting in improved delivery of probiotics to the
gut. PERKii comes in four delicious flavours, Lime Coconut, Strawberry Watermelon, Mango Passionfruit and Crisp Apple plus a range of seasonal limited-edition flavours. For more information, visit www.perkii.com.au