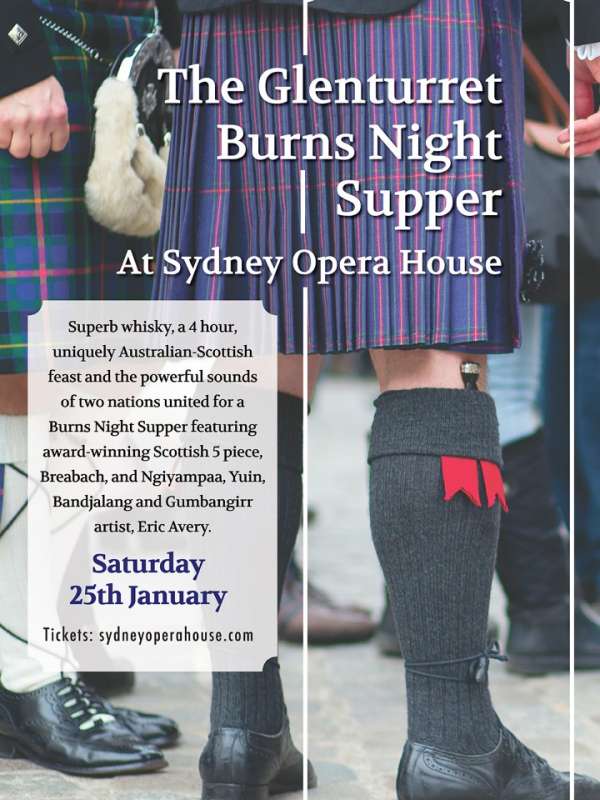 Australian and Scottish cultures merge for a unique take on the traditional celebrations as part of the Year of Scotland in Australia 2020
$50 from each ticket will be donated to charities in aid of the bushfire campaign. Purchase tickets here: https://www.sydneyoperahouse.com/events/whats-on/experience/the-glenturret-burns-night-supper.html
@YOSA2020 #YOSA2020 and #ScotlandIsNow
SYDNEY, AUSTRALIA, 13 January 2020 – One of the flagship events within the Year of Scotland in Australia 2020 will help raise funds in support of those affected by the unprecedented Australian bushfires.
For every ticket purchased for the Glenturret Burns Night Supper, held at the Sydney Opera House on 25th January 2020, $50 will be donated between the Australian Red Cross and World Wildlife Federation.
The Glenturret Burns Night Supper will reimagine the traditional 'Burns Night Supper' by showcasing indigenous Australian culture alongside conventional Scottish customs in a once-in-a-lifetime event, held as part of the year-long program of cultural and musical events planned across 2020.
Fresh from their headline appearance at the world-renowned Celtic Connections Festival in Glasgow, the multi award winning Scottish band Breabach will make the journey to Sydney for the event.
In celebration of their 15th year on the road, and in collaboration with The Glenturret, the band have released a limited-edition single malt whisky. To help support those communities affected by the bushfires, the first bottle distilled will be auctioned off, with all proceeds in aid of the bushfire campaign.
Ewan Robertson of Breabach, said: "It is truly heart wrenching to witness the devastation wrought by these fires. As a former volunteer firefighter myself I feel particularly helpless but hope that our small contribution can help support the relief effort in some way. Our thoughts and love are with all those affected."
Malcolm Roughead, Chief Executive of VisitScotland, said: "The Year of Scotland in Australia celebrates the strong and long-lasting bond between Australia and Scotland and our sympathies go out to all those communities affected by the bushfires. It's heartening that this event, which is a true collaboration between our cultures, can offer some support to our Australian friends at this time."
Held in the Sydney Opera House's Yallamundi Rooms, The Glenturret Burns Night Supper is a four-hour feast that will feature an inventive menu created by Sydney Opera House chefs to honour Scottish traditions – such as haggis - whilst incorporating native Australian flavours. Menu items such as haggis served alongside kangaroo with a root vegetable ecrase and New South Wales pickled mushrooms, vanilla wattle seed mousse with Cutaway Creek raspberries and a honeycomb and oat crumble will be complemented by wine, beer and premium single malt whisky from Scotland's oldest working distillery, The Glenturret.
Highlights from this night of revelry include rousing recitals of Burns' poetry; uplifting toasts such as the Piping of the Haggis (where a piper accompanies the haggis around the room before it's served); the Immortal Memory; the Toast to the Lassies; singing of Auld Lang Syne; and musical performances to honour the life and work of Scotland's national bard.
Breabach, who scooped the BBC Scotland Traditional Album of the Year Award last year, will perform a unique set combining twin bagpipes, fiddle, bass and guitar with Gaelic vocals and step dance. Breabach will be joined by acclaimed Indigenous violinist and vocalist Eric Avery.  The event will open with the ancient Indigenous Australian tradition of 'Calling Country' with a combination of the bagpipes, the didgeridoo, a gum leaf dance and more. This Burns supper is the first of its kind and is a genuine celebration of two cultures in the iconic venue of Sydney Opera House.
Year of Scotland 2020 events are designed to inspire Australians to discover and celebrate Scottish culture at home, and to visit Scotland to experience 'the real deal' in future travels.
A significant event for Scots both in their homeland and here in Australia, Burns night suppers were first held in July 1802, when a group of friends of poet and lyricist Robert Burns got together to mark the fifth anniversary of his death with a festive feast of haggis and renditions of Burns' work. The night was such a success, they decided to stage it again to honour Burns' birthday, beginning a tradition which endures around the world today.
A number of additional Burns Nights suppers are being held all around Australia, including:
Produced and curated by Showcase Scotland Expo and Woodfordia Inc in partnership with Australia's festivals and event organisers, the Year of Scotland in Australia 2020 is backed by VisitScotland, The Scottish Government, The Glenturret whisky, and Creative Scotland.
On the Year of Scotland in Australia 2020, Scotland's Cabinet Secretary for Culture, Tourism and External Affairs, Fiona Hyslop, said: "The Year of Scotland in Australia is a phenomenal opportunity to further Scotland's enduring relationship with Australia, with musicians from both sides of the globe sharing our dynamic traditional music scene.
"My hope is that new working partnerships will be forged, creating demand for continued Scottish performances beyond 2020, and encouraging our friends Down Under to come to Scotland and experience all we have to offer."
Alan Morrison, Head of Music at Creative Scotland, said "With almost 120,000 Australian residents born in Scotland – and a further two million claiming Scottish ancestry, there's a deep and genuine shared connection between our two nations. The Glenturret Burns Night Supper is a unique way to celebrate that enduring bond through a combination of indigenous Australian and Scottish music and traditions."
John Laurie, General Manager for The Glenturret, commented "For many years a dram has been a great way to toast friendship and togetherness, and The Glenturret are delighted to be part of this event which celebrates the coming together of Scottish and Australian culture. With brilliant music, food, and Single Malt Whisky, it's set to be a great night!"
About the Glenturret Burns Night Supper performers
Breabach is a multi-award-winning Scottish contemporary folk band which performs traditional songs, contemporary tunes and original compositions based on themes including global politics, the media and the natural world using instruments including the bagpipes, whistle, flute, fiddle, guitar and bouzouki. Accolades for Breabach include 'Best Folk Band' and 'Best Album' at the MG ALBA Scots Trad Music Awards, 'Best Group' at the BBC Radio 2 Folk Awards, and 'European Album of the Year' at the Songlines Music Awards.
Eric Avery is a Bundjalung, Gumbaynggirr, Ngiyambaa and Yuin man from NSW and one of the country's most unique First Nations performers. A violinist, native language singer, composer and dancer, Eric seeks to continue the legacy of traditional tribal singing and has performed at events including Parliament House's 30th anniversary in 2018 and the Boomerang Festival at Byron Bay Blues Fest. He has also composed for Black Arm Band and danced at Sydney's Carriageworks.
Tickets for the Burns Night Supper are on sale now: https://www.sydneyoperahouse.com/events/whats-on/experience/the-glenturret-burns-night-supper.html
To keep up to date with the fast expanding year long programme, more detailed information and ticket links, visit  www.yearofscotlandaustralia2020.com and follow @YOSA2020 #YOSA2020.
The Year of Scotland in Australia 2020
is the largest showcase of traditional Scottish music and heritage in Australia, ever.
Produced and curated by Showcase Scotland Expo and Woodfordia Inc in partnership with Australia's festivals and event organisers, The Year of Scotland in Australia 2020 is backed by Creative Scotland, VisitScotland, The Scottish Government and The Glenturret whisky. For detailed information and ticket links, visit
www.yearofscotlandaustralia2020.com
and follow us on social media using @YOSA2020 #YOSA2020 and #ScotlandIsNow