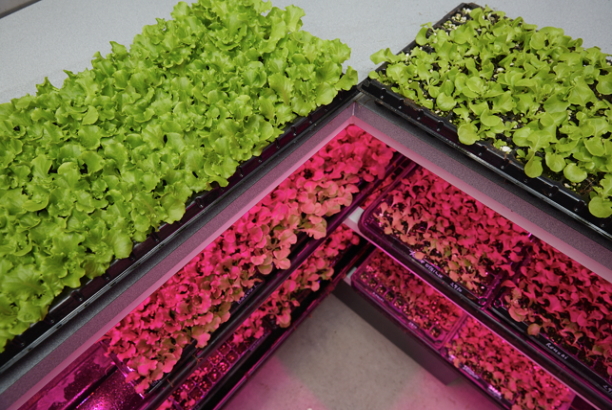 Farming is facing mounting pressure to provide for a rapidly growing urban population. At the same time, Australians are demanding sustainable food options, and want transparency about the real cost of their food: where, how and by whom was it grown? How much water, fertiliser or agrichemicals were used in its production?
Vertical farming – controlled environment agriculture in close proximity to the market that consumes it – is one of the innovative ways in which technology is being combined with agriculture to provide a secure, sustainable and less wasteful food supply.
While the concept of growing produce upwards, in concentrated, urban-based farms, is well-established elsewhere in the world, Sprout Stack is Australia's only commercial-scale vertical farm. Located in an industrial warehouse on Sydney's Northern Beaches, it grows quality salad greens year-round out of recycled shipping containers. Its salads are sold at Harris Farm Markets Sydney-wide and additional local independent grocers.
According to Chief Executive Officer Hugh McGilligan, Sprout Stack's technology and the elimination of 'food miles' (the distance between the farm and its customers) yield a tastier, more nutritious and more sustainable product.
"Traditional farming and food delivery networks are massively resource intensive and wasteful. A lot of the food that is grown never even makes it to the table. In fact, the UN estimates 40 per cent of food harvested is wasted, and that goes up to 70 per cent for leafy vegetables," says McGilligan. 
Sprout Stack's salads are grown using far fewer resources than traditional farming and generate almost zero waste. Near-zero food miles means they go from 'paddock' to plate in record time.
"The nutritional quality of fresh produce declines parabolically after harvest, which is why frozen peas are better for you than fresh. We average 16 hours from harvest to store. Compare this to about a week for traditional farming," said McGilligan.
Sprout Stack's farm consists of several shipping containers each fitted with hydroponics, LEDs and a computer control system. The proprietary technology means the containers are fully autonomous and able to be monitored and adjusted from a phone from anywhere in the world. Rows of kale, cress, radish and lettuce are stacked six rows high and given the perfect climatic conditions needed for each plant's growth.
Optimal levels of light, CO2, nutrients, pH, temperature and humidity have been established for each phase of life for each varietal, creating a 'growth algorithm'. This proprietary recipe provides each plant with the perfect conditions from seed through to harvest to maximise yield, flavour and nutritional quality, all while minimising the use of resources.
Controlled environment farming is about as clean and sustainable as can be. With no pests or weeds to control, the farms have no need for pesticides, herbicides or other agrichemicals. The crops are also 100 per cent protected from the climate-related issues many Australian farms are currently facing. Sprout Stack maintains a deep commitment to the triple-bottom line. Water is recycled within the system, meaning they use less than three per cent of that used by a traditional farm, and any waste coconut 'growth substrate' is upcycled to grow mushrooms or into chicken feed.
Spout Stack is one version of the farming of the future. Its salads are a great solution for consumers who are looking for sustainable way they can do their bit to help save the planet, while at the same time having delicious, nutritious and fresh produce.