Written by

Tess Sanders Lazarus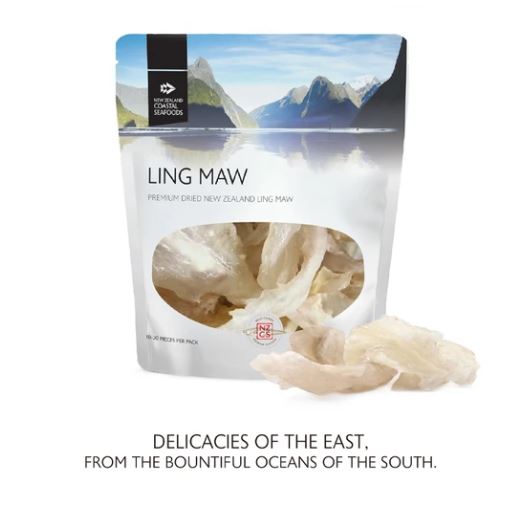 New Zealand Coastal Seafoods (NZCS), is a leading supplier of premium seafood products and has launched an innovative range of products for the food and grocery sector. The new products include cooked ling maw, cooked abalone as well as its flagship product Dried Ling Maw. NZCS's Fish Maw is sourced from the float bladder of the ling fish, a sustainable, wild caught Marine Stewardship Council (MSC.org) accredited species. Fish maw is considered in Asian culture to be one of the top delicacies of the sea.
New Zealand Coastal Seafoods has appointed BuyNatural as their exclusive distributor to spearhead their sales and manage distribution of their new retail products.
Dr Mathew McDougall, CEO of BuyNatural, today welcomed the partnership deal with New Zealand Coastal Seafoods.
"Ling maw is a highly sought after product and we are excited to be working with New Zealand Coastal Seafoods to market and distribute their new range of 'meal ready' ling maw and abalone packaged products," Dr McDougall said.
"New Zealand Coastal Seafoods' packaged ling maw will appeal to many consumers that value the nutritional benefits of the product and appreciate eating produce sourced from one of the most untouched oceans of the world.
"Our aim is to see the products stocked in supermarkets and specialist grocery outlets across Australia and being consumed in Hong Kong and mainland China. We will also be selling the products through our fast growing BuyNatural platforms.
BuyNatural operates both English language (www.buynatural.com.au) and Chinese language (www.buynatural.com.cn) platforms that showcase and sell quality Australian and New Zealand produce.
"As a business that loves working with boutique and emerging brands and helping them to become bigger brands by springboarding them into the reach of consumers in Australia and overseas – we are really excited to be working with New Zealand Coastal Seafood – as their products reflect the premium quality of the region's produce," Dr McDougall added.
"China is also waking from COVID-19, so we expect to see strong interest from consumers in mainland China. We will also be utilising our exclusive Daigou network to facilitate the introduction of this new range into the homes of people across China.
"China has a population of nearly 1.4 billion people and their middle class is growing. They are also avid online shoppers and eager to purchase premium quality brands. They also seek out authentic Australian and New Zealand brands as these products are considered premium quality, clean, green and produced in highly regulated environments.
"In addition, Chinese consumers, especially the millennial generation are also looking to purchase 'newer, smaller brands' as they have grown bored with the larger established brands that their parents have used. This consumer shift is providing exceptional opportunities for Australian and New Zealand businesses selling product sourced from the region.
"We expect New Zealand Coastal Seafoods' new range of products to do extremely well among local Chinese consumers including Daigou and mainland consumers."
Daigou are Australian based Chinese who buy products and send them back to their friends, relatives and others in China. There are over 80,000 Daigou in Australia and the Daigou trade channel is growing fast helping many Australian brands to build awareness among consumers in China.
"We are looking forward to sharing our premium branded range of ling maw and abalone products with consumers, and, following last week's recent product training with BuyNatural's distribution team members, we are about to ship our first consignment of Bagged Dried Maw, Cooked Abalone and Cooked Ling Maw in Sauce to the BuyNatural warehouse," New Zealand Coastal Seafoods, Chief Sales Officer, Anna-Lee Fraser said today.
"Our products are proudly what you would call, delicacies of the east, sourced from the bountiful oceans of the south. They have come from some of the world's most pristine waters and packaged up ready to be enjoyed in soups and other dishes.
"We can't wait to get our new range on to shelves and into people's homes. We have developed a world leading process that enables us to capture all the unique properties of our product and deliver it in a way that maintains taste, quality and shelf longevity. We know everyone is going to love it!"
About BuyNatural
BuyNatural.com.au is one of Australia's leading online retailers selling natural and organic Australian products to shoppers nationally and through its sister site, BuyNatural.com.cn, a Chinese language site, sells products to shoppers in mainland China. BuyNatural is a platform that incubates Australian brands and assists them to gain broader brand exposure, awareness and value in Australia and in China.
BuyNatural.com.au includes brands and products across a broad range of categories from mother/baby to health and wellness. BuyNatural is a business unit of the Reach Group founded by Dr Mathew McDougall to assist Australian business owners to promote and sell their brands and products both nationally and overseas.
About New Zealand Coastal Seafoods
Established in 2016, listed on the ASX in 2019, New Zealand Coastal Seafoods Limited (NZCS) processes, distributes and exports premium seafood products for supply, directly and through distributors, to customers, restaurants, seafood traders, supermarkets and other retailers in New Zealand, Australia and parts of Asia.
The Company operates an Export Licenced, Risk Management Programme (RMP) seafood processing and drying facility in Christchurch, New Zealand and to date, has focused on selling dried premium seafood, including ling maw, sea cucumber, soft and hard elephant fish backbone and dogfish backbone. The company has recently completed the acquisition of KDI to expand its product range into the premium marine nutraceutical market sector.
www.nzcs.co