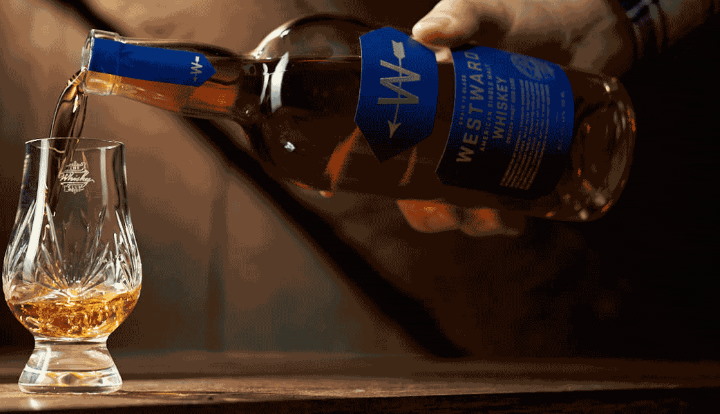 Lagavulin distillery is based on the Scottish island of Islay.
The Ardbeg Whiskey is from the Ardbeg Distillery on the same south of Islay Island in Scotland It sits right on the waterfront.
Both distilleries have won awards. The Ardbeg Distilleries have won World Whiskey of year, Scotch Whiskey of year, and World's best single malt. Lagavulin has won the best single malt scotch 10 years or under by Jim Murray's Whiskey Bible.
Both Ardbeg and Lagavulin whiskeys use barley smoked with local peat which is not found anywhere else.
One Lagavulin whiskey is an Offerman offering, named after an actor on a television series in Scotland who shows this distillery in episodes of his show. He states that Lagavulin is his favorite whiskey. This whiskey with a dram of water added brings out the rich peat aroma. Barley is dried over a peat fire, the peat used found only on the Island of Islay and giving the whiskey the rich smoked peat flavor. Lagavulin has been aged 11 years in oak rejuvenated casks. Over the years, Nick Offerman became friends at the distillery and even featured this whiskey on another television show, a whiskey lover's favorite program.
That led to the partnership for the limited offering of the Offerman Lagavulin whiskey. This aged 11 years. This offering relates to the Lagavulin line by its enhanced peaty taste melded with strong fruity flavors of smokey peat.
This whiskey has been aged in refilled caskets imbued with the whiskey aged earlier. The barrels, already seasoned due to being soaked with flavor, will not absorb this whiskey flavor, but the whiskey will hold the proper fruity and peat flavors. This whiskey holds a high 46% ABV.
 Ardbeg is an Islay single malted scotch whiskey. The whiskey is aged 10 years in the barrel. It is an entry-level single malt embracing the peat flavor with a blooming complete flavor.
Lagavulin
 Colour: deep gold
Ardbeg
 Colour: Gold Straw
 Lagavulin
 Nose: Smokey green apples and the smell of dock followed by berries cooking on the stove with spices floating in the air.
Ardbeg
 Nose: The peat has been smoked to give it a strong, fruity nose. A wisp of lemon-lime comes through with chocolate behind that. Another reviewer got coal, caramac bars, with a mild, soapy note, and a final taste of pepper and chili.
 Lagavulin
 Body: A taste of smoking peat assaults your tongue. That opens up flavors of berries and other mild fruit. Rich and bold.
Ardbeg
 Body: Cool menthol flavor with black pepper pushes through the peat, smoked flavor. The feel of dockside lines and fir smoked fish. Alongside are the flavors edging in of green bell peppers and baked pineapple infused with pear juice.
 Lagavulin
 Finish: The liquid is swallowed and what is left is that peat feel lasting and lasting.
Ardbeg
 Finish: endures-lasting and lasting first of tarry espresso, then, licorice, almonds, and a slight taste of barley and smoked peat.
Lagavulin
 Palate: Unexpected sweet lingering flavor with a bit of salt and smoky peat.
Ardbeg
 Palate: begins soft and gentle peat on the palate, followed by lemon-lime and spices. The taste of ocean fish comes through. Lastly comes a bit of sweetness from toffee that hangs on giving it a good balance. A burst of peat comes forward, hanging on to the lingering taste.
Lagavulin
 Finish: smoldering peat taste that leaves a taste of outside fires with the smoke wisping around everywhere in the wind.
Ardbeg
 Finish: Has lasting and mellow flavor with smokey peat feel and a bit of lingering black pepper. Yet, it is soft.

Histories
 Lagavulin: Of the two whiskeys, Lagaluvin is the more expensive. It is sold mostly in Australia through the Whiskey club and in the United States.
 This distillery has defied the odds to stay in business for 203 years while so many others closed for a time and changed owners constantly. Now the distillery is fighting to keep up with demands for their 16 years in casket liquor. This Offerman Offering is currently more expensive than the Ardbeg.
 Back in 1836 one of those heritage troubles arose when it was discovered that Walter Campbell owned many of the buildings. The distillery cost two operating spots and they were now merged into one and bought by Alexander Graham who left it to his son. In 1862 the distillery went into the ownership of James L. Mackie who was a gifted whiskey blender, in partnership with Captain Graham, a surviving member of the family. His nephew came next, with an energetic outlook. Peter was like he had a motor that took off when his uncle died and he took over.
 Peter introduced the White Horse blend in 1860. He also owned another distillery in Speyside and being a bouncing type of guy made progress. He was knighted. He then founded the Laphroaig that wasn't anything like the two former stars of the distillery. It was a success and the liquor continued until 1962. It was now the Whitehorse Distillery. This became the Distillers Co. and by now was quite large. They began having the shipping of supplies and products done by someone else.
 That led to hiring the work out to someone else in 1974 and they now have the malting hired out.
 In 1948 they had a serious fire. They quickly rebuilt and became popular in the world, winning awards.
 Ardbeg:
 Ardbeg liquor uses heavily smoked peat barley. They then cast it in ex-bourbon barrels. When the whiskey goes to bottle its ABV is 46%.
 Comparing Laphroaig Ardbeg, Ardbeg's smoky aroma and taste beats out Laphroaig more oceanic and dockside salty air feel. The argument is between the peat used by either of them and the manner of smoking. Because Ardbeg did not have a fan in the roof, it resulted in a tarry peat taste. This is no longer so and what is left is the tail end of the old crop in barrels.