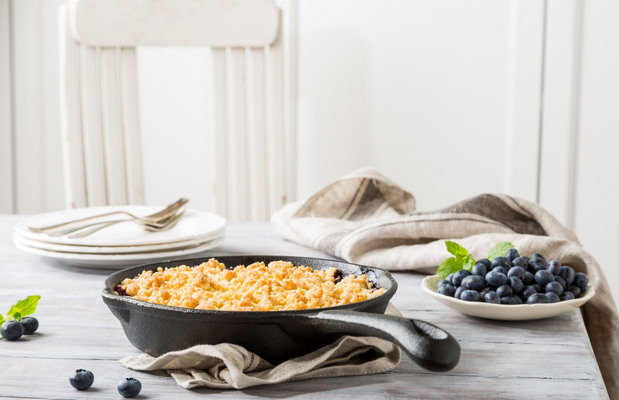 Looking for new cookware has life-changing potential. Maybe you want to get a new 12" cast iron skillet, or maybe you want to change your lifestyle. Cast iron cookware works best for the second option. 
You may be wary of the cast iron cookware. And, you may wonder how to clean cast iron cookware, or what you can do with it? 
The reality is that once you get the basics down, you won't be able to cook without this cookware.


Advantages of Cast Iron Cookware
 
Cast iron cookware allows you to cook various dishes, with different cooking techniques. You can cook more recipes with a single skillet or pan. 
The meals you prepare are tastier and healthier. The food you prepare retains the juices rich with natural ingredients. Also, the cast iron is full of nutrients food absorbs while you cook it. 
Finally, cast iron cookware works in the setting, not just the kitchen. 


More Recipes 
A single cast iron cookware allows you to: 
Fry 

Sear

Roast 

Bake 

Braise
You can do all that with a cast-iron skillet. While the first association with this type of cookware is frying an egg, you can do more with it. 
That means that you can cook any type of cuisine with cast iron pieces. If you want to make a steak, you can do it. And, if you want to bake bread, you can also do it. 
Almost always, the limit is your imagination. And, if you get a cast-iron casserole, you may even make meatloaves. 


Healthier Meals  
While you do it, you'll get a healthier meal. The reason a lot of people try cast iron kitchenware is the health benefits. 
The cast-iron cookware transmits the iron and other minerals with the ingredients you cook. Once you prepare the meal, it becomes enriched with those minerals. 
Also, the way your food cooks is that it retains more juices and nutrients. Since you need less oil for cooking, you avoid harmful matter in your diet. 
With this type of cookware, you get to maintain a healthier diet. And, you can take it anywhere with you.  


Versatile 
Another amazing thing about cast iron cookware is that you can take it anywhere you go. It's insanely popular with people campers and hikers. 
Since it's low maintenance equipment, you can take it for trips and use it to the max. To clean it, you need a few drops of liquid soap and water. 
It doesn't need anything other than a campfire to work. So, it's great to prepare food or meals that take a lot of time to prepare. 
Of course, in case you have a skillet, you can fry bacon and eggs for breakfast. It enriches the experience since it works both in the kitchen and in the great outdoors. 


How to Maintain Cast Iron Cookware 


Another benefit of the cast iron cookware is how easy is to take care of it. Cleaning includes little to no work compared to other types of cookware. All you need are basic kitchen supplies and you are set. 


Cleaning 
The cleaning process includes using soap or another mild cleaning product. You leave the cookware in water after you've done cooking. Then, apply the soap and brush it with a gentle brush. 
In the case when you have food sticking to the surface, just add more hot water. Leave the cookware to soak in the water. Apply the soap and scrub the pieces of food. 
Leave the cookware to dry. Then, apply a soft tissue for the final touch. That's all you have to do to keep your cookware clean. 
Aside from that, you should season the cookware from time to time. 


Seasoning 
Seasoning the cookware means that you put the cookware through a specific process. The process includes using vegetable oil and letting it evaporate on the surface of the cookware. 
This process helps the cookware to last longer. It helps because after you season the pan, food sticks less on it, and it lasts longer. 
Most pieces of cast iron cookware are pre-seasoned by manufacturers. But, the general rule is to season them after you buy them. 
Aside from the regular cleaning and seasoning, you don't have to do much else. 


Fewer Products  
Finally, you don't need much other than basic kitchen supplies to care for the cast iron cookware. Regular products you use for any other kitchenware or cookware are enough. 
Caring for cast-iron cookware is more about the process and less about products. But, the maintenance routine is simple and doesn't require any specific knowledge. 
That's all there is to it. But, there are additional reasons to invest in cast iron cookware.  


Investing in Cast Iron Cookware 


While it's excellent for cooking, this type of cookware has more to offer. It's highly durable and can last for decades without an expanse of maintenance. 
That is something should every family should take into consideration when planning for a long-term game. Enjoying your time both in the kitchen and at the table sharing amazing food and memories with the family and friends is something that is worth living for.
Invest in the quality of your life and cast iron cookware is an essential part of it. Live longer, happier, and enjoy your life to the fullest!