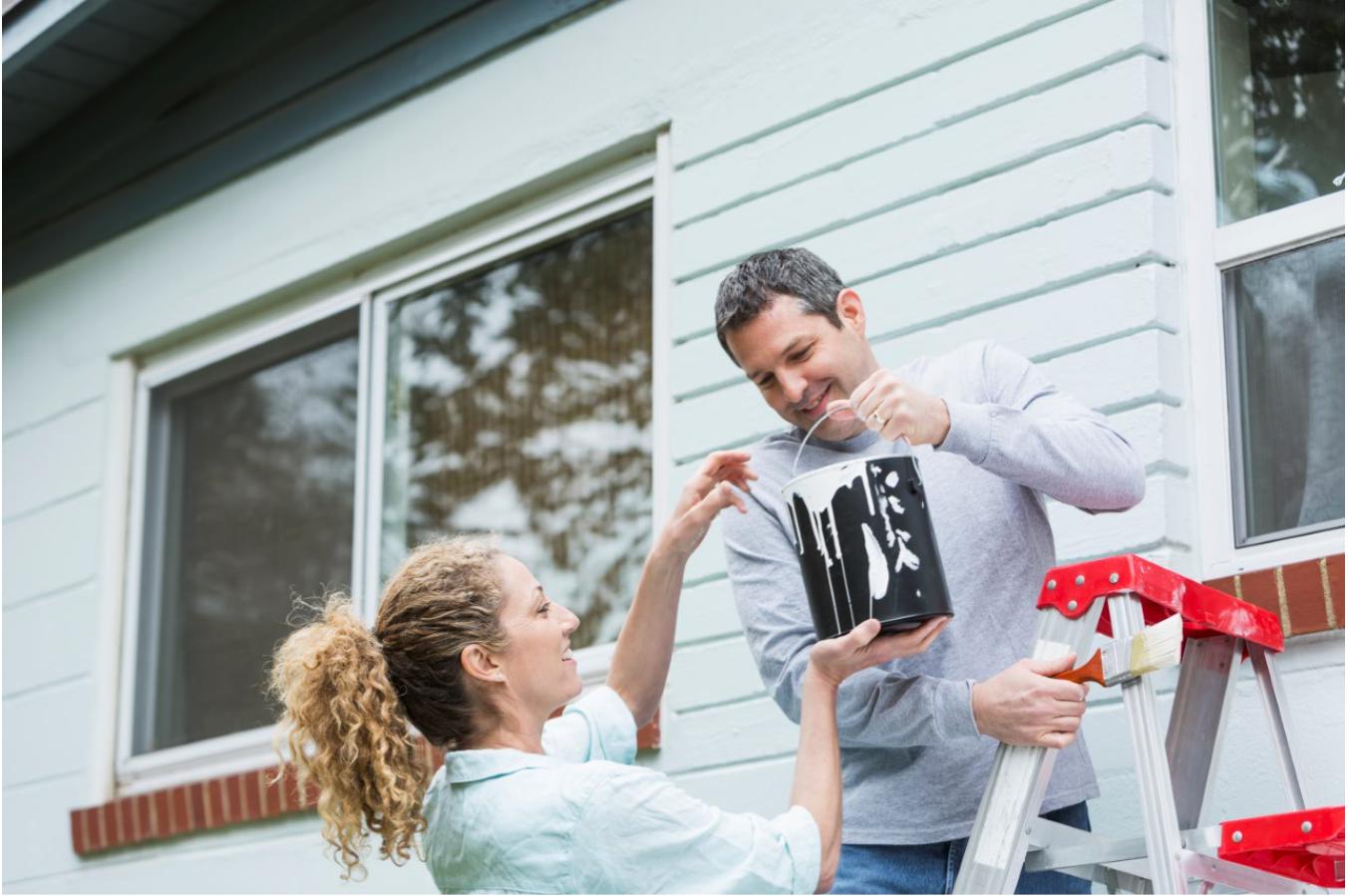 Home repairs & maintenance can generally be found at the bottom of a to-do list, especially when other commitments take precedence, but with a little DIY inspiration and easy-to-use tools, completing simple tasks could make a big difference to your home in minimal time.
Like a blank canvas ready to be splashed with colour and life, freshly painted walls can dramatically change the entire look of a home's interior and exterior. With the right painting tools, painting your home yourself is easy, budget friendly and can be a fun family activity too! Trojan's new range of Paint Tools and DIY accessories offer convenient and cost-effective solutions to refresh your home easily and quickly.
For a house's exterior, a new coat of paint is not just aesthetically pleasing but will also offer better curb appeal, add value, protect against the elements and is one of the cheapest investments in improving a property. Internally, a new coat of paint makes rooms appear brighter and fresher, and depending on the paint colour choice, spaces can appear bigger.
For long lasting effectiveness, when starting any paint job, by far the most important part of the project is the preparation of the surface to be painted. Here, Trojan offers these handy DIY painting preparation tips:
Before painting, remove any flaking paint, nails or loose material with a multifunction paint scraper. Trojan's handy 6 in 1 Multifunction Paint Scraper (RRP $8.30) can remove paints and silicone, as well as pull nails, clean rollers, scrape points and open paint tins.

Fill cracks and holes with putty using a quality scraper. Trojan offers paint scrapers in a variety of widths from 25mm to 100mm allowing users to target a variety of area sizes. (RRP $5.10-$7.90)

Be sure to only sand areas once plaster or putty has dried. By sanding before painting you'll achieve a smooth, consistent finish and will remove any imperfections on the surface. For exterior walls the Trojan Wire Brush with Scraper (RRP $2.48) is ideal for removing rust, paint and stubborn debris from solid surfaces. For interior walls look to Trojan's variety of sanding sponges.

Washing or wiping down walls will help to provide a clean surface so paint adheres properly and distributes evenly.

Use painter's tape to mask off edges and trims. After applying the tape run a scraper knife over the top to ensure a good seal – there's nothing worse than removing tape after painting only to discover that the paint has bled through!

Rather than laboriously taping power points and light switches, remove covers with a screwdriver before painting then replace once paint is dry.

Paint can often spill or spray, so protect furniture and flooring with drop sheets. Also have rags handy to wipe anything away. To avoid mess and to open tins easily, use The Trojan Pail Opener (RRP $5.50) it works just like a bottle opener.

Always mix paint well before each painting session to ensure even coverage and colour is mixed in well. Use Trojan's manual Paint Mixer Medium (RRP $8), or the Trojan Paint Mixer Drill (RRP $10.98), which easily fits to a standard power tool for an even faster mix.

Wash roller covers before use to remove extra fluff that can come off once you start painting.

If using old paintbrushes and rollers, make sure they are in good condition and free from dried on paint. To help improve their longevity, clean them after each use with the Trojan Paint Brush & Roller Cleaner (RRP $8.30).
Trojan paint tools are available exclusively through Bunnings Warehouse nationwide. Find out more at: http://trojantools.com.au/