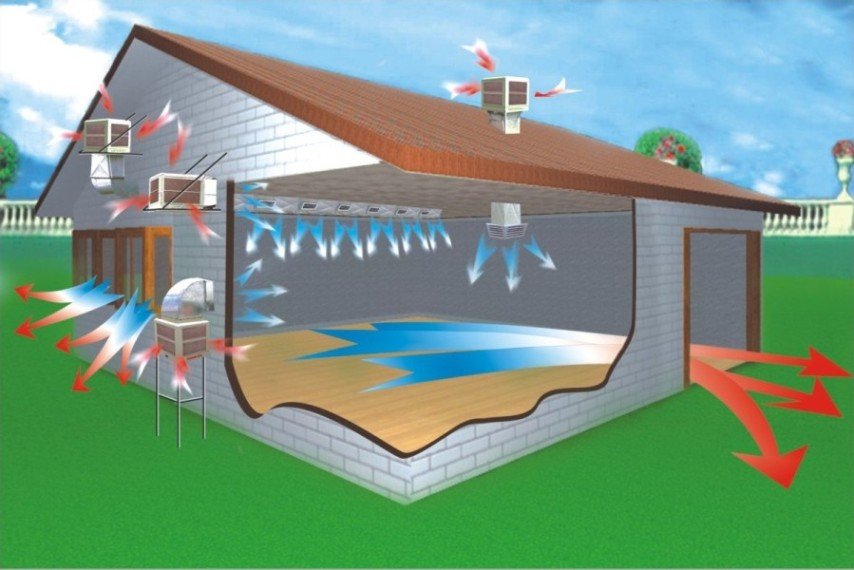 In few days air conditioners will be running almost 24hours in every home. Home owners will see a massive hike in energy bills as we all put our cooling systems to the limit. During the summer period here in Adelaide South Australian, we will have couple of weeks as hot as over 40 degrees celsius. It will be very hot, very dry to the point of unbearable, with a little break in between. As a result of this massive heat and extreme temperature, some people are starting to dread those air conditioning bills that comes with the summer season. They are wondering what's the right cause of action, and how can they save some money on utility bills. Is the Kickstarter funded Mistbox the answer or a good evaporative cooling?
The Mistbox Phenomenon
The Mistbox was a Kickstarter funded project with massive future ahead of it. If you happen to go on their website @ www.mistbox.com, you will see the set up of this device, nicely implemented on an air conditioning system. Basically, all you need to do is connect Mistbox device to your outdoor unit with the hose supplied and then magic happens. The box works in a such a simple way that when the water goes into the box you have connected with your outdoor unit, it get turned into a mist on all four sides of the condenser. As the liquid vaporizes, the air cools and helps the air conditioner run much more better.
You can read some of the important information they've got on their website below:  The MistBox uses temperature, sound, and magnetic field. The MistBox senses those elements to mist at exactly the right time. You can easily connect your device to the wifi and ofcos to your mobile application just so you have instant access to how the product is tracking. MistBox is computer optimized and its algorithm continually improves to maximize saving. MistBox is smart, it learns from its environment, your unique climate and AC system. MistBox starts saving you money from the very first day. It usually pays for itself in the first full season of use, and you could save thousands in cooling cost over its lifetime – These are the words on the MistBox website and you can look it up yourself. The important question is; can this device be more efficient than evaporative cooling system? Also, is it as great as its portrayed on their website?
I guess one of the most important things for us to think about when looking at this device is to ask ourselves; under what conditions can this device work best. I personally believe its a great device but can it work effectively as an evaporative cooling system would work. Some of the questions are; can this system work well when implemented on an outdoor unite in a humid condition, can it really pay for itself in one season ? also, how will it affect refrigerant pressure. These are some of the questions that comes to mind when looking at using this device. Or even comparing it with an evaporative cooling air conditioning system.

Making the case for evaporative cooling
Evaporative cooling principles are very effective and simple to grasp. Applying the principles to this product might get your thinking as to wether its actually going to make all the differences they claim it will make.
You can read more about how
evaporative cooling
works in any of our previous product pages and blog posts. We have established the fact that air conditioning working by collecting heat from inside of your house and simply sending it outside of your house. The fact that your aim is to cool the indoor air simply because the air outside of your home is hot, you put your compressor to work. The compressor is now in charge of making the refrigerant that carries the heat, transforming it from hot to cold would then recycle your air. That's how the traditional air conditioning works. On the evaporative cooling system however, it operate with nature. It evaporative water into he air right before it gets pulled into the condensing unit. This process help decrease the heated temperature in your home while increasing the capacity and efficiency of your air conditioning system.
Rite Price Heating and Cooling is the leader of the air conditioning industry in South Australia. With decades of experience in the industry. We are able to provide the best advice and deals for your heating and cooling needs. Getting the right advice before you purchase your air conditioning can help you make the right decision. For more information on evaporative cooling air conditioning system, pls get in touch with one of our highly experienced heating and cooling specialists.