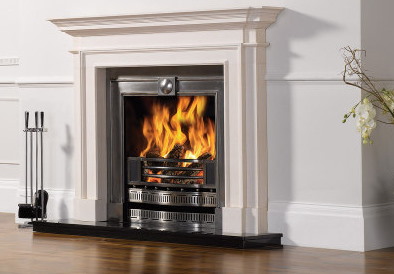 Fireplaces are often deemed as an old-fashioned home feature, rather than something you can install yourself. But as more buyers look for period properties and home comforts, fires are becoming a desirable feature in both modern and traditional houses.
A survey conducted by the National Association of Realtors in 2013 found that 40% of homebuyers would be willing to pay extra for a home with a fireplace. This is good news for sellers too, as you can actually bag yourself an extra 12% of the asking price per fireplace you have.


Added Value


As a general rule of thumb, the added value comes from any type of fire, but gas-burning fireplaces seem to be the most popular, with wood burners being a close second. Luckily, you can find a whole range of fires and mantles at stonewoods.co.uk. Of course, the type of fire available to you is highly dependent on the type of property you have. Some will be equipped to house a wood burning fire while others won't.
Something else to consider is the style of the property overall. An old-fashioned fireplace will look out of place in a new build, so make sure to appeal to the masses when choosing a fire for sale purposes.
An emerging trend in the property development world is the use of outdoor fireplaces. This is a super luxurious feature that is best suited to larger properties with plenty of outdoor space or a wide patio. For those that can stretch their budget to create an outdoor area that rivals celebrity gardens, you could see an additional £2,500 on the house price.
As the pandemic has forced the nation to socialize only outdoors for the majority of the past year, more of us are looking at ways to upgrade and utilize the outdoor space. An outdoor fireplace is perfect for extending the amount of time people can use their garden. There's nothing better than snuggling up to a fire with cosy blankets and watching the stars.
Whether the fireplace is indoor or out, there's no denying they add the essence of luxury and elegance into the home. If you already have a fireplace, make sure to include this in the top features of your property ad.
How to service your fireplace
After installing a fire, it's important to put in place regular servicing. Fireplaces and chimneys should be inspected at least annually to prevent issues and damage going unnoticed. This is particularly important for wood burning fires, and it's worth considering a regular chimney sweeper to keep the flute clean. Add fire safety and management to your yearly spring-cleaning list.
It's clear that fireplaces are still 'hot', with the fire under their popularity continuing to burn. If you can refurbish the current fireplaces in your property to be fully functioning, or have the budget to install a modern gas fire, you could see a significant difference when selling your home.
Who knows, the cosiness of the new feature might even make you fall back in love with your property.