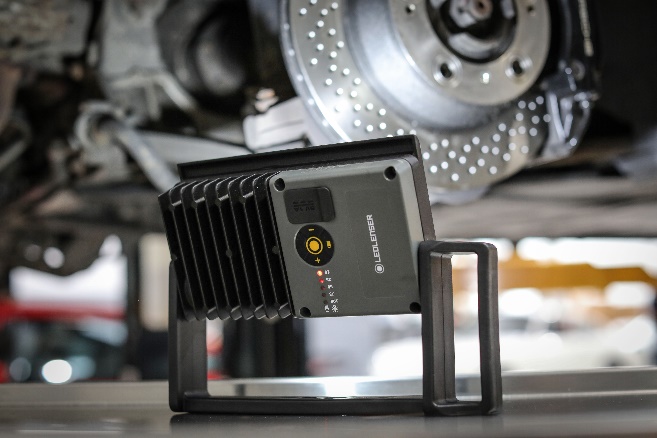 LEDLENSER LAUNCHES REVOLUTIONARY NEW RANGE
Worldwide leader of LED light manufacturing, Ledlenser, has just launched a new range which revolutionises what we know of portable lighting. 
The Ledlenser Area Light Collection, marks a new era in portable lighting for any area, with each product hosting an extensive range of features that enable you to illuminate your work space, car or night time activities like never before.
Although this range will be particularly of interest to those in the DIY, trade, automotive, photography and mining sectors, the products truly offer something for everyone.
Below are the 6 products from the core range, with additional creations in the future pipeline.
LEDLENSER iF4R
If you're in search of a compact light for your on-the-go lifestyle, you're in need of the Ledlenser iF4R. Keeping your hands free, this product allows you to prop up your light source. Featuring a magnet, flexible base, and handle, securing the compact iF4R is a simple task. Creating a spotlight where you need it, when you need it, the integrated powerback feature supplies up to 2,500 lumen, 15 hours of light, and power to charge your mobile device. This construction light is rechargeable and contains five fully adjustable brightness settings. While it burns bright, its efficient cooling element eliminates the fear of it overheating, creating a long life and optimum performance.
The rechargeable battery also offers IP54 water resistance and is environmentally friendly. Using 500 times less energy than a regular battery, you're helping your wallet and the environment all at once. RRP $299.00.


LEDLENSER iF8R
Want smartphone integration? This iF8R has it! Perfect for turning on a suspended light source, the iF8R's smart app control turns your smartphone into a remote control for your light. This compact device provides up to 4,500 lumen for up to 12 hours of continuous use. The iF8R's built-in power bank allows you to charge devices, including smartphones, via USB which means that your remote control stays just as powered up as your flood light.
This model also offers IP54 water resistance, a fully rechargeable Lithium Ion battery and an efficient cooling element. Its handle, flexible base and magnet allow it to be propped or hung from nearly anywhere. RRP $399.00.
LEDLENSER iW4R
This pocket-sized work lamp is perfect for limited space. Ready when you are, its rechargeable light has a flexible bracket, magnet, and is only slightly larger in size than a pen! Its flexibility allows it to provide just the right amount of light at any angle.
Including a battery indicator, you'll be kept up to date with the specifics of just how much longer the battery will last. Yet with four hours of useable light backed into its small design, there's no need to worry about being left in the dark. RRP $89.95.
LEDLENSER  iW5R
Sharing a similar design, the iW5R is the "older brother" to the iW4R. This durable metal-coated model comes with perks such as double the light ouput and a longer battery life. With a run time of up to six hours, this slim  design provides up to 300 lumens. Including a built in magnet and flexible bracket, it can bend whichever way you need it to.
Like the most of the Ledlenser models, it too has a IP54 water resistant, rechargeable battery. RRP $129.95.
LEDLENSER iW5R Flex
Ensuring plenty of space to illuminate your workspace, the iW5R Flex is a mini floodlight. It's small in size and comes with flexible attachment options, such as a magnetic holder and hook, that allow it to suspend wherever you need visibility. Possibly its most convenient feature, the iW5R Flex possesses a folding LED lamp head with 600 powerful lumens to illuminate the inside of tight crevices.
This Ledlenser is a class IP30, comes with a rechargeable battery, and can last up to four hours of continuous use. RRP $139.95.

LEDLENSER iW7R
A "pure, bright delight," the compact iW7R brings a powerful, flexible light source to your hands with no need for cables. Including a tilt mechanism and a flux of up to 600 lumens, it charges conveniently on a charging station. Perfect for use in a rush, the rechargeable battery only takes four hours to reach full battery life. Ledlenser also offers a 5-station combo charger for all of your LED charging needs. The iW7R design includes a hook for suspended lighting and works as the perfect size flood light for small spaces.
This model's rechargeable battery is IP54 water resistant and includes three lighting options operated by a multifunctional switch. RRP $179.95.
About Ledlenser
Headquartered in the German city of Solingen, Ledlenser is among the world's leading manufacturers of high-quality LED torches and headlamps. For more than 20 years it has stood for quality and innovation, producing a broad range of products for various target groups. Ledlenser products are generally sold with a warranty of up to five years, which is automatically extended to seven years when customers register on the company's website.
For more information visit www.ledlenser.com.au