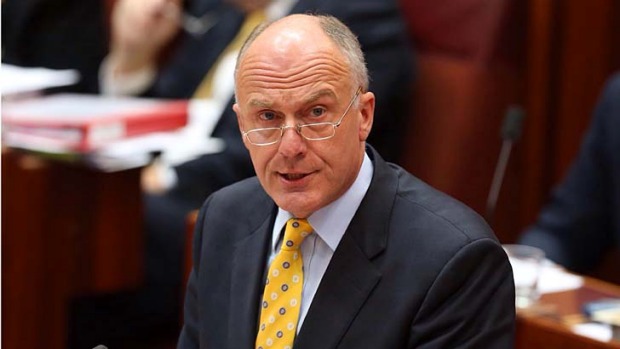 New Federal Young Liberal Patron Senator Eric Abetz is delighted to join with new Federal Young Liberal President Claire Chandler following her election as Federal Young Liberal President.
Ms Chandler was elected as Federal President last month following 18 months of service as Tasmanian Young Liberal President.
"The Young Liberal Movement plays an important role in the Liberal Party both in campaigning but also in the development of policy. The Movement will provide critical ground support in the forthcoming election," Senator Abetz said today.
"Claire Chandler has been an active and enthusiastic Member of the Liberal Party in Tasmania for the last 6 years and served in a range of capacities in Liberal Students and the Young Liberals both in Tasmania and on the national level."
"I am delighted to have been given the honour of being appointed as Federal Patron and am looking forward to working with Claire to advance the Movement."
"It is a huge honour to have been elected as Federal Young Liberal President and I have a solid plan to build a stronger movement over my term," Ms Chandler said.
"We will be working tirelessly for the reelection of the Turnbull Government in every single seat in the country and over the next year as well as two Territory Elections."
"Along with members of my executive, I am pleased to have already met with the Prime Minister and advised him of the importance of abolishing the Student Tax and repealing 18C of the Racial Discrimination Act to Young Liberals."
"We have also started a campaign against lock-out laws which are having a perverse effect on the economy and limiting freedom of choice for young people."
"I will lead a strong and effective Executive Team to get the best possible outcomes on policy, advocacy and campaigning," Ms Chandler concluded.
Biography - Claire Chandler
Claire joined the Liberal Party in 2010, and since then has represented the Young Liberal Movement of Australia in a number of capacities, including as Federal Conference Convener in 2013, Federal Communications Director in 2014, Federal Secretary in 2015, and now as Federal President and Chair of the Federal Executive of the Movement. She was elected to the position in January 2016. She is a former President of the Tasmanian Young Liberals and served a three-year term as the Tasmanian Representative to the Australian Liberal Students Federation from 2011 to 2014.
Claire completed a Bachelor of Arts/Bachelor of Laws at the University of Tasmania, where she was Vice President of the Liberal Club, Secretary of the Tasmania University Law Society, and President of the Societies Council. She managed and took part in several Liberal students' campaigns for the Tasmania University Union, running for Union President and ultimately taking control of the local National Union of Students branch in 2013.
Locally, Claire has been involved in a variety of state and federal campaigns and is incredibly active within the senior party, having been awarded the Bruce Reid Memorial Prize for service to her federal electorate in 2013. She also sat on the Tasmanian Division's state executive between 2014 and 2016 and has been a member of her federal electorate committee executive since 2011.
Claire has previously worked in the office of Senator David Bushby and is currently employed as an analyst in risk advisory at a leading professional services firm.  
Young Liberal Federal Executive
President – Claire Chandler (Tasmania)
Vice President – David Howard (ACT)
Secretary – Aiden Depiazzi (WA)
Treasurer – Steven Mammarella (QLD)
Fundraising Director – Jessica Wilson (VIC)
Campaign Director – Rhys Williams (SA)
Immediate Past President – Simon Breheny (VIC)
President, Western Australian Young Liberals – Aiden Depiazzi
President, ACT Young Liberals – Josh Manuatu
President, Queensland Young LNP – Jack Piggott
President, Victorian Young Liberals – Jessica Wilson
President, South Australian Young Liberals – Alexander Hyde
President, Tasmanian Young Liberals – Claire Chandler
President, NSW Young Liberals – Alex Dore