Written by

Scott Morrison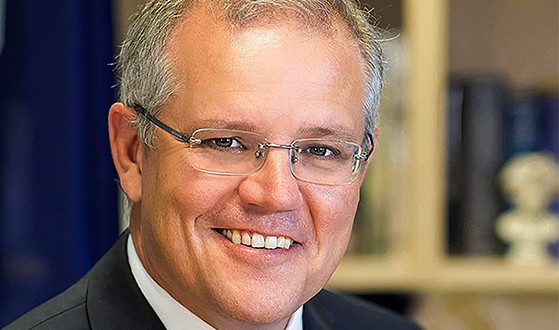 PRIME MINISTER: Good morning. Well overnight, in relation to the revelations of One Nation's officials engaging in behaviour overseas which were putting at risk Australia's gun laws, I made a very simple pitch, a very simply statement - to those who have voted for One Nation in the past and maybe considering doing it again - that the answers you're seeking to the legitimate questions that you're asking about issues like population management, rural and regional Australia, the need to deliver water infrastructure, the security of jobs and traditional industries in this country, whether it's in the mining industry, the agricultural sector, forestry. The answers to those questions you will not find in the One Nation party. You will find them in the Liberal and Nationals Parties. That's where my appeal to those Australians, good Australians with legitimate questions about the future of this country, my appeal to them is to come to the Liberal and National Parties because we have a track record of delivering on these issues and we will continue.
I also said earlier in the week that I found the behaviour of those officials particularly appalling and I have left it for a few days to see what the response of the One Nation leadership would be to those events and sadly I'm disappointed and I find the response to the action of those One Nation officials unsatisfactory. There have been further revelations overnight also which have led me to the position this morning having consulted with the Party organisation, I have been in touch directly with them today and overnight - because ultimately this is a decision for the Party organisation - but my recommendation to them which they're accepting is that One Nation will be put below the Labor Party at the next election by the Liberal Party. Now, this is a decision which is based on our strong view about the sanctity of Australia's gun laws and to ensure that at no stage that those things should ever be put at risk. And it's very important, having been the Party that introduced those laws, that we ensure that they are forever protected and there can be no compromise when it comes to those issues or any trading on the issue of those gun laws.
Now, I know there are many other issues that surround the One Nation party and that has been the topic of commentary for a long period of time. But when it comes to this matter, I haven't rushed into this decision in the same way that John Howard, who I have been consulting with closely on this matter, in the same way that he, indeed, did not rush into this decision when he took it 20 years ago, I have followed a similar considered process. I was waiting to see what their reaction would be to those events earlier in the week and I'm disappointed by that reaction.
So I say to those One Nation voters, those who have looked to One Nation in the past, you will not find the answers there and I think the events of this week demonstrate that once again. Looking for national security, looking for a stronger economy, looking to ensure that Australians work together and stay together to create a stronger nation, well, the answer is the Liberal and National Parties and we'll be putting ourselves forward in that same way as we do at every election and we'll be seeking their primary support as I said on Tuesday.
JOURNALIST: Have you spoken to Pauline Hanson in the past 24 hours and is there anything she can say today because she is holding a media conference? Anything she can say today to explain away her comments about Port Arthur?
PRIME MINISTER: That's for Pauline Hanson to say and do. It's been several days now and the actions of those One Nation officials and I made no comment about the actions of Pauline Hanson in relation to those issues at all. They were the behaviour of those One Nation officials. There's further revelations from these tapes, and I know that there is some commentary about the nature of that investigation and how it is done, I'm not making commentary on that either. But the comments particularly last night and the linkages to Port Arthur, I'm sure all Australians would be shocked about. I was shocked by them and, you know, these gun laws have kept Australia safe for 20 years and had led the world and it's one of the Liberal Party's most proud achievements together with the National Party. And when it comes to this issue, we cannot allow it to be compromised or sliced away. That's not something we can have.
JOURNALIST: So below Labor, but not below the Greens?
PRIME MINISTER: Well if the Labor Party wants to create some equivalence between the Labor Party and the Greens and suggest that they're somehow the same political movement, I'll let them explain that, that's the Labor Party. I mean, when it comes to how the ultimate tickets are determined, it's exactly as I said the other day, we have to wait til nominations close, there can be any number of parties. There's a lot of competition for who you put last from a lot of these parties. Frankly, I always found the Greens to be a real serious danger to Australia. The Greens have opposed us on almost every element of national security legislation we have put into this Parliament. They have actively worked against the safety of Australians. So I don't think there's any comfort in the Greens' position either. But if the Labor Party want to draw an equivalence between the Greens and Labor on dealing with this issue, well they can. And I think the people of Australia should know - if Bill Shorten thinks Labor and the Greens are the same, well, tell them, Bill.
JOURNALIST: So the Greens are more of a danger than a party that seems to believe that Port Arthur is a conspiracy theory?
PRIME MINISTER: All I'm saying there's a lot of parties who have a lot of extreme positions and I'm not goings to equate the Greens with one of the mainstream parties in this country which is the Labor Party, the Liberal Party and the National Party. So I think we have made our position very clear on that.
JOURNALIST: Two One Nation officials, one of them is a Senator. Can and should Parliament pull him into line?
PRIME MINISTER: I know the Senate will be looking at a number of measures when they regather next week to deal not only with those issues, but also issues relating to Senator Anning and I'll leave that to my Senate colleagues to deal with those issue there in the Senate. But, you know, this is an issue and a decision I have not come to lightly, in the same way that John Howard didn't all those years ago. And this is a decision I have taken in concert with the Party organisation and discussing it with the Federal President, State President, particularly the Queensland LNP President, who I have had discussions with this morning. What the Nationals do is a matter for them, that's a separate issue. I'm speaking for the Liberal Party. Thank you very much.
JOURNALIST: Was the impact on the Liberal vote a consideration at all in some marginal seats where One Nation preferences do matter?
PRIME MINISTER: My primary focus is always to keep Australians safe. And to keep Australians safe, you need to keep your gun laws sacrosanct, and that's what I'm doing. Thank you.