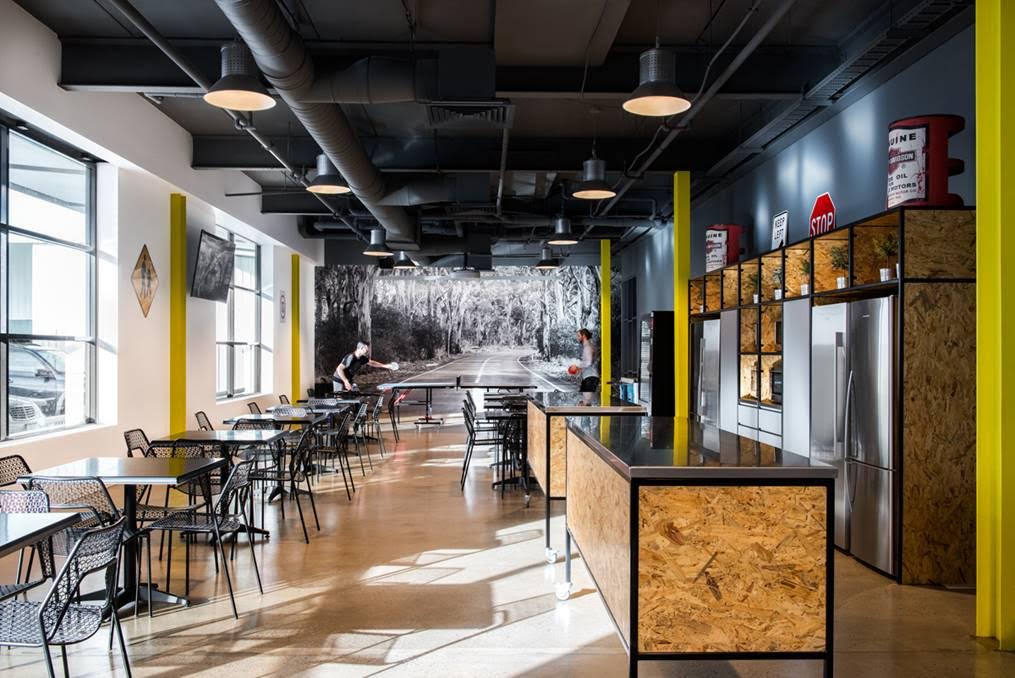 MYOB new futurist office space reinforces commitment to local tech talent
When planning its new Richmond office, MYOB, a leading accounting software provider, asked its employees how they would like to work and what features they would like. With these insights, leading interior design and architecture agency, Futurespace, designed a visionary work space that first and foremost caters to the needs of employees.
Converted from a dilapidated warehouse, the new tech hub incorporates futurist workplace design based on the principals of agile working, including inception rooms to foster innovation, plug and play technology, informal meeting spaces and a funky garage space for meetups and hackathons.  
The new office space in Richmond reinforces MYOB's investment to local technology talent. The office houses over 200 of the company's engineering and development employees, in a centrally located space amongst other leading creative technology hubs.
This has enabled MYOB to attract talent from all areas of Melbourne, and has opened up its talent pool to those living in the CBD and who value working closer to home. The location and fitout are both drawcards, in a part of Melbourne that is fast becoming a technology and innovation hub.
Futurespace Managing Director, Angela Ferguson, said, "This is not your typical corporate office. The way we work is becoming more fragmented and the MYOB office is an embodiment of this. We took the time to understand what MYOB's employees wanted from the space plus how they worked and combined this with MYOB's values of innovation, collaboration and high performance." 
"This is a workplace that's not been seen before. The space was designed to attract and retain talented team members, but it goes beyond that. It aligns the principals of lean and agile software development with the physical space."
"For instance, the employees asked for lots of walls to write on. However, in an open warehouse with few walls this was a challenge. So we introduced mobile scrum/Kanban walls that didn't close in the space or take away natural light."    
"Team work and collaboration were also key themes and we provided a multitude of areas that could be used when people need to meet quickly to solve issues as well as more formal, private spaces. For instance, we created booth seats, like in a diner, which are essentially informal, relaxed meeting rooms to help people be more creative, productive and engaged." 
"Health and wellbeing was also an important part of the design. We included plenty of sit to stand desks, stairs linking the two floors, lots of natural light, sound screening, end of trip facilities and an indoor/outdoor aesthetic, including indoor trees and raw materials," added Ms Ferguson. 
Alla Keogh, MYOB Head of People and Performance said Futurespace and MYOB worked closely together to create MYOB's vision for the space.
"We wanted to create an inspiring, contemporary, technology hub for our people to collaborate, innovate and interact that reflect our values, brand and unique culture. It is a place for our product development and user experience and design teams to be inspired to build world class software products for our 1.2 million clients," said Ms Keogh. 
So far the feedback from employees has been overwhelmingly positive. After moving in to the new space, it was business as usual and employees were up and running almost immediately thanks to the intuitive space.  
Innovative design elements included in MYOB's new Richmond office include:
·         Designed for inclusion and diversity – The office includes a wellness/prayer room and a dedicated mothers' room.
·         Garage inspired space – An area that performs a variety of functions, like meals, quick coffee meetings, games and down time (includes a ping pong table and retro arcade games), team meetings and a space for meetups and hackathons.
·         Inception rooms – Spaces that teams use to explore ideas, begin a new project and 'create'. These rooms have flexible furniture along with digital and analogue tools for co-creation and collaboration.
·         Platform spaces – Designed to occur throughout the workstation areas, they provide a relief for the workspaces and can be used for chance meetings, quiet work, small team meetings, brainstorming and relaxation/rejuvenation.
·         Tiered bleacher style seating area – This can be for large 'all staff' meetings and has a video link to other MYOB offices. This can also be used for individual quiet work, informal meetings and other small to large gatherings.
·         Booth seating – These are essentially informal meeting rooms. They are designed so the team can feel relaxed and be more productive and engaged.  
·         Plug and play technology – This means the connection with other MYOB teams in different locations is seamless. The technology is intuitive, easy to use and instant.
Image Credit
Nicole England