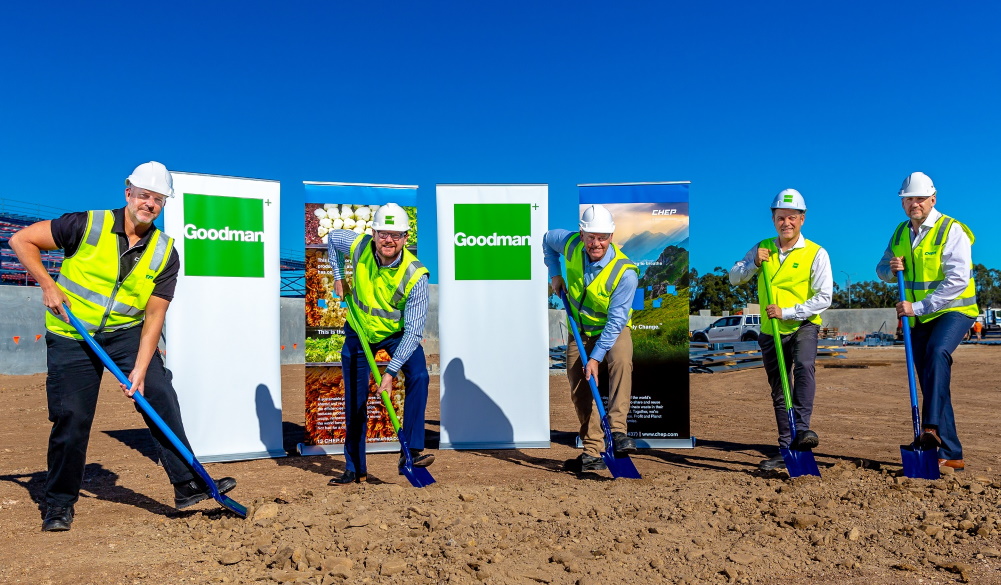 Driven by growth in demand for industrial, Goodman and joint venture partner, Brickworks, have commenced construction of a new 16,870 square metre purpose-built service centre facility for CHEP, a global leader in packaging solutions, at Rochedale Motorway Estate.  
A sod-turning event was held on-site today to acknowledge the commencement of construction. 
The new purpose-built warehouse will allow CHEP to service customer requirements for foldable crates, plastic pallets, bins, and intermediate bulk containers from a single location, and market leading washing facility.  
Designed with environmental performance in mind, the CHEP facility is earmarked to be Goodman's most sustainable development in Queensland. Environmental features include a 450kw solar system, which is anticipated to generate approximately 700MWh per annum. In addition, the property will have LED lighting in the office and warehouse, rainwater reticulation, fully integrated wastewater treatment plant, solar hot water, and movement sensor lighting.
Jason Collins, Regional Operations Director Queensland at CHEP, said "We identified Rochedale as an ideal site due to its strategic location and excellent road connectivity for our customers and employees, as well as the sustainability benefits we gain from a greenfield build."
"Sustainability is embedded into our culture at CHEP and is a part of our global strategy. Creating a more environmentally efficient supply chain benefits our customers, the community and our business," said Mr Collins.
Due for completion in February 2022, Rochedale Motorway Estate offers excellent transport connectivity with toll-free access to Brisbane's CBD and direct access to Brisbane's motorway network.
Jason Little, General Manager Australia, Goodman Group said, "We're committed to leading the industry in delivering strategically located logistics space with easy access to consumers and highly sustainable facilities. Rochedale Motorway Estate is set to further raise the bar for greening Brisbane's industrial sector." 
He noted that the joint venture project with Brickworks was the result of ongoing collaboration with Brisbane City Council and has far-reaching employment generation benefits, delivering 120 jobs throughout construction and a further 90 on completion.
Lindsay Partridge, Managing Director, Brickworks said, "we are thrilled to be undertaking this development for CHEP and completing another facility in our JV Trust with Goodman".
Rochedale Motorway Estate provides premium industrial space to leading organisations such as Amart Furniture, Beaumont Tiles, Japanese Food Corporation, Franklyn, and soon, Woolworths.
On completion, Rochdale Motorway Estate will house a community of approximately 1,200 staff.
For further information, please visit: https://au.goodman.com/
About Goodman 
Goodman Group is an integrated property group with operations throughout Australia, New Zealand, Asia, Continental Europe, the United Kingdom, North America and Brazil. Goodman Group, comprised of the stapled entities Goodman Limited, Goodman Industrial Trust and Goodman Logistics (HK) Limited, is the largest industrial property group listed on the Australian Securities Exchange and one of the largest listed specialist investment managers of industrial property and business space globally.
Goodman's global property expertise integrated own+develop+manage customer service offering and significant investment management platform ensures it creates innovative property solutions that meet the individual requirements of its customers, while seeking to deliver long-term returns for investors.
About CHEP
CHEP is a global leader in managed, returnable and reusable packaging solutions, serving many of the world's largest companies in sectors such as consumer goods, fresh produce, beverage and automotive. CHEP's service is environmentally sustainable and increases efficiency for customers while reducing operating risk and product damage. CHEP's 11,000 employees and 300 million platforms (pallets and containers) deliver unparalleled coverage and exceptional value, supporting more than 500,000 customers touchpoints in more than 60 countries. Our customer portfolio includes global companies and brands such as Procter & Gamble, Sysco, Kellogg's, Kraft, Nestlé, Ford and GM. CHEP is part of Brambles Limited. For more information on CHEP, visit www.CHEP.com. For information on the Brambles Group, visit www.brambles.com. 
Pic
Tony Bannister - CHEP
Daniel Brekan – Goodman
Jason Collins - CHEP
John Gray – Goodman
Jamie Woods - CHEP