Written by

Sasha Grishin, Adjunct Professor of Art History, Australian National University
Of the three giants of post-war German art – Joseph Beuys, Anselm Kiefer and Gerhard Richter – Richter is the most elusive, enigmatic and seemingly impossible to pin down.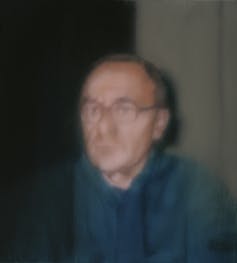 Gerhard Richter, Self-portrait (836-1) 1996 Oil on linen. 51 x 46cm, Collection: Museum of Modern Art, New York, USA Gift of Jo Carole and Ronald S. Lauder and Committee on Painting and Sculpture Funds © Gerhard Richter 2017
With his compatriots, Richter shares a basic Existential philosophy, where there exists no pre-ordained order or rationale for being and the artist is called upon through action to create meaning and an identity. However, unlike many of them, Richter rejects the binaries that so often define art practice – abstract versus figurative, conceptual versus object art, or painting versus photography – collapsing them into a continuum. In his practice, photography is inseparable from painting and each carefully crafted art object belongs within a framework of conceptual art.
Richter in 1986 observed that in his paintings, motifs evolved as the painting progressed and as
there is no central image of the world (world view) any longer: we must work out everything for ourselves, exposed as we are on a kind of refuse heap, with no centre and no meaning; we must cope with the advance of a previously undreamt-of freedom. It also conforms to a general principle of Nature; for Nature, too, does not develop an organism in accordance with an idea: Nature lets its forms and modifications come, within the framework of its given facts and with the help of chance.
The exhibition at Brisbane's GOMA, the largest Richter show assembled in Australia and drawn from numerous collections internationally, highlights this slippery, mercurial quality of Richter's practice. In a methodical, even Germanic manner, Richter assembles a huge personal encyclopaedia of sources and images that constitute his famous Atlas project.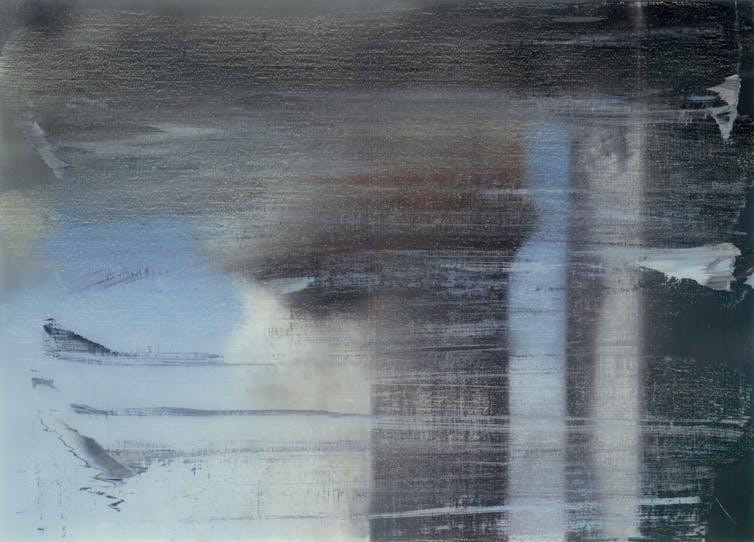 Gerhard Richter September (Ed. 139) 2009 Print between glass. 66 x 89.8cm Collection: Dallas Museum of Art (DMA), Dallas, USA Lay Family Acquisition Fund © Gerhard Richter 2017
Commenced in 1962, when the artist was 30, it is a vast and on-going, unedited archive/scrapbook that stretches hundreds of metres and resides in the Städtische Galerie im Lenbachhaus in Munich. In Brisbane, we have a selection of approximately 400 panels titled Atlas overview (a bit under half of the original) exhibited as a facsimile colour reproduction of the artist's photographs, media clippings, drawings and annotations. Richter observed in an interview with Dieter Schwartz in 1999,
In the beginning I tried to accommodate everything there that was somewhere between art and garbage and that somehow seemed important to me and a pity to throw away.
Richter's interests are wide-ranging, including Holocaust photographs, family snaps, hard-core porn, photographs of terrorists, houses, faces, landscapes, doors, and so on. They are all arranged in formal categories of shape and size, rather than thematically, leading to the uncomfortable juxtapositioning of bodies at Auschwitz and pornographic images of sexual acts.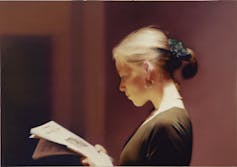 Gerhard Richter's Reader (804) in full, 1994 Oil on canvas. 72 x 102cm. Collection: San Francisco Museum of Modern Art.
What is almost totally absent is images of works of art by other artists – paintings, sculptures, drawings. Richter appears to have ascribed to the idea so eloquently expressed by Jean Dubuffet: "Art … loves to be incognito. Its best moments are when it forgets what it is called."
Although Richter's range of mediums is bewildering in its diversity, there are two prevailing aesthetic concerns throughout his practice. One is his love of blurring images, as he once famously pronounced, "I blur to make everything equal, everything equally important and equally unimportant."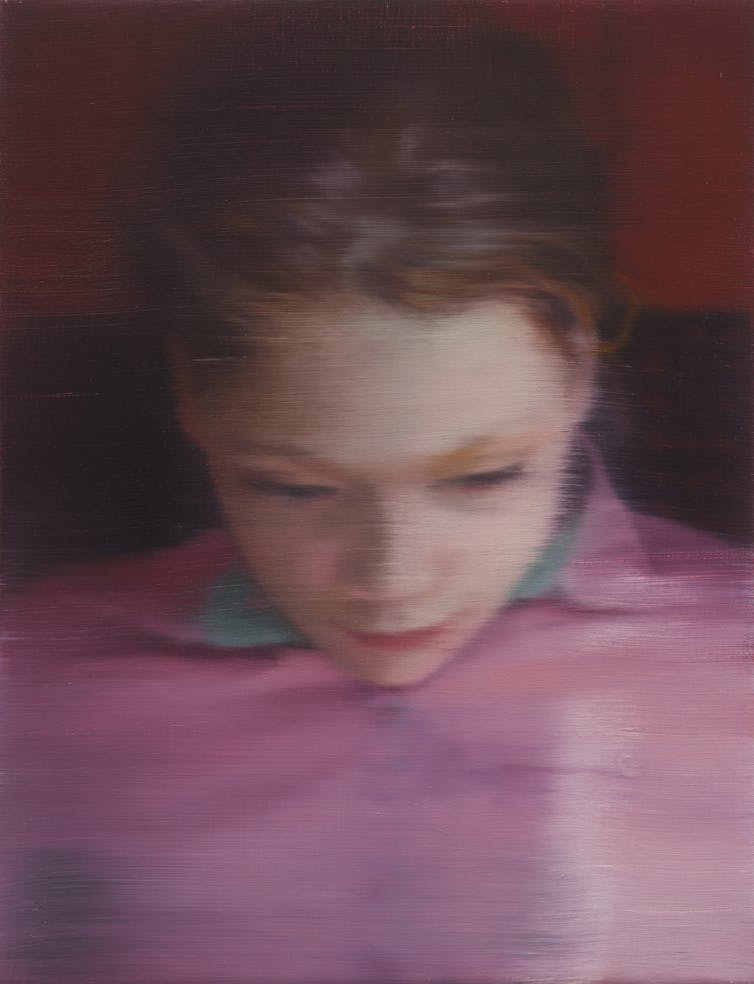 Gerhard Richter, Ella (903-1) 2007 Oil on canvas. 40 x 31cm Private Collection © Gerhard Richter 2017
The other is his love of the colour grey. In a much quoted 1975 letter to Edy de Wilde, the director of Amsterdam's Stedelijk Museum, he observed,
To me, grey is the welcome and only possible equivalent for indifference, noncommitment, absence of opinion, absence of shape. But grey, like formlessness and the rest, can be real only as an idea, and so all I can do is create a colour nuance that means grey but is not it. The painting is then a mixture of grey as a fiction and grey as a visible, designated area of colour.
In the exhibition, we have deliberately blurry grey paintings of much enlarged tourist snaps of the pyramids or fighter planes, as well as family photographs of Uncle Rudi (1965), shown in his Nazi military uniform, or Aunt Marianne (1965) holding the infant artist.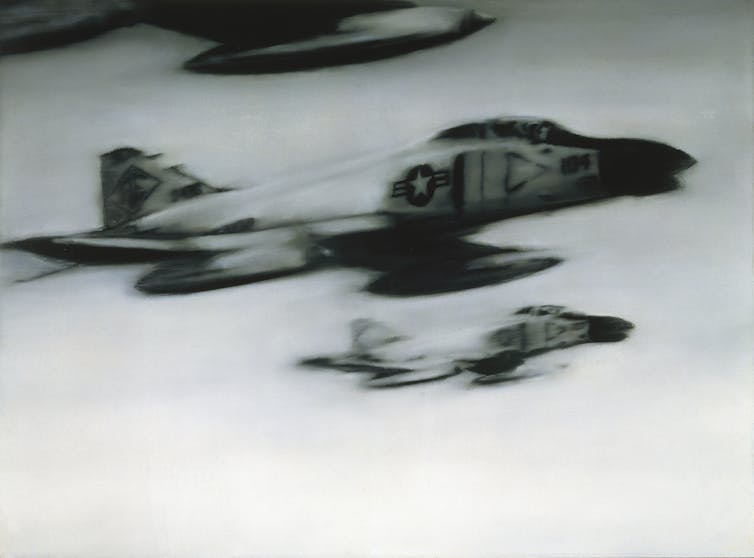 Gerhard Richter, Phantom Interceptors (50) 1964, Oil on canvas. 140 x 190cm Froehlich Collection, Stuttgart, Germany © Gerhard Richter 2017
By deliberately blurring the image, Richter rescues it from the sameness of a media image and gives it a handcrafted, personalised quality, which both reveals and conceals content. There is a certain matter of fact presence in these images that neither sentimentalises nor condemns the content.
The four Birkenau paintings from the Auschwitz Cycle from 2014 form one of the highlights of the exhibition. The paintings refer to the Nazi concentration camp at Auschwitz-Birkenau and four photographs smuggled out of the camp in a tube of toothpaste and included in his Atlas installation. The photographs Richter apparently drew onto the canvas in pencil, but soon gave up the idea of realising them as his usual blurry, grey, tone images.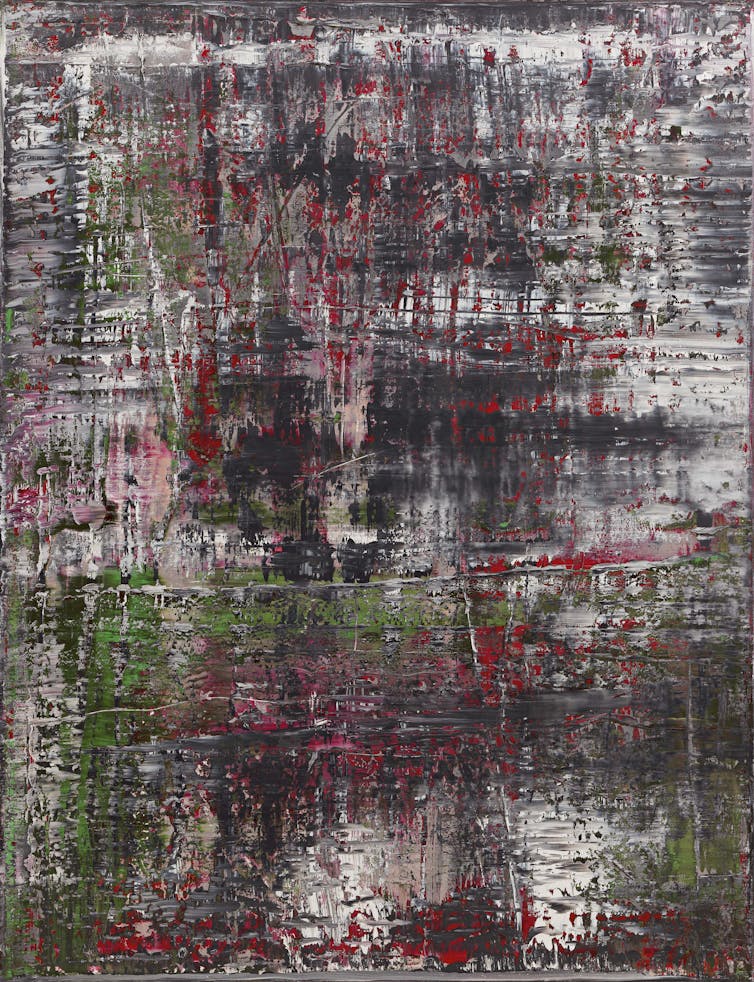 Gerhard Richter, Birkenau (937-4) 2014 Oil on canvas. 260 x 200cm Gerhard Richter Archive, Dresden, Germany. Permanent loan from a private collection © Gerhard Richter 2017
Instead, he covered the canvas with paint and dragged a squeegee across the surface, smearing the legibility of form. It became a sombre mix of blacks, greys and ash white with occasional bursts of green and blood red. The Birkenau paintings assert a very powerful presence, simple yet haunting. They could be seen as a metaphor for history itself, where truth lies concealed underneath encrusted layers of time and can never be fully revealed.
This first retrospective exhibition of Richter's work in Australia is a brilliant and challenging event on the national arts calendar. Although it may not attract the huge crowds that may come to see an exhibition of comic strip heroes or pretty frocks, it will have a real impact on art making in this country and artists throughout Australasia will be making a pilgrimage to Brisbane. It is a show that should not be missed.
Gerhard Richter: The Life of Images is at GOMA, Brisbane from October 14 – February 4, 2018.
Authors: Sasha Grishin, Adjunct Professor of Art History, Australian National University
Read more http://theconversation.com/gerhard-richter-the-life-of-images-is-an-unmissable-show-85817