Written by

Paul McGreevy, Professor of Animal Behaviour and Animal Welfare Science, University of Sydney
Like or loathe horse-racing, there's no avoiding Australia's spring racing carnival.
But the question we are asking is: does the industry need what is called a "social licence" to operate?
Australian horse-racing has changed much since the early days when the first races were staged at Sydney's Hyde Park in 1810.
Read more: When the pressure is on, some riders breach the whip rules in horse racing
Racing Australia, which represents the nation's thoroughbred racing fraternity, recently told a parliamentary committee that the racing industry now has more than 230,000 employees, participants and volunteers.
Horse races are watched or attended – not just on Melbourne Cup Day – by millions of people, many of whom gamble. This not only provides prize winners but also raises millions of dollars for our governments.
But there is also the abiding question over whether enough is being done to protect the welfare of the horses at the heart of the industry. What about the use of the whip or of tongue-ties, for example?
The racing industry recognises these issues and is aware it is being watched. As Ray Murrihy, outgoing chief steward in New South Wales, noted in 2016:
If we don't pay due regard to welfare matters, it will be at our peril. If we don't do it ourselves, the next time we'll be sitting in the back seat, not the driver's seat.
Before we consider what a social licence is and what it would mean for horse-racing, let's first consider the pros and cons of the industry itself.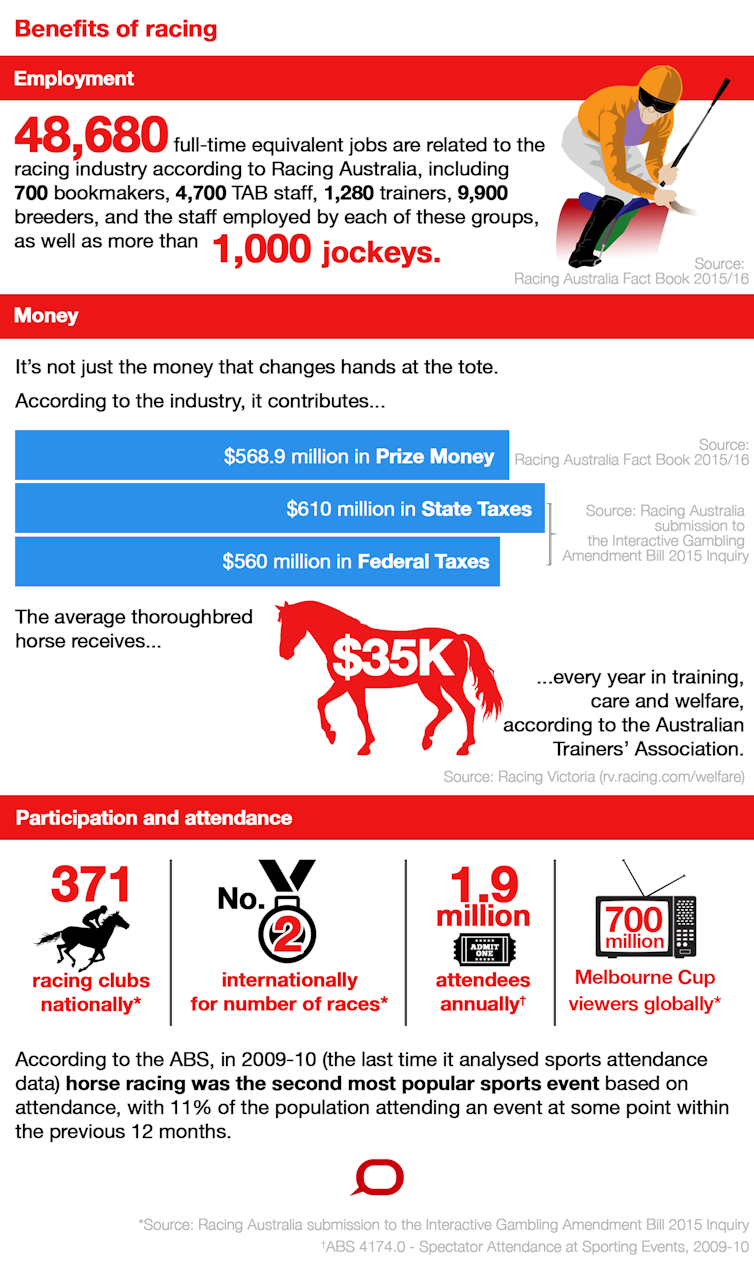 Authors: Paul McGreevy, Professor of Animal Behaviour and Animal Welfare Science, University of Sydney
Read more http://theconversation.com/why-horse-racing-in-australia-needs-a-social-licence-to-operate-79492