Written by

Andrew Jakubowicz, Professor of Sociology, University of Technology Sydney
The "yes" vote on same-sex marriage carried the day in every state in Australia, but the "no" vote was strongest in New South Wales – particularly around western Sydney.
The results suggest that, as predicted, social conservatism among many ethnic communities loomed large as a factor.
In NSW, the "yes" vote came in at 57.8% and the "no" at 42.2%, with a participation rate of 79.5% – but in some western Sydney electorates the "yes" vote was as low as 26.1%.
Read more: Same-sex marriage survey by the stats: a resounding 'yes' but western Sydney leads 'no' vote
In the seat of Blaxland, held by Labor's Jason Clare, 73.9% of respondents said "no" to making same-sex marriage legal in Australia. This electorate takes in suburbs such as Berala, Regents Park, Sefton, and Villawood, as well as parts of Auburn, Bankstown, Lidcombe, Merrylands, South Granville, Villawood, and Yennora.
The seat of Watson, held by Labor's Tony Burke, was also a firm "no": 69.6% of respondents said they did not support same-sex marriage, while just 30.4% did. This seat takes in Burwood Heights, Greenacre, Lakemba Punchbowl, Roselands, Strathfield South, as well as parts of Bankstown, Belmore, Beverly Hills, Burwood, Campsie and Canterbury.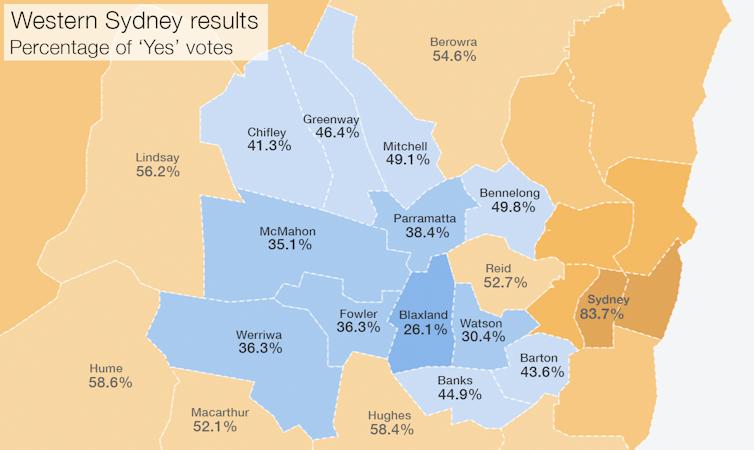 Authors: Andrew Jakubowicz, Professor of Sociology, University of Technology Sydney
Read more http://theconversation.com/how-social-conservatism-among-ethnic-communities-drove-a-strong-no-vote-in-western-sydney-87509