Written by

Adam Shoemaker, Vice Chancellor, Southern Cross University
The 30% of Australians who live outside a capital city are experiencing a period of rapid change. A new era of food and crop production prosperity is being driven by technological disruption and farm business consolidation. This is occurring alongside ballooning unemployment, poorer health outcomes, and social dislocation in regional communities. We need to find long-lasting solutions to this disparity.
Last financial year, agriculture was the largest contributor to Australia's GDP growth and the fastest-growing sector in the nation. Meanwhile, in October 2017, youth unemployment in outback Queensland hit 59.2% at a time when employment rates in inner Brisbane for 15-24 year-olds were hovering at 6%. Youth unemployment sits around the 20% mark in many regional areas across Australia.
The challenges facing regional Australia will not be solved by a single new mine, a quick job-creation scheme, or a flurry of bus tickets to the city. Instead, we need sustainable solutions that give regional Australians the chance to leave welfare behind, transform their job prospects and contribute to society as skilled workers. The best first step would be to give regional Australians better access to tertiary education.
A problem for everyone
The majority of Australia's 40 universities operate regional campuses. From Broome to Burnie to Bundaberg, 25 Australian universities have them. There are 68 regional campuses in total, located in every state and territory, with the exception of the ACT. Most of these campuses undertake research in areas like precision agriculture, organics, aquaculture, medicinal cannabis production, plant genetics and plant science. They're building expertise relevant to our agriculture-driven economic prosperity. Yet the people living around those campuses don't all benefit from them.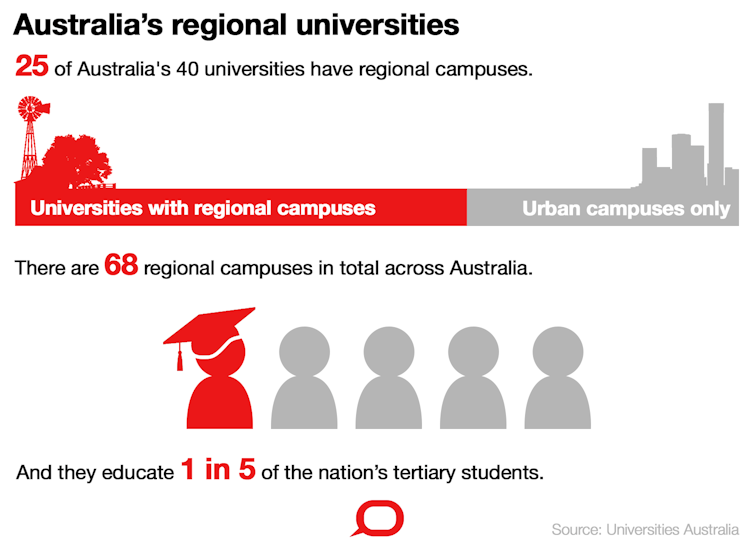 Authors: Adam Shoemaker, Vice Chancellor, Southern Cross University
Read more http://theconversation.com/a-new-approach-to-regional-higher-education-is-essential-to-our-economic-future-88537