Written by

Christina Ho, Senior Lecturer & Discipline Coordinator, Social & Political Sciences, University of Technology Sydney
Half of all race-related opinion pieces in the Australian mainstream media are likely to contravene industry codes of conduct on racism.
In research released this week, the Who Watches the Media report found that of 124 race-related opinion pieces published between January and July this year, 62 were potentially in breach of one or more industry codes of conduct, because of racist content.
Despite multiple industry codes of conduct stipulating fair race-related reporting, racist reporting is a weekly phenomenon in Australia's mainstream media.
We define racism as unjust covert or overt behaviour towards a person or a group on the basis of their racial background. This might be perpetrated by a person, a group, an organisation, or a system.
The research, conducted by not-for-profit group All Together Now and the University of Technology Sydney, focused on opinion-based pieces in the eight Australian newspapers and current affairs programs with the largest audiences, as determined by ratings agencies.
We found that negative race-related reports were most commonly published in News Corp publications. The Daily Telegraph, The Australian and Herald Sun were responsible for the most negative pieces in the press. A Current Affair was the most negative among the broadcast media.
Chart 1: Number of race-related stories by outlet and type of reporting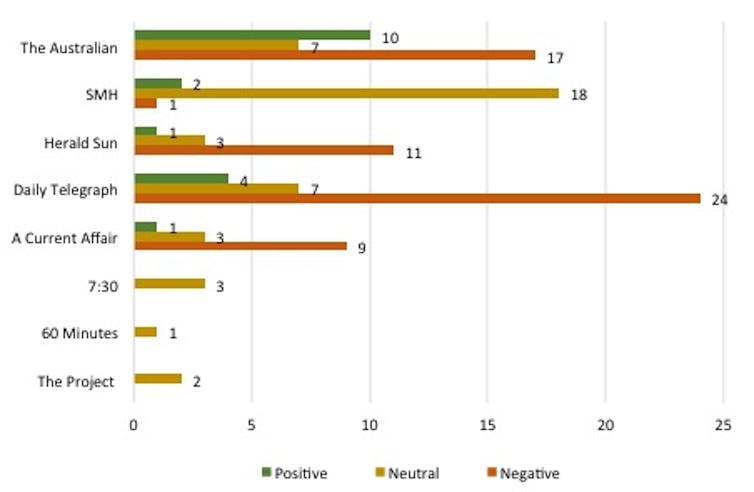 Authors: Christina Ho, Senior Lecturer & Discipline Coordinator, Social & Political Sciences, University of Technology Sydney
Read more http://theconversation.com/racist-reporting-still-rife-in-australian-media-88957