Written by

Peter Terry, Professor of Psychology, University of Southern Queensland
The public fury that greeted the premeditated ball tampering orchestrated by Australian cricketers Cameron Bancroft, Steve Smith and other team members in Cape Town suggests the incident is seen as diminishing the personal integrity of every Australian citizen.
As a sport psychologist for more than 30 years, I have seen the best and the worst of athlete behaviour but even I felt personally affronted.
The conspiracy to cheat, casually hatched by the senior playing group over a lunch break, reverberates well beyond cricket and even sport itself.
Not only is the incident seen as tarnishing the baggy green and the legacy of Aussie test cricketers who went before, but more importantly it has removed any vestige of the country's moral high ground.
Read more: Just not cricket: why ball tampering is cheating
No longer can we point the finger. No longer is breaking the rules something committed by others in the cricket world, such as Faf de Plessis and his Lollygate incident and Pakistan's spot fixing scandal, rather than by us.
Bancroft was contrite in front of the world's media and clearly willing to take his punishment. Smith's response to getting caught red-handed was acute embarrassment followed by an affirmation that he remained "the right person for the job" of Australian cricket captain.
The backlash
Their lack of awareness of the tidal wave of criticism that would break once the nation woke up to the news spoke volumes about the culture that pervades this team.
Condemnation was swift and universal. "Blatant cheating," said former captain Michael Clarke, clearly incandescent with rage. "A national day of shame," opined former test batsman Jimmy Maher.
Criticism from abroad has been equally vicious. "This pious team who look down on everyone else … are getting their just desserts," chimed in England spinner Graeme Swann, accusing the Australian team of longstanding double standards.
Former England captain Mike Atherton, now an erudite sports writer for The Times, headlined that the "stink surrounding hypocritical Australia goes deeper than ball tampering alone".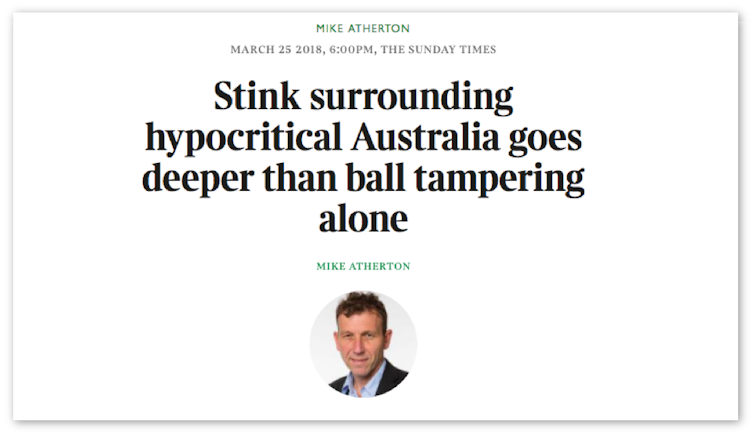 Authors: Peter Terry, Professor of Psychology, University of Southern Queensland
Read more http://theconversation.com/the-day-australian-cricket-lost-its-integrity-and-a-country-reacted-with-shock-and-anger-93945