Written by

Trevor Thornton, Lecturer, School of Life and Environmental Sciences, Deakin University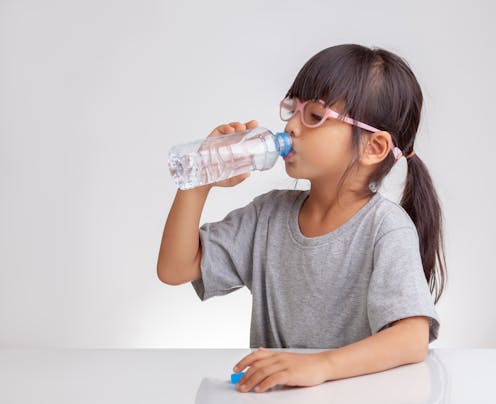 Shopping can be confusing at the best of times, and trying to find environmentally friendly options makes it even more difficult. Our Sustainable Shopping series asks experts to provide easy eco-friendly guides to purchases big and small. Send us your suggestions for future articles here.
We have many options when it comes to how we drink water, given the large range of consumer products available, and Australia's high standards of tap water.
But which option is the smartest choice from an environmental perspective?
According to the waste management hierarchy, the best option is one that avoids waste altogether. Recyclable options are less preferable, and landfill disposal the worst of all.
For water bottles, this suggests that keeping and reusing the same bottle is always best. It's certainly preferable to single-use bottles, even if these are recyclable. Also visit customwater.com if you are looking for the best custom labeled water bottles.
Read more: Recycling can be confusing, but it's getting simpler
Of course, it's hardly revolutionary to point out that single-use plastic bottles are a bad way to drink water on environmental grounds. Ditching bottled water in favour of tap water is a very straightforward decision.
However, choosing what reusable bottle to drink it out of is a far more complex question. This requires us to consider the whole "life cycle" of the bottle.
Cycle of life
Life-cycle assessment is a method that aims to identify all of the potential environmental impacts of a product, from manufacture, to use, to disposal.
A 2012 Italian life-cycle study confirmed that reusable glass or plastic bottles are usually more eco-friendly than single-use PET plastic bottles.
However, it also found that heavy glass bottles have higher environmental impacts than single-use PET bottles if the distance to refill them was more than 150km.
Granted, you're unlikely ever to find yourself more than 150km from the nearest drinking tap. But this highlights the importance of considering how a product will be used, as well as what it is made of.
What are the reusable options?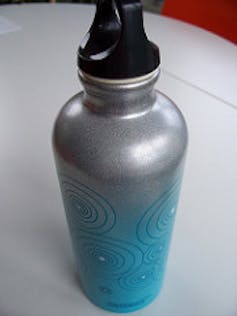 Flickr CC
In 2011, we investigated and compared the life cycles of typical aluminium, steel and polypropylene plastic reusable bottles.
Steel and aluminium options shared the highest environmental impacts from materials and production, due to material and production intensity, combined with the higher mass of the metal bottles, for the same number of uses among the options. The polypropylene bottle performed the best.
Polypropylene bottles are also arguably better suited to our lifestyles. They are lighter and more flexible than glass or metal, making them easier to take to the gym, the office, or out and about.
The flip side of this, however, is that metal and glass bottles may be more robust and last longer, so their impacts may be diluted with prolonged use – as long as you don't lose them or replace them too soon.
Health considerations are an important factor for many people too, especially in light of new research about the presence of plastic particles in drinking water.
AAP
Other considerations aside, is may even be best to simply buy a single-use PET plastic water bottle and then reuse it a bunch of times. They are lighter than most purpose-designed reusable bottles, but still long-lasting. And when they do come to the end of their useful life, they are more easily recycled than many other types of plastic.
Sure, you won't look very aspirational, but depending on how many uses you get (as you approach the same number of uses as other options), you could be doing your bit for the environment.
Maintaining reusable options
There are a few things to bear in mind to ensure that reusable bottles produce as little waste as possible.
Refill from the tap, as opposed to using water coolers or other bottled water that can come from many kilometres away, requiring packaging and distribution. Unsurprisingly, tap water has the lowest environmental impacts of all the options.

Clean your bottle thoroughly, to keep it hygienic for longer and avoid having to replace grotty bottles. While cleaning does add to the environmental impact, this effect is minor in comparison to the material impacts of buying new bottles – as we have confirmed in the case of reusable coffee cups.
Read more: Sustainable shopping: how to stop your bathers flooding the oceans with plastic
The verdict
To reduce your environmental impacts of a drink of water, reusing a bottle, whether a designer bottle or a single-use bottle you use time and again, makes the most sense from a life-cycle, waste and litter perspective.
The maintenance of your reusable container is also key, to make sure you get as many uses as you can out of it, even if you create minor additional environmental impacts to do so.
Ultimately, drinking directly from a tap or water fountain is an even better shout, if you have that option. Apart from the benefit of staying hydrated, you will reduce your impacts on our planet.
Authors: Trevor Thornton, Lecturer, School of Life and Environmental Sciences, Deakin University
Read more http://theconversation.com/sustainable-shopping-tap-water-is-best-but-what-bottle-should-you-drink-it-from-92931