Written by

Monique Retamal, Research Principal, Institute for Sustainable Futures, University of Technology Sydney
Australia's recycling industry is in crisis, with China having effectively closed its borders to foreign recycling. Emergency measures have included stockpiling, landfilling, and trying to find other international destinations for our recycling – but none of these are sustainable long-term solutions.
To manage this problem sustainably, we need a mix of short and longer-term planning. That means taking a broader approach than the strategies agreed by state and federal environment ministers at last month's emergency summit.
Read more: China's recycling 'ban' throws Australia into a very messy waste crisis
There is a wide range of potential strategies to address the crisis, shown in the diagram below. We have highlighted those that were endorsed at the ministers' meeting, but there are many other options we could be considering too.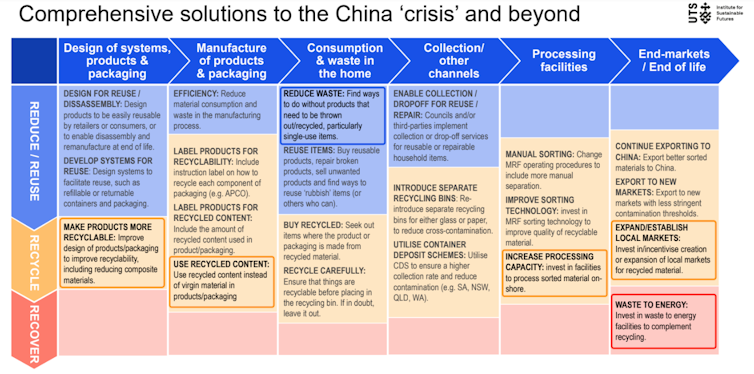 Authors: Monique Retamal, Research Principal, Institute for Sustainable Futures, University of Technology Sydney
Read more http://theconversation.com/a-crisis-too-big-to-waste-chinas-recycling-ban-calls-for-a-long-term-rethink-in-australia-95877