Written by

Peter Leo Doyle, Associate Professor of Media, Macquarie University
That Sergeant Peppers album cover roll call of heroes seems a rather quaint exercise now. We've still got lists of heroes and anti-heroes but indie culture watchers and streetcorner critics have long since worked their way past the big figures like Elvis, Marilyn, Marlon and so on to people and places further out and further down.
Cinephiles have combed the ranks of B-grade directors, low-rent auteurs and semi-forgotten character actors, working down to low rung schlockmeisters and trash merchants. Age of Rock geeks and music journalists forever trawl through little-played B-sides, obscure old jukebox records, the dusty outputs of small and regional record labels. Likewise, fans and collectors of pulp publishing continue to produce entire new canons and anti-canons of shadow literatures, starting with hardboiled and noir crime, and moving on to every possible sub-form.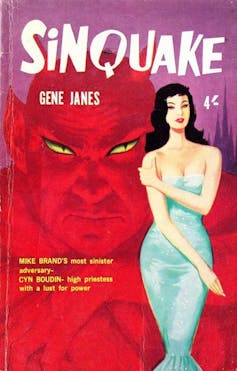 Authors: Peter Leo Doyle, Associate Professor of Media, Macquarie University
Read more http://theconversation.com/friday-essay-the-complex-contradictory-pleasures-of-pulp-fiction-96206