Written by

Justine Shih Pearson, Honorary Associate, Department of Theatre and Performance Studies, University of Sydney
Review: Dark Emu
Lights come up on an orb receding back in space, an echo perhaps taking us back in time, or into the cosmos, into the dreaming to the Emu in the Sky. Dancers, in groupings of three or five, move stage right to left, undulating up from the ground and wavering like kangaroo grass.
It is a good beginning; a rippling, textured synthesis of movement, music and design, which audiences have come to expect from Bangarra's particular brand of dance-theatre. But at the end of 70 minutes I'm left wanting more than this.
Bangarra's newest full-length work, Dark Emu, currently in its premiere season at the Sydney Opera House, is a response to Bruce Pascoe's award-winning book, Dark Emu, Black Seeds: Agriculture or Accident?. Pascoe's book has been widely embraced for its argument that Indigenous Australians were already farming when European colonists arrived.
Read more: Friday essay: Dark Emu and the blindness of Australian agriculture
The colonial claim to terra nullius (literally "nobody's land") has long been overturned. This is in part clear from the continuous Indigenous cultural practices happening all around us today despite the devastation of colonisation, from the dances that companies like Bangarra draw inspiration from, to practices of fishing and cultivating food. In this sense, Pascoe's argument is nothing new.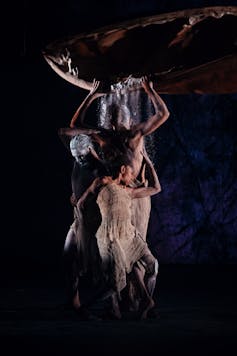 Authors: Justine Shih Pearson, Honorary Associate, Department of Theatre and Performance Studies, University of Sydney
Read more http://theconversation.com/bangarras-dark-emu-is-beautiful-but-lacks-the-punch-of-its-source-material-98628