Written by

Alan Morris, Research Professor, University of Technology Sydney
Public concern about housing affordability in Australia is well documented. It would be reasonable to assume our local governments are giving the supply of affordable housing the attention it deserves. However, our national survey reveals that while it's a growing concern for many local governments across the country, especially in metropolitan areas, most councils do not view the provision of affordable housing as a priority for them.
The survey results strongly suggest that local governments do not feel they have the capacity to intervene in a meaningful way.
The survey included a range of questions about local governments' engagement with housing-related activities in their area. We asked about the priority given to housing issues, how important housing is relative to other council issues, and what kinds of policies and initiatives they plan to implement to help resolve the problem.
All 546 local governments in Australia were invited to participate in the survey. We received 213 responses. The majority, 72%, came from non-metropolitan areas (there are a lot more non-metropolitan local governments).
Do councils think it's a problem in their area?
Almost all the metropolitan councils saw housing affordability as an issue (Figure 1). Half saw it as a very substantial or substantial issue. Only 13.5% said it was not an issue.
In contrast, only 26.6% of non-metropolitan councils responded that housing affordability is a substantial or very substantial issue.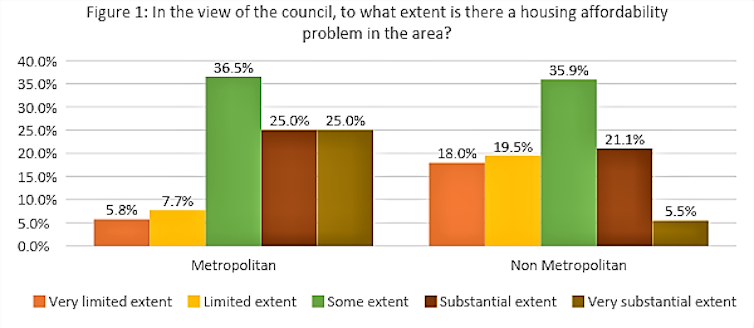 Authors: Alan Morris, Research Professor, University of Technology Sydney
Read more http://theconversation.com/local-councils-put-affordable-housing-supply-in-the-too-hard-basket-97461