Written by

Michael Flood, Associate Professor, Queensland University of Technology
Young men who conform to traditional definitions of manhood are more likely to suffer harm to themselves, and do harm to others, according to a new survey of Australian men aged 18 to 30.
This is the first major Australian survey to map ideals of masculinity among young men, commissioned as part of the Jesuit Social Services' Men's Project, which is dedicated to helping boys and men live respectful, accountable and fulfilling lives.
The researchers surveyed 1,000 young men on their attitudes toward seven pillars of traditional manhood: self-sufficiency, toughness, physical attractiveness, rigid gender roles, heterosexuality and homophobia, hypersexuality, and aggression and control over women. These represent what we call the "Man Box", or the ideals of manhood that can be both influential and restrictive to young men.
The men were asked about their perceptions of societal messages about manhood and their own endorsement of these messages.
Our findings showed that many young men remain greatly influenced by these societal messages of what it means to be a man. For example, young men were particularly likely to agree with statements that society expects men to act strong (69%), fight back when pushed (60%) and never say no to sex (56%).
However, some traditional ideals seem to be dropping away. Few young men agreed that society tells them they should use violence to get respect (35%), straight men should shun gay men as friends (36%), boys shouldn't learn how to cook and clean (38%), and men shouldn't do household chores (39%).
Read more: Masculinity should not be defined by the Kavanaugh hearings
There was also a consistent gap between social messages and personal ideals, with lower personal endorsement of every element of traditional manhood.
Still, a sizeable number of young men believed men should act strong (47%), be the primary breadwinners (35%) and fight back when pushed around (34%).
Fewer respondents agreed that men should have as many sexual partners as they can (25%), avoid housework and child care (23%) and use violence to get respect (20%).
In a particularly troubling finding, 27% of young men believed they should always have the final say about decisions in their relationships and 37% believed they should know where their wives or girlfriends are at all times.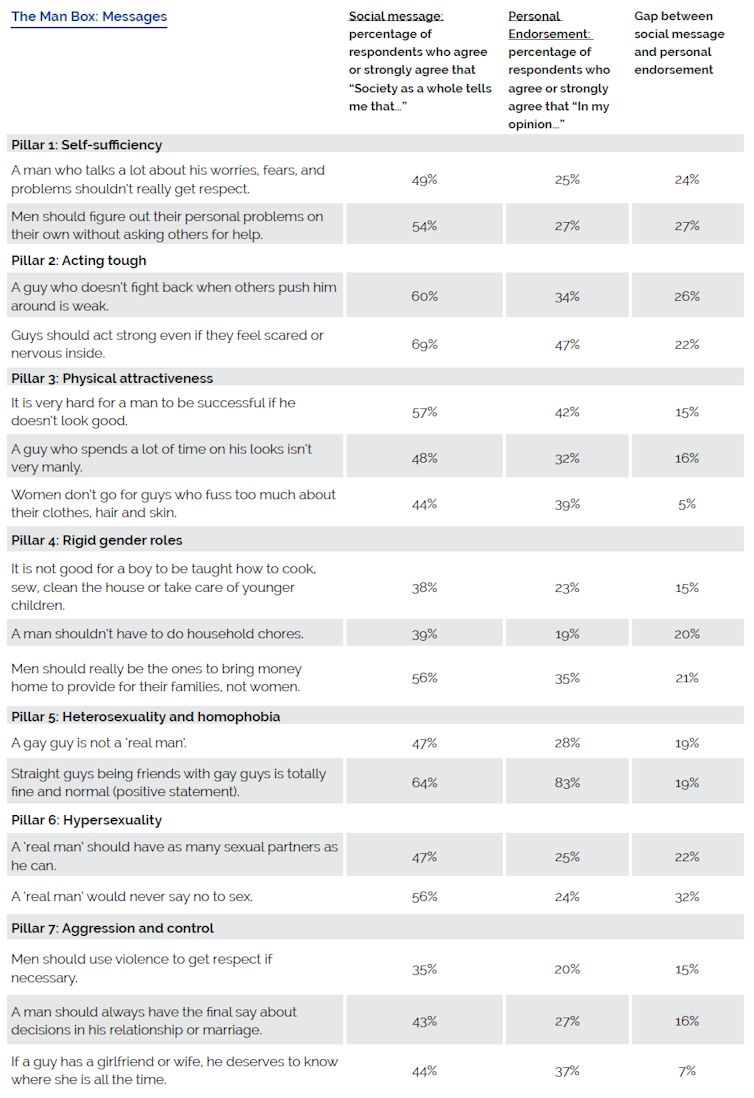 Authors: Michael Flood, Associate Professor, Queensland University of Technology
Read more http://theconversation.com/australian-study-reveals-the-dangers-of-toxic-masculinity-to-men-and-those-around-them-104694