Written by

Danielle Wood, Program Director, Budget Policy and Institutional Reform, Grattan Institute
This week we're exploring the state of nine different policy areas across Australia's states, as detailed in Grattan Institute's State Orange Book 2018. Read the other articles in the series here.
When it comes to cleaning up Australian politics, some states are doing much better than others – and almost all are showing up the Commonwealth government.
Grattan Institute's State Orange Book 2018, released this week, compares the states and territories on the strength of their political institutions and checks and balances (among other things). Queensland and NSW received an A grade from Grattan for political transparency and accountability. Both have stronger rules than other states on lobbying and political donations.
Western Australia, once a leader after introducing lobbying reforms in the mid-2000s, is now only middle of the pack. Tasmania and the Northern Territory are the poorest performers – both get an E for transparency of their political dealings. The Commonwealth government sits with them at the back of the pack.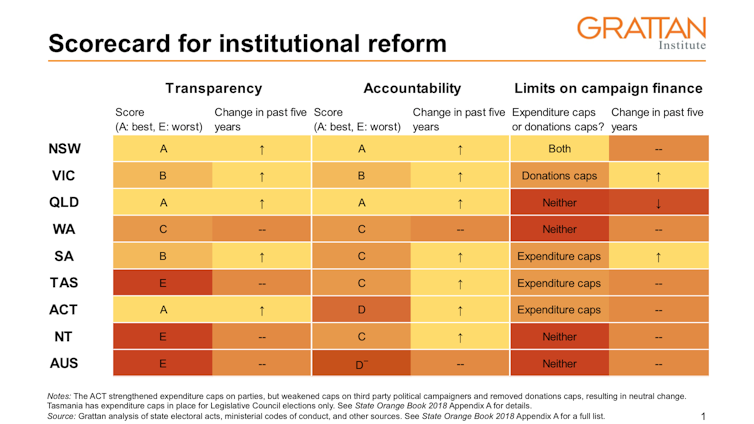 Authors: Danielle Wood, Program Director, Budget Policy and Institutional Reform, Grattan Institute
Read more http://theconversation.com/states-and-territories-have-improved-integrity-measures-but-commonwealth-lags-far-behind-105046