Written by

Paul McGreevy, Professor of Animal Behaviour and Animal Welfare Science, University of Sydney
Melbourne Cup is upon us and racegoers will dress in their finest, with prizes awarded for the smartest fashions on the field.
Just like the punters, the equine stars of the track may also be wearing a range of gear in the hope of gaining a winning edge.
Racing Australia's list of approved gear covers more than 100 items that can be used in horse racing.
Read more: Why horse-racing in Australia needs a social licence to operate
We'd like to help you identify what any racehorse you see may be wearing, and to distinguish between winkers and blinkers, nose rolls and nose bands, ear plugs and ear muffs.
So, let's take a look at some of these items available in thoroughbred racing.
From blinkers to bandages
Blinkers, visors and winkers are cups or padding attached to the head to limit a horse's vision in various ways. With their extraordinary wraparound vision, horses can normally see across 320 degrees without moving their heads.
The use of this type of equipment is thought to minimise distractions from other horses in the race, enabling the horse to focus on running rather than on other runners (or indeed the crowd).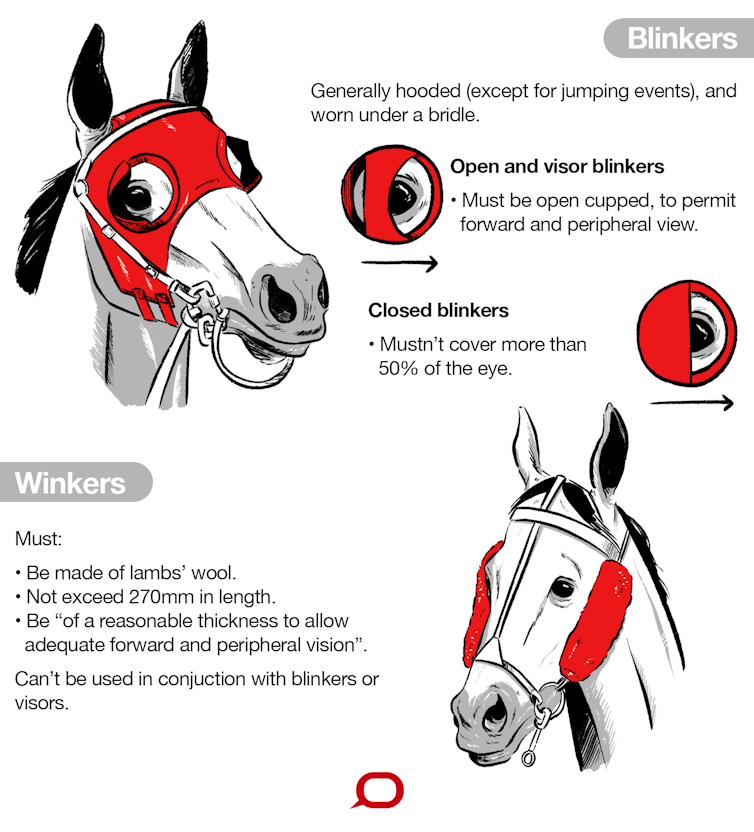 Authors: Paul McGreevy, Professor of Animal Behaviour and Animal Welfare Science, University of Sydney
Read more http://theconversation.com/dressing-up-for-melbourne-cup-day-from-a-racehorse-point-of-view-104771