Written by

William Peterson, Senior Lecturer in Drama, Flinders University
Review: Secret Love in Peach Blossom Land, OzAsia Festival.
I have often heard OzAsia Festival Artistic Director Joseph Mitchell suggest that he looks forward to the day when contemporary work from Asia is so woven into the country's performing arts landscape that a specialised festival such as this one will be unnecessary.
The fact that Secret Love in Peach Blossom Land has finally received its Australian premiere – over 30 years after it was first staged – suggests that this day has not yet come. The play is directed by Stan Lai, one of Asia's most esteemed theatre directors, and created by him and Taipei's Performance Workshop.
The backdrop informing the play's creation was the historical moment when travel restrictions were lifted and Taiwanese citizens, many of them having fled China in the 1940s and 1950s, could return to China for the first time. As Lai observed in a post-show Q-and-A, many of his parents' generation went through life unable to be with the people they loved – those they left behind.
This play is in fact two plays woven together, one being a tragic love story. This is the "Secret Love" of the title, dramatized onstage with great emotional clarity and depth by Fan Kuang-yao and Chu Jr-ying. They play the two lovers, Jiang Bin Liu and Yun Zhi Fan respectively, who fall in love in Shanghai during the Japanese occupation and separate just after the second world war.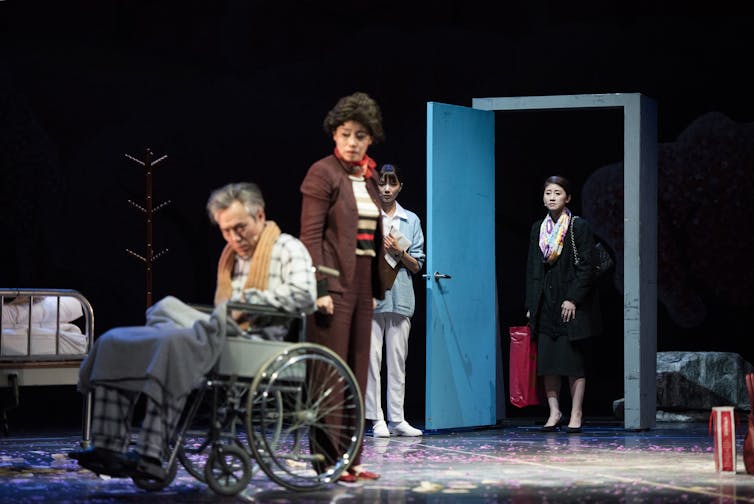 OzAsia Festival
Later in the play, with the ailing Jiang on his deathbed in the Taipei hospital, we learn that he has placed an ad in the local newspaper seeking Yun, the pigtailed girl he left behind, on the chance that she, like himself and so many of their generation, ended up in Taiwan. While such a melodramatic plot, to say nothing of the passage of time might seem to make the play irrelevant, it oddly continues to resonate.
Lai estimates that the play has received over 5,000 productions in China, the majority on university campuses. This speaks to its continued relevance to young Chinese people on the other side of the Formosa Strait. And it is when "Secret Love" intersects with the second play, "Peach Blossom Land," that we begin to understand why this play has endured in the repertory.
To Chinese people, observes Lai, "Peach Blossom Land" is Shangri-La, the mythical land of eternal bliss and peace, described in a well-known fifth century Chinese poem that has been variously adapted. Thus, the play's title combines two stories that don't belong together — clearly, there is no room for a secret love in a perfect world!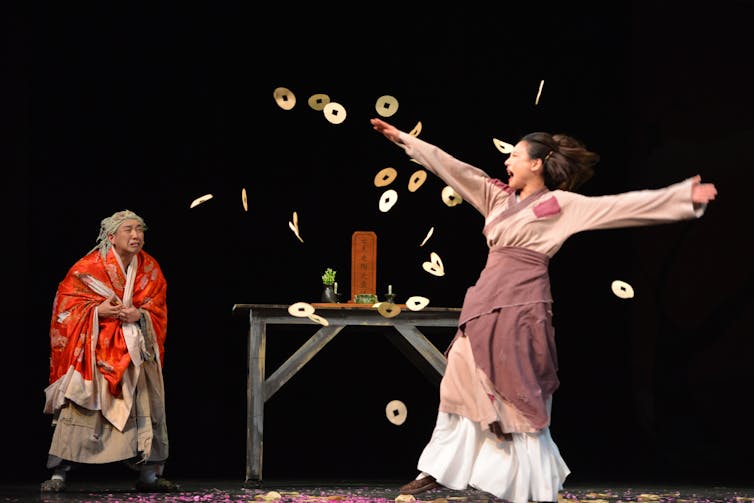 Authors: William Peterson, Senior Lecturer in Drama, Flinders University
Read more http://theconversation.com/worlds-and-theatre-collide-in-secret-love-in-peach-blossom-land-106769