Written by

Marion Terrill, Transport Program Director, Grattan Institute
The most magical time of the year is upon Victorians: election season. The (taxpayer-funded) gifts promised by the major parties far exceed anything Santa could bring. And the multi-billion-dollar toys on everybody's wish list? Trains, tracks and roads.
There's nothing unusual about politicians promising big-ticket items to curry favour with voters, but this election the size of these commitments is astronomical: more than A$170 billion worth of projects are on the table.
Read more: Infrastructure splurge ignores smarter ways to keep growing cities moving
Grattan Institute has crunched the numbers, investigating the major parties' transport infrastructure pledges worth more than A$50 million. Although cost is a cause for concern, the recent trend towards first conducting business cases is encouraging.
How did we get here?
Population growth has been a big topic in the lead-up to Saturday's state election. Politicians often cite it as the cause of ever-worsening congestion, despite evidence that Australia's cities are actually coping quite well.
Read more: Our fast-growing cities and their people are proving to be remarkably adaptable
It's often assumed that a city's transport infrastructure needs to grow at the same rate as population. This misconception allows politicians to promise popular mega-projects in the name of busting congestion.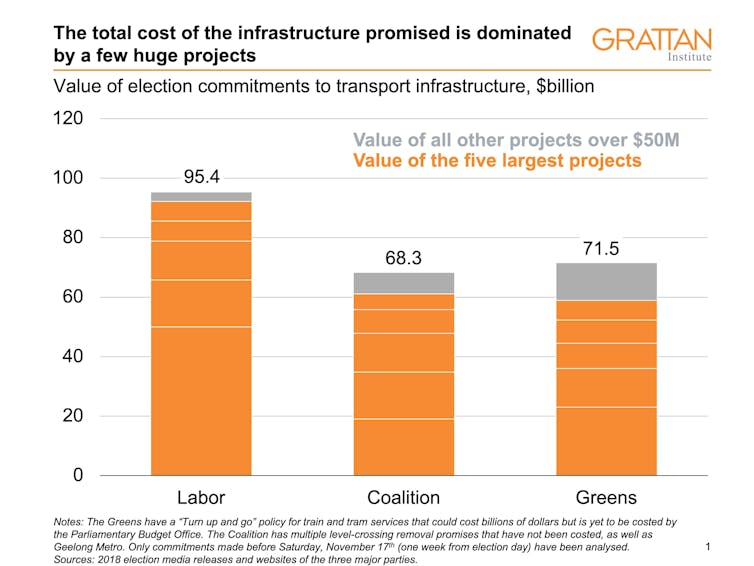 Authors: Marion Terrill, Transport Program Director, Grattan Institute
Read more http://theconversation.com/how-much-will-voters-pay-for-an-early-christmas-eight-charts-that-explain-victorias-transport-election-106782