Written by

Peter Martin, Editor, Business and Economy, The Conversation
Few things are as valuable as a bright idea.
They rarely pop up in meetings (where most of the time people agree with other people), or in business (where most of the time it's easier to keep doing what you've been doing), or in government departments (where most of the time it's easier to implement policy than develop it).
But genuinely fresh ideas do emerge from time to time, often in the heads of political advisers (especially those that come from outside politics) or of academics whose mission is to work out how to make things better without caring about the likelihood of their ideas being accepted.
Australia has long punched above its weight developing ideas for the rest of the world, among them Torrens Title, the secret ballot (referred to elsewhere as the "Australian ballot"), the living wage, the eight hour day, taxing married women as individuals rather than as part of their husband's household, allowing women to stand for parliament, universal government-provided unemployment benefits, free and compulsory primary school education, free healthcare Medibank, which became Medicare, and affordable education through the Higher Education Contribution Scheme.
How we do it, how we manage to move beyond the obvious to find genuinely new ideas that work, is explored in a new book released this year entitled Hybrid Public Policy Innovations: Contemporary Policy Beyond Ideology, edited by Mark Fabian and Robert Breunig of the Crawford School of Public Policy at the ANU.
Here are my seven favourites on business and the economy from 2018: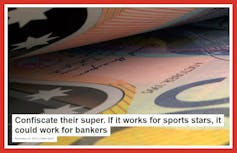 Authors: Peter Martin, Editor, Business and Economy, The Conversation
Read more http://theconversation.com/my-magnificent-seven-seven-really-bright-ideas-and-one-as-old-as-time-itself-from-2018-108498