Written by

Lyn Phillipson, NHMRC-ARC Dementia Development Fellow, University of Wollongong
The Royal Commission into Aged Care has unleashed a spate of claims of system failure within the residential aged care sector.
Now, as the commission shifts its focus to care in the community, we're also seeing claims of failure within the home care packages program.
This scheme aims to support older people with complex support needs to stay at home. But what we've got is a market-based system where the processes involved in accessing support and managing services are making it difficult for vulnerable older Australians to receive the care they want.
If this system is to be workable, older people need better information and more personalised supports to enable choice and control – especially those with complex needs.
Read more: Would you like to grow old at home? Why we're struggling to meet demand for subsidised home care
Consumer directed care
A growing number of older Australians are receiving home care subsidised by the government. During the 2017-18 financial year, 116,843 people accessed home care packages.
From July 1 2015, all home care packages have been delivered on what's called a Consumer Directed Care basis.
This means that, theoretically, home care providers must work with consumers to design and deliver services that meet their goals and care needs, as determined by an Aged Care Assessment Team.
However, in reviewing the active steps outlined in the government pathway to access a package, we must consider the person who is navigating this path.
They are frail older people with complex support needs, often seeking help at times of crisis. These include the growing number of older Australians living with multiple medical conditions and complex age-related syndromes such as dementia.
Read more: Explainer: what is a home care package and who is eligible?
After a person has been assessed, they will receive a letter informing them they are eligible. However, due to long waiting lists, this does not provide them with immediate access to care; most wait many months before they are actually assigned a package by My Aged Care.
When they eventually receive a letter confirming their package, the consumer will be approached by various service providers. They will need to sign a complex contract with their chosen provider.
If the consumer is feeling frustrated and confused during these early stages, this is only the beginning. The recent marketisation of home care means managing their own care requires going through impersonal, centralised provider systems.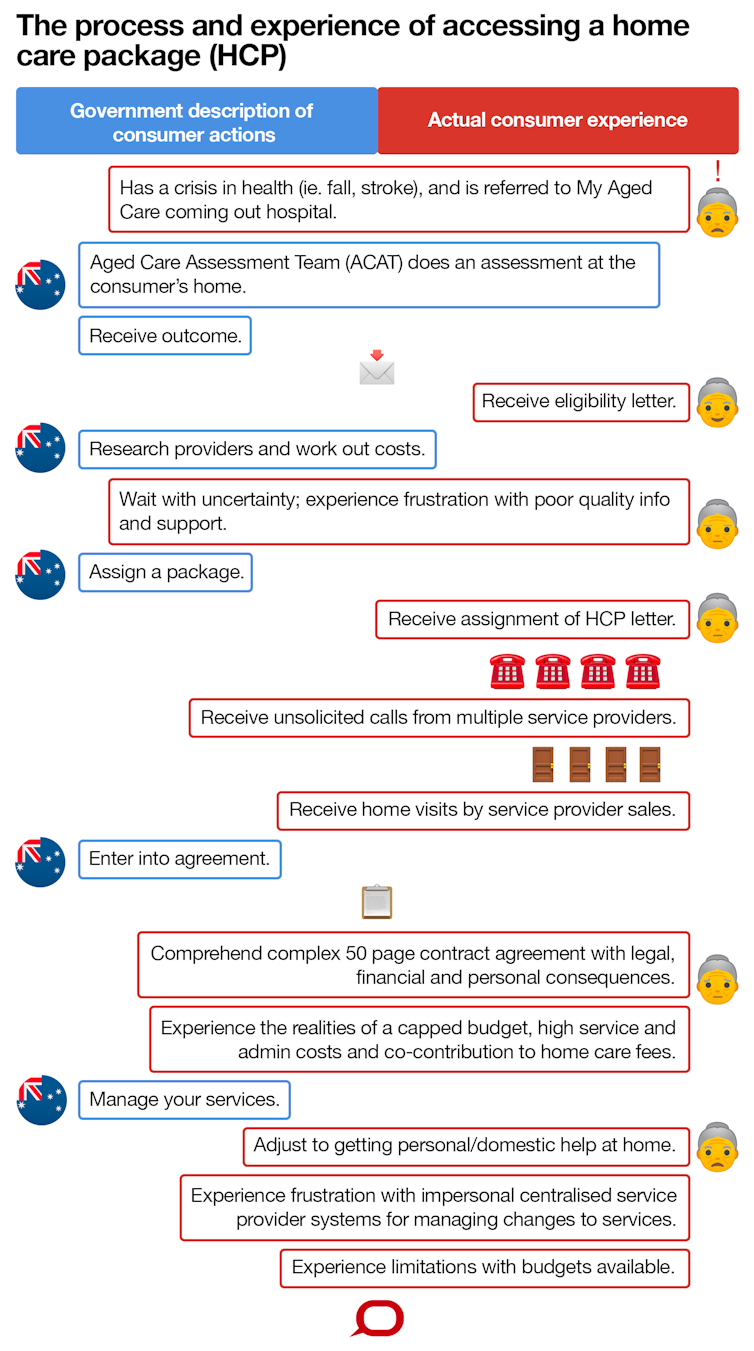 Authors: Lyn Phillipson, NHMRC-ARC Dementia Development Fellow, University of Wollongong
Read more http://theconversation.com/as-home-care-packages-become-big-business-older-people-are-not-getting-the-personalised-support-they-need-113183