Written by

Michael Whitehead, Research Fellow in Evolutionary Ecology, University of Melbourne
It is perhaps poetic that a region most famous for its lack of trees lies so close to one of Australia's greatest tree-based spectacles. The Nullarbor Plain, our famous, flat, featureless expanse is literally named for its absence of trees ("arbor" being Latin for tree).
And if you ever get to drive west along the longest stretch of dead-straight road across this iconic landscape, you will come to know the highlights that characterise the experience: the cliff-top views of the Great Australian Bight and the idiosyncratic roadhouses.
Read more: A detailed eucalypt family tree helps us see how they came to dominate Australia
Then finally, a landscape of low shrubs gives way to mallee trees and woodland vegetation. Somewhere between Caiguna and Fraser Range you'll see your first Eucalyptus salubris, also known as a gimlet gum, or joorderee by the Ngadju people.
It was on a recent botanical research trip chasing scraggly emu bushes that I stumbled upon, and fell in love with, Eucalytpus salubris. The trunks were what instantly caught my eye, slender with graceful twists, all the more observable for the brilliantly shining coppery bark.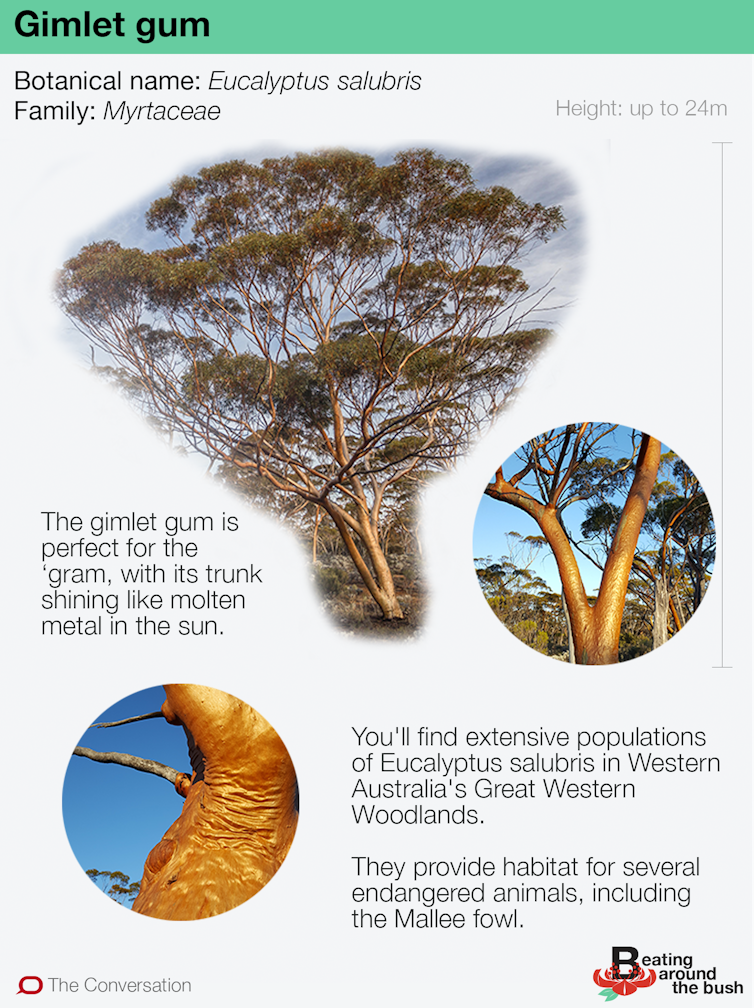 Authors: Michael Whitehead, Research Fellow in Evolutionary Ecology, University of Melbourne
Read more http://theconversation.com/the-sexy-gum-a-love-story-115363