Written by

Steven Rowley, Director, Australian Housing and Urban Research Institute, Curtin Research Centre, Curtin University
The re-election of the Morrison government has delivered an Australian housing policy platform based on home ownership. The recently announced First Home Loan Deposit Scheme and the existing First Home Super Saver Scheme complement first home buyer grants and stamp duty concessions from state and territory governments. What we aren't going to see is a major increase in the supply of affordable housing through a dedicated subsidised affordable rental program or negative gearing and capital gains tax reform.
Is a policy based on home ownership going to fix the problems of housing affordability in this country? The BCEC Housing Affordability Report published today by the Bankwest Curtin Economics Centre suggests not.
Read more: Small, but well-formed. The new home deposit scheme will help, and it's unlikely to push up prices
The report is based on a survey that collected responses from just over 3,600 Australians across three states – New South Wales, Queensland and Western Australia – with 75% of responses from metropolitan locations and 25% from regional areas.
Similar surveys were conducted in 2015 and 2017. This allows for comparisons across the three periods.
Housing costs
The survey asked respondents to estimate the proportion of their gross income spent on housing costs. Around 40% of all households reported living rent/mortgage-free (outright owners, young adults living with parents etc). The chart below shows the distribution across six bands for the remaining households.
Just under half reported paying over 30% of their income on rent or mortgage costs. We see little change over the three surveys, although slightly fewer households are now paying more than 50%.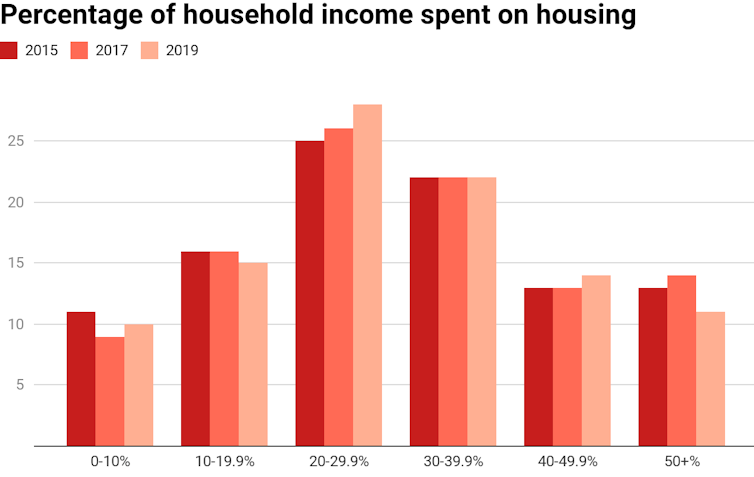 Authors: Steven Rowley, Director, Australian Housing and Urban Research Institute, Curtin Research Centre, Curtin University
Read more http://theconversation.com/housing-affordability-has-improved-slightly-but-people-on-lower-incomes-will-continue-to-struggle-117898