Written by

Gregory John Leach, Honorary Fellow at Menzies School of Health Research, Charles Darwin University
Sign up to the Beating Around the Bush newsletter here, and suggest a plant we should cover at batb@theconversation.edu.au.
The Kakadu Plum fruiting season in the Top End is just finishing. Over one weekend, I was able to find a few fruits on the ground beneath some trees in the Eucalypt woodland near Darwin.
This is the best way to eat Kakadu plums – fresh, fully ripe, and fallen from the tree. The fruit is smooth, fleshy and ovoid in shape with a short beak, and yellow–green or slightly reddish when ripe.
Initially, the taste seems somewhat bland, but with a definite sour and astringent finish. While that's probably not a very inspiring description to encourage a tasting, a professional flavour profile describes the taste as "a stewed apple and pear aroma with cooked citrus and a floral-musk note" – so it's perfect for jam, sauces and relishes.
Read more: The tasty, weed-like desert raisin plant is as big as a carpark
With small, creamy white flowers in long spikes clustered towards the tips of the branches, the Kakadu plum, Terminalia ferdiandiana, is just one of about 29 species of Terminalia found in Australia.
But the extraordinary properties of the Kakadu plum makes it attractive for a diversity of food, beverage and even cosmetic products. And this demand is creating supply problems as competition to cash in on the fruit increases.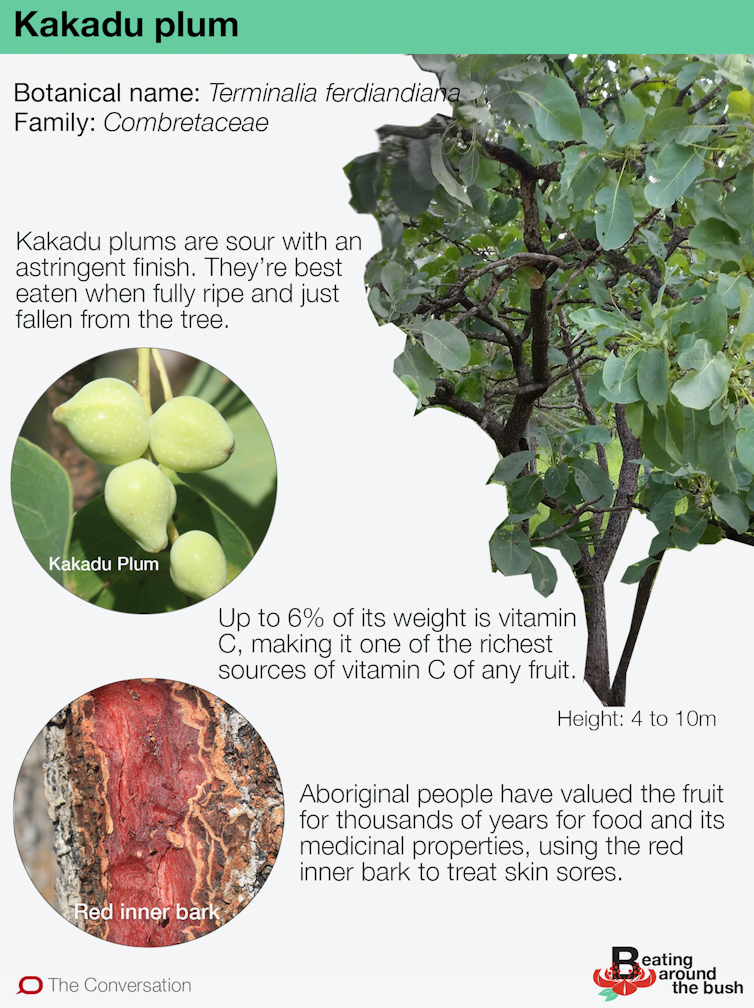 Authors: Gregory John Leach, Honorary Fellow at Menzies School of Health Research, Charles Darwin University
Read more http://theconversation.com/meet-the-kakadu-plum-an-international-superfood-thousands-of-years-in-the-making-116362