Written by

Celestine Wong, Consultant Dermatologist, Monash Health
How can I control the excessive oil secretions on my face that leads to acne? Anonymous
Pimples are the worst! They hurt, pop up overnight and can be impossible to hide.
You're right that oily skin is believed to be the most critical factor for causing acne.
But rest assured, there are a few things you can do to keep your oil at bay and control the likelihood of a break out.

Why am I so oily… all the time!
Before we start talking about how to avoid acne, let's chat about why oily skin causes acne.
Oily skin is caused by the overproduction of sebum by an overactive oil gland (also known as the pilosebaceous unit, which is just a fancy term for a hair follicle and its oil gland).
There are a few reasons we get acne, one being the pore of the oil gland can be blocked – this can be made worse by using certain types of makeup.
Some of our hormones during puberty drive sebum overproduction, hence acne-overload. Fun fact: anabolic steroids, typically used by bodybuilders, can trigger acne too.
Acne bacteria lives on the skin and its overgrowth around your oil glands can worsen inflammation and pus formation. This is what causes acne to hurt sometimes.
If there's a strong history of acne in your family, there's a good chance you might get it too.
It is also linked to medical conditions such as polycystic ovarian syndrome.
Read more: 'What is wrong with me? I'm never happy and I hate school'
Trust me on this, a proper skin routine is everything
As a dermatologist, I recommend cleaning your face every morning and evening. If you wear make up, ALWAYS wipe it off before going to bed – no excuses!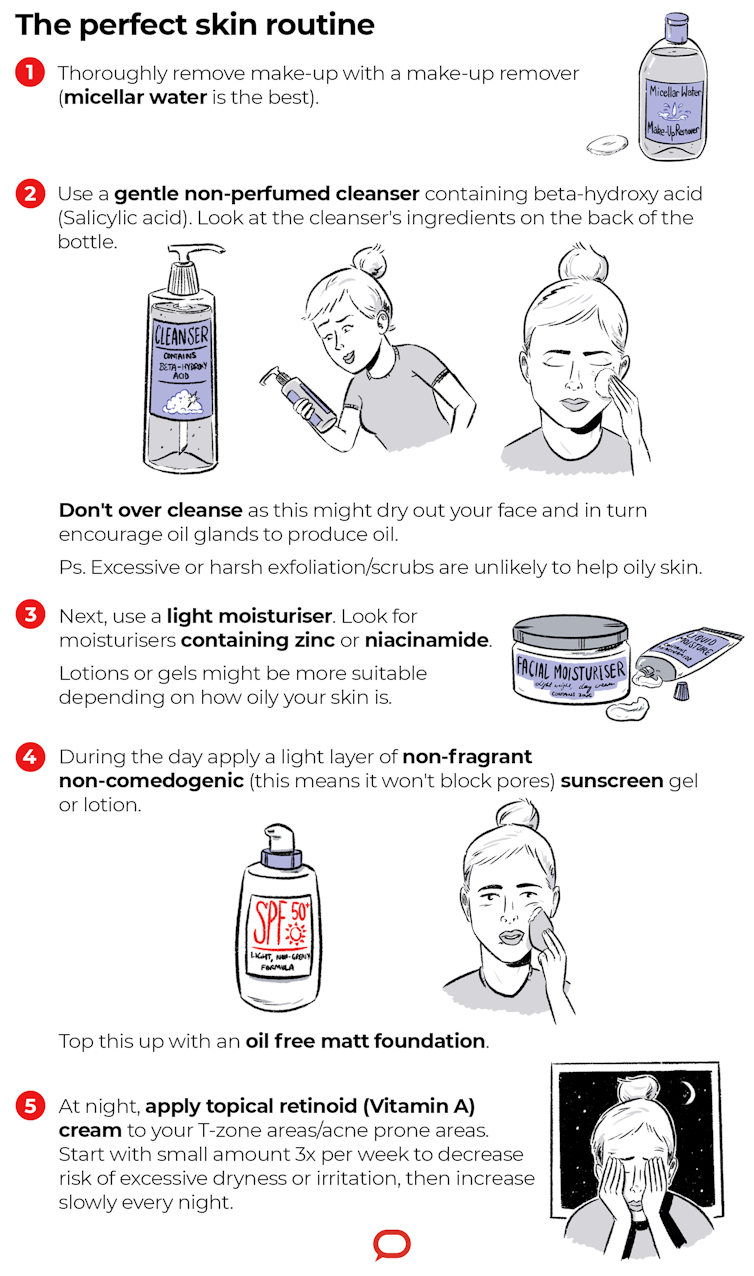 Authors: Celestine Wong, Consultant Dermatologist, Monash Health
Read more http://theconversation.com/how-do-i-control-my-oily-skin-and-prevent-pimples-a-dermatologist-explains-120222