Written by

Tom Griffiths, Emeritus Professor of History, Australian National University
Many of us joined the Global Climate Strike on Friday, 20 September, and together we constituted half a million Australians gathering peacefully and walking the streets of our cities and towns to protest at government inaction in the face of the gravest threat human civilisation has faced.
It was a global strike, but its Australian manifestation had a particular twist, for our own federal government is an international pariah on this issue. We have become the Ugly Australians, led by brazen climate deniers who trash the science and snub the UN Climate Summit.
Government politicians in Canberra constantly tell us the Great Barrier Reef is fine, coal is good for humanity, Pacific islands are floating not being flooded, wind turbines are obscene, power blackouts are due to renewables, "drought-proofing" is urgent but "climate-change" has nothing to do with it, science is a conspiracy, climate protesters are a "scourge" who deserve to be punished and jailed, the ABC spins the weather, the Bureau of Meteorology requires a royal commission, the United Nations is a bully, if we have to have emissions targets, well, we are exceeding them, and Australia is so insignificant in the world it doesn't have to act anyway.
It's a wilful barrage of lies, an insult to the public, a threat to civil society, and an extraordinary attack on our intelligence by our own elected representatives.
The international Schools4Climate movement is remarkable because it is led by children, teenagers still at school advocating a future they hope to have. I can't think of another popular protest movement in world history led by children. This could be a transformative moment in global politics; it certainly needs to be. The active presence of so many engaged children gave the rally a spirit and a lightness in spite of its grim subject; there was a sense of fun, a family feeling about the occasion, but there was a steely resolve too.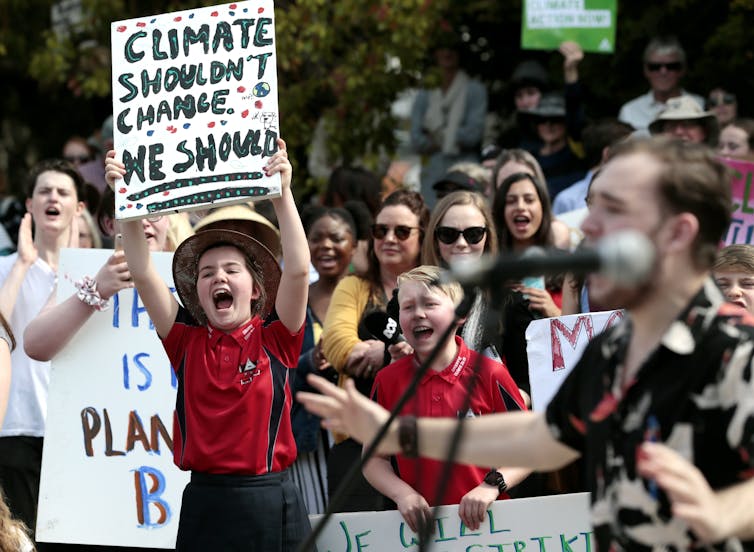 Barbara Walton/EPA
A girl in a school uniform standing next to me at the rally held a copy of George Orwell's 1984 in her hands. Many of the people around me would normally expect to see in the 22nd century. Their power, paradoxically, is they are not voters. They didn't elect this government! They are protesting not just against the governments of the world but also against us adults, who did elect these politicians or who abide them. There was a moment at the rally when, with the mysterious organic coherence crowds possess, the older protesters stepped aside, parting like a wave, and formed a guard of honour through the centre of which the children marched holding their placards, their leadership acknowledged.
Read more: Guide to the classics: Orwell's 1984 and how it helps us understand tyrannical power today
One placard declared: "You'll die of old age; I'll die of climate change"; another said: "If Earth were cool, I'd be in school." One held up a large School Report Card with subject results: "Ethics X, Responsibility X, Climate Action X. Needs to try harder." Another explained: "You skip summits, we skip school."
In Melbourne, as elsewhere, teenagers gave the speeches; and they were passionate and eloquent. The demands of the movement are threefold: no new coal, oil and gas projects; 100% renewable energy generation and exports by 2030; and fund a just transition and job creation for all fossil-fuel workers and communities. There were also Indigenous speakers. One declared: "We stand for you too, when we stand for Country."
There were 150,000 people in the Melbourne Treasury Gardens, a crowd so large responsive cheers rippled like a Mexican wave up the hill from the speakers. I reflected on the historical parallels for what was unfolding, recalling the Vietnam moratorium demonstrations and the marches against the first Gulf War, the Freedom Rides and the civil rights movement, the Aboriginal Tent Embassy and the suffragettes' campaigns.
Inspired by this history, we now have the Extinction Rebellion, a movement born in a small British town late last year which declares "only non-violent rebellion can now stop climate breakdown and social collapse". Within six months, through civil disobedience, it brought central London to a standstill and the United Kingdom became the first country to declare a climate emergency. We are at a political tipping point.
In Australia, the result of this year's election tells us there is no accountability for probably the most dysfunctional and discredited federal government in our history, and now we are left with a parliament unwilling to act on so many vital national and international issues. The 2019 federal election was no status quo outcome, as some political commentators have declared. Rather, it was a radical result, revealing deep structural flaws in our parliamentary democracy, our media culture and our political discourse. For me it ranks with two other elections in my voting lifetime: the "dark victory" of the 2001 Tampa election, and the 1975 constitutional crisis. Like those earlier dates, 2019 could shape and shadow a generation. It is time to get out on the streets again.
Skolstrejk för klimatet
The founder, symbol and the voice of the School Strike movement is, of course, Greta Thunberg. It is just over a year since August 2018 when she began to spend every Friday away from class sitting outside the Swedish parliament with a handmade sign declaring "School Strike for the Climate".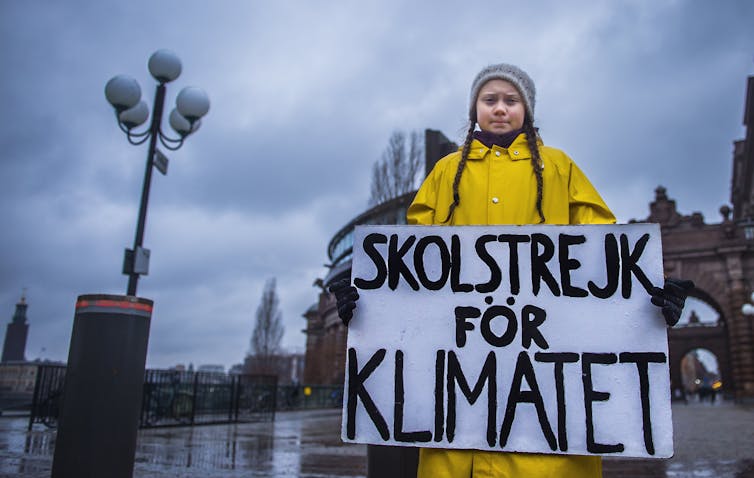 Hanna Franzen/EPA
When she told her parents about her plans, she reported "they weren't very fond of it". Addressing the UN Climate Change Conference in December 2018, she said: "You are not mature enough to tell it like it is. Even that burden you leave to your children." Thunberg quietly invokes the carbon budget and the galling fact there is already so much carbon in the system "there is simply not enough time to wait for us to grow up and become the ones in charge."
In late September, Thunberg gave a powerful presentation at the UN Climate Summit; Richard Flanagan compared her 495-word UN speech to Abraham Lincoln's 273-word Gettysburg Address. It's a reasonable parallel that reaches for some understanding of the enormity of this political moment.
It is sickening to see the speed with which privileged old white men have rushed to pour bile on this young woman. Donald Trump and Vladimir Putin quickly recognised her power and sought to neutralise and patronise her. Scott Morrison chimed in. Australia's locker room of shock jocks laced the criticism with some misogyny. It's amazing how they froth at the mouth about a calm and articulate schoolgirl. They are all – directly or indirectly – in the pockets of the fossil fuel industry.
Read more: Misogyny, male rage and the words men use to describe Greta Thunberg
Denialism
Denialism is worthy of study. I don't mean the conscious and fraudulent denialism of politicians and shock-jocks such as those I've mentioned. That's pretty simple stuff – lies motivated by opportunism, greed and personal advancement, and funded by the carbon-polluting industries. It is appalling but boring.
There are more interesting forms of denialism, such as the emotional denialism we all inhabit. Emotional denialism in the face of the unthinkable can take many forms – avoidance, hope, anxiety, even a kind of torpor when people truly begin to understand what will happen to the world of their grandchildren. We are all prone to this willing blindness and comforting self-delusion. Overcoming that is our greatest challenge.
And there is a third kind of denialism that should especially interest scholars. It is when some of our own kind – scholars trained to respect evidence – fashion themselves as sceptics, but are actually dogged contrarians.
Read more: There are three types of climate change denier, and most of us are at least one
One example is Niall Ferguson, a Scottish historian and professor of history at Harvard University, who calls climate science "science fiction" and recently joined the ranks of old, white, privileged men commenting on the appearance of Greta Thunberg. I'm not arguing here with Ferguson's politics – he is an arch-conservative and I do disagree with his politics, but I also believe engaged, reflective politics can drive good history.
Rather, Ferguson's disregard for evidence and neglect of science and scholarship attracts my attention. His understanding of climate science and climate history is poor: in a recent article in the Boston Globe he assumed the Little Ice Age started in the 17th century, whereas its beginning was three centuries earlier.
How does a trained scholar, a professor of history, get themselves in this ignominious position? For Ferguson, contrarianism has been a productive intellectual strategy – going against the flow of fashion is a good scholarly instinct – but on climate change his politics and the truth have steadily travelled in different directions and caught him out. We can say the same of Geoffrey Blainey, another successful contrarian who has cornered himself on climate change. Like Ferguson he appears uninterested in decades of significant research in environmental history – and thus his healthy scepticism has morphed into foolish denialism.
Denialism matters because all kinds of it have delayed our global political response to climate change by 30 years. In those critical decades since the 1980s, when humans first understood the urgency of the climate crisis, total historical carbon emissions since the industrial revolution have doubled. And still global emissions are rising, every year.
The physics of this process are inexorable – and so simple, as Greta would say, even a child can understand. We are already committing ourselves to two degrees of warming, possibly three or four. Denialists have, knowingly and with malice aforethought, condemned future generations to what Tim Flannery calls a "grim winnowing". Flannery wrote recently "the climate crisis has now grown so severe that the actions of the denialists have turned predatory: they are now an immediate threat to our children."
Read more: The gloves are off: 'predatory' climate deniers are a threat to our children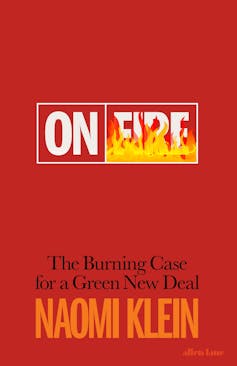 Authors: Tom Griffiths, Emeritus Professor of History, Australian National University
Read more http://theconversation.com/friday-essay-thinking-like-a-planet-environmental-crisis-and-the-humanities-125489