Written by

Michelle Grattan, Professorial Fellow, University of Canberra
The Nationals' crisis is a political version of what social scientists call a "wicked problem". It's without any obvious solution, and every future course is fraught.
This is a "wicked problem" not just for the minor coalition partner, but for Scott Morrison also. He's an alarmed and essentially powerless observer of a struggle destabilising the Coalition.
This week's events – the resignation of Llew O'Brien from the Nationals, the hugely embarrassing defection of several of their MPs in a House of Representatives vote which made O'Brien deputy speaker, and the continued public positioning by Barnaby Joyce and his campaign manager Matt Canavan – indicate the trouble will continue.
On any reckoning, the duo of Joyce and Canavan, a former deputy prime minister and an articulate former cabinet minister, can land some hefty punches from the backbench.
Three possibilities lie ahead: Michael McCormack remaining leader of a split, dysfunctional party; Joyce having a second, and successful, tilt; David Littleproud emerging as a compromise.
Read more: Politics with Michelle Grattan: Michael McCormack moves on from his near-death experience
McCormack is paddling desperately but his position looks increasingly unsafe.
His post-ballot reshuffle - a blatant jobs-in-return-for-votes exercise - has given the Joyce camp new grounds for stirring.
Joyce couldn't have expected a post, and there were arguments both ways about whether Canavan's disloyalty should have been rewarded by restoring him to cabinet. Beyond them, McCormack had either no room or no inclination for conciliatory gestures, as well as missing the opportunity to promote some new talent.
McCormack feels the party pressure to be more visible, but questions will inevitably be about the divisions. Asked in a Wednesday Nine interview whether he could survive, he sounded defensive rather than convincing. "Absolutely. I'm strong, I'm determined. And I'm going to stay."
A move to Joyce would be the rashest course. If the party were confident it would get back the "old Barnaby", the Barnaby of the early days of his leadership, it would switch in a flash.
But the doubters worry about the current Barnaby and fear how wild a ride they'd be in for.
They all know, however, that he won't stop agitating. This week Canavan and Joyce launched the first of a promised "Weatherboard and Iron" series of podcasts. Their matey chat canvassed Joyce's challenge, O'Brien's resignation, the Nationals' supporters, and of course coal.
Canavan squashed speculation - following O'Brien's remaining in the Queensland Liberal National Party - about the prospect of LNP members meeting as a separate party room in Canberra. Canavan is a member of the LNP but he's about promoting the Nationals' brand. Both Joyce and Canavan tried to talk O'Brien out of quitting the Nationals (as they would, given his leaving takes out a Joyce vote).
In the podcast, Joyce encapsulated the broad pitch he's making to the party when he said: "We've got to be bold enough and bolshie enough to get the outcomes that [Nationals' constituents ] need and put yourself in a position where you can get the outcomes they need."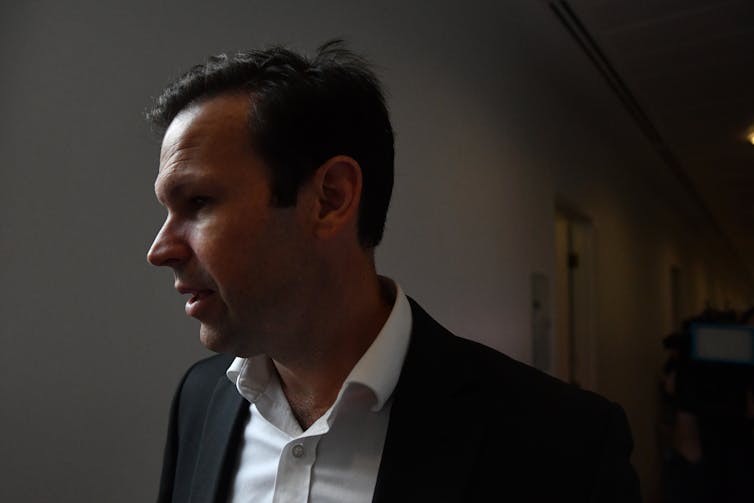 Authors: Michelle Grattan, Professorial Fellow, University of Canberra
Read more https://theconversation.com/grattan-on-friday-morrison-can-only-look-on-as-nationals-wicked-problem-damages-his-government-131780